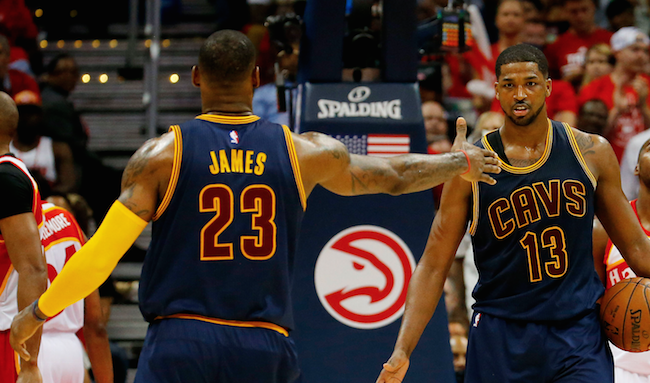 It's always fun when athletes host social media question-and-answer sessions. The 24/7 news cycle combined with the public's love of outrage makes it hard for the modern celebrity to show their genuine sides in most interviews. But they control the action when directly taking questions from fans on the internet, often allowing their true persona to shine in ways it normally can't.
LeBron James isn't much different. He's a seasoned vet with the media by this point, and is unafraid to offer an incendiary soundbite or simple jocularity now and then, either. His twitter Q&A on Tuesday, though, afforded the basketball world an unfiltered view of its favorite subject rarely seen. What's LeBron's favorite movie? Favorite wrestler? Rapper? Seinfeld episode?
He told us without hesitation. But for real hoop-heads most concerned with the looming 2015-16 season, James' answer to a basketball-related question was surely the highlight of his hour-long chat.
It was reported on the first day of free agency that Tristan Thompson had "essentially come to terms" on a massive, multi-year contract with the Cleveland Cavaliers. But the league moratorium and three ensuing weeks flew by without a new deal in place, lending at least some credence to the possibility of negotiations between the sides growing contentious.
Thompson's camp has been mum on the proceedings from the beginning. It's no secret that James wants him wearing wine-and-gold for the long-haul, just like it's universally understood that Thompson's price-tag is increased because he's represented by Rich Paul, a childhood friend of the Cavaliers' superstar.
Despite no official pact between Thompson and Cleveland, one has essentially been imminent since he rose to prominence during Kevin Love's absence in the postseason. That the Cavaliers finally traded Brendan Haywood's contract (along with Mike Miller) to lessen Dan Gilbert's impending luxury tax hit supports that notion, too. Also, remember that LeBron supposedly talked of not signing his own deal with the Cavs until the team took care of his many free agent teammates.
Either way, his more recent word should certainly help curb minor concerns of Cleveland's fan base. Thompson isn't going anywhere, and it's only a matter of time until his contract is finally inked.
[Via LeBron James]