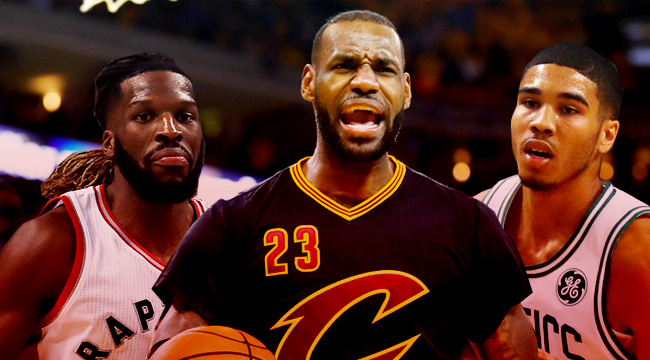 CLEVELAND—The kid just didn't know any better. Maybe it was inexperience. Perhaps it was ignorance. There's a small chance he thought that maybe — just maybe — he could finally be the one. But three days before the NBA's opening night, Boston Celtics rookie Jayson Tatum made the mistake so many others have before him: He sat in front of a bay of cameras and dozens of voice recorders and indirectly challenged LeBron James.
"I used to watch LeBron on TV growing up," the 19-year-old Tatum said of the Cavaliers' star forward. "Now I'm playing my first game against him."
Admitting that he has had day dreams about guarding James, the Duke product stated that visions of his defense on the four-time MVP "went good in his head."
Looking to be crowned as a "LeBron Stopper," players like Tatum have lobbed these grenades throughout James' entire career. During his first stint with the Cavaliers, it was Detroit's Tayshaun Prince who thought he would be able to use his length to have an advantage on James, who was then in his early 20s. More recent examples had teams like the Celtics, Atlanta Hawks and Toronto Raptors using entire offseasons (as well as mid-season acquisitions) to add length and defense, specifically at the wing, in hopes of countering James' annual domination in the Eastern Conference Playoffs.
During the 2015 postseason, the Celtics attempted to counter James' play with the physical defense of Jae Crowder, only to be handed a first-round, four-game exit. James' worst game in that series was a 20-point, seven-assist outing in Game 1. That same postseason, the Hawks had DeMarre Carroll, another "LeBron Stopper", who drew James for most of a series where No. 23 averaged 30 points, 11 rebounds, and nine assists per game. Not deterred by this lack of success, the Raptors added Carroll that offseason. As luck would have it, the 2016 postseason would unfold in similar fashion to much of the previous decade with James treating would-be Raptor defenders like Yi Jianlian's chair, averaging 26 points, nine rebounds, and seven assists on 62 percent shooting.

In LeBron's first NBA Finals appearance after rejoining the Cavs, Andre Iguodala won the series MVP Award for "holding" LeBron to a per-game average that would only be one of the best statistical performances NBA has ever seen—36 points, nine rebounds, 13 assists. In 2017, the Raptors added forward P.J. Tucker—another "LeBron Stopper"—midway through the year in hoping to at least provide a modicum of a headwind against James, realizing one "Stopper" would not be enough. The series would go six games, but James would average improved numbers compared to the 2015 series–36 points, eight rebounds, and five assists.
Marcus Morris? Nope. Paul George? Not really, though at least those series were entertaining. The air conditioning unit in San Antonio? Close. If you're sensing a pattern, congratulations. Not only has James thwarted any attempt at opposing teams stopping him, he has done it with an increased level of determination every time someone mentions the mere concept of it being possible.
Remember the "Stan, Stanley, any other Stans" meme that took off during the 2016 playoffs? You know, the one Warriors fans have since tried to make their own? This was the result of Stanley Johnson inferring he would be the one to disrupt James' play. The Cavs would go on to sweep that series; Johnson's name would simply be added to the long list of those who had dreams of being a roadblock to James only to find that it's a much taller task that originally believed.
Fast forward to opening night this past Tuesday and you'll find Tatum's first field goal attempt as an NBA player never made it to the rim as James swatted it away. Early in the third quarter, Tatum also had a front-row seat for a thunderous James dunk that followed a spin move against Celtics guard Marcus Smart. All in all, the 15-year veteran notched his 360th career double-double, tallying 29 points (on 63 percent shooting), 16 rebounds and nine assists—the last of which was the biggest play of the evening as James skirted a jersey-shredding double team to find Cavs forward Kevin Love in the opposite corner for a game-changing three-pointer.

It was the first time in NBA history that a player would notch those numbers during his team's opening night. And while Tatum wasn't the one necessarily tasked with defending James throughout the night (that would be his teammate Jaylen Brown), it was James who finished one assist shy of leading the entire game in all three major categories.
Following the game, one in which James played 41 minutes, he voiced his frustration with his production, saying his preseason ankle injury forced him to not be at his usual level of conditioning. He would be much later to his postgame media session, barring into the Cavs locker room roughly 45 minutes after the final buzzer, shirtless and dripping in sweat from what was a 40-minute session with a VersaClimber, a full body cardio machine that has been made popular by the man himself.
So did Tatum feel his maiden voyage against James went as envisioned?
"No," said the rookie with a half-smile on his face, feeling the stark, cold winds of reality. "He's way bigger than I thought. He's way better than I imagined. There's a reason why he is who he is."
The kid was bound to learn eventually. In many ways, James simply did him a favor in teaching such a lesson so early in his career. The trick will be keeping others from making the same mistake.