LeBron James hasn't joined the vocal minority of league personalities that has openly called the defending champions "lucky." The four-time MVP's recent appraisal of the undefeated Golden State Warriors, though, will surely ruffle feathers in the Bay Area regardless.
What does James feel are the driving forces behind Golden State's incredible success? Unsurpassed health and elite talent, he told Joe Vardon of the Northeast Ohio Media Group.
"[The Warriors have] been the most healthy team I've ever seen in NBA history and they have great talent," James said Monday following shootaround in preparation for tonight's home game against Orlando.

"They've just been consistent," he said. "Think the most impressive thing is the way they just they've been playing at a high level for so long. I think it comes with a lot of health."
The Cleveland Cavaliers superstar, of course, is using hyperbole here. To call the Warriors the healthiest team in league history isn't accurate; there's no definitive way to measure that attribute, and it's not like Golden State hasn't dealt with brief absences of key contributors in 2014-15 and over the past few weeks.
It was David Lee's hamstring injury during exhibition play, remember, that prompted Draymond Green's unexpectedly permanent and franchise-changing promotion to the starting lineup early last season. Andrew Bogut missed 17 games a year ago due to nagging knee pain, and just returned to the floor following a concussion he suffered in the 2015-16 season opener, too. Then there's the scary health complications gleaned from Steve Kerr's offseason back surgeries that have kept him off the bench since the first week of training camp.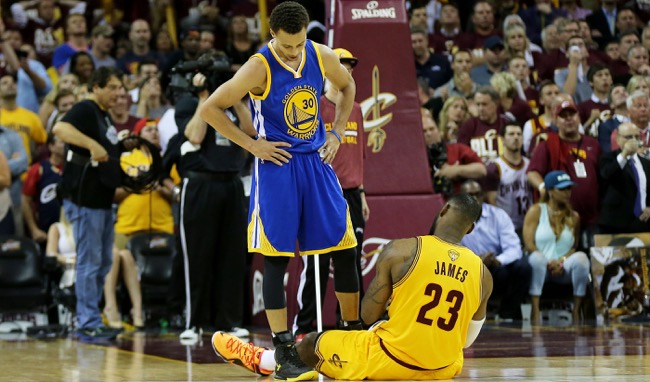 Despite core players like Steph Curry, Draymond Green, Klay Thompson, and more having avoided the injury bug over the past 13 months or so, Golden State has indeed dealt with some health-related adversity. Does that mean it compares to the Cavaliers'? Of course not.
No NBA Finals participant in recent memory was sapped of more talent than Cleveland last June. Not only did Kevin Love miss the series' entirety and Kyrie Irving five of its six games, but Anderson Varejao was lost for the season long before early summer, too. Irving and Iman Shumpert have yet to suit up in 2015-16, either.
Have the Warriors been extremely fortunate from a health perspective? Certainly. Are they the most talented team in basketball? Definitely. And no matter the headline-making takeaway from James' quote, it's that amalgam he's acknowledging.