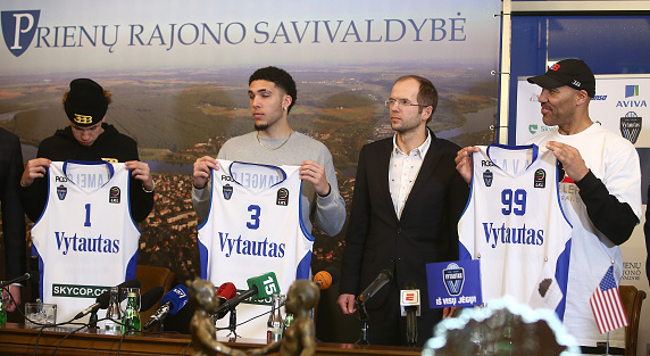 The Ball family has landed in Lithuania and is thriving. In fact, the club LiAngelo and LaMelo joined made the bombshell announcement that they were pulling out of their league mid-season to start something called "The Big Baller Brand Challenge Games." No, really.
But before that, they held a press conference on Friday that was predictably a mix of fun, weirdness, and the general Ball shenanigans we've come to know over the last year or so.
Things do seem to be going swell for the Balls overseas. An ESPN report indicates that the team will look to play in additional tournaments to get LiAngelo and LaMelo more playing time, and that's just the start of the good news for the family.
The Balls are certainly proving to be popular in Lithuania. Let's start with yet another song for LiAngelo and LaMelo to welcome them to the land of basketball.
If that's not weird enough, let's fast-forward to the press conference itself. Evelina Pavliukovic of LNK's KK2 asked LiAngelo Ball quite the question during the press conference. Starting with "I like you, do you like me?" it then was followed by "Do you have a girlfriend?" Pavliukovic also asked Ball on a date.
Everyone laughed it off, but it was certainly a bit of weirdness for everyone involved. Ball politely declined, saying "I just came here to play." He later clarified his comments, noting that, while he does not have a girlfriend, he's focused on basketball while he's overseas.
I'm sure when the games actually start we'll still be having lots of fun with this grand experiment.