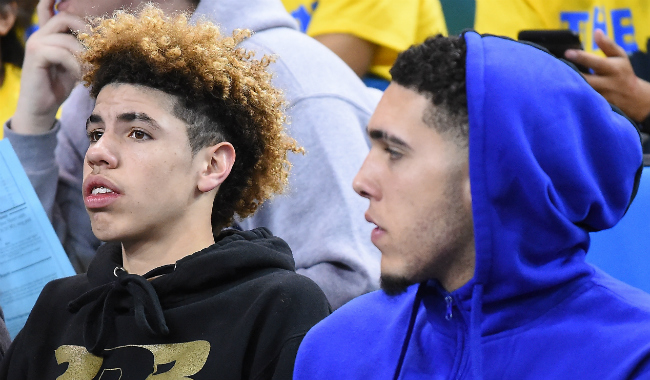 The Ball family may be done with UCLA basketball for good. That was obvious in the case of their middle son, LiAngelo, who was pulled from the university on Monday afternoon. But as it turns out, the family's youngest son, five-star 2019 prospect LaMelo, may also forgo college entirely.
According to a report by Shams Charania of The Vertical, both players have started looking into playing hoops abroad. This isn't a surprise with LiAngelo after everything that went down on Monday, but it is for LaMelo, who is verbally committed to playing basketball at UCLA. Earlier this year, LaMelo was pulled out of Chino Hills High School by his father, LaVar, so he could be homeschooled and train with an eye on hoops after high school.
As Charania wrote, a representative for the two players is working on getting in touch with overseas teams with the hopes of finding them a home.

Via Yahoo Sports:
LaMelo and LiAngelo Ball have started to explore options to sign internationally, sources told Yahoo Sports.

LiAngelo Ball and UCLA parted ways officially on Monday, which marked the start of his preparation for his professional basketball career. Harrison Gaines, the representative for LaMelo, 16, and LiAngelo, 19, started initial contact with overseas teams this week, sources told Yahoo Sports.
With how bearish NBA scouts are on LiAngelo's chances at making the NBA, it makes sense that he'd want to look overseas with the hopes of finding a basketball playing job. As for LaMelo, this is a really … curious move. He is only 16, and it's totally reasonable to think that a player as talented as he is can parlay whatever happens over the next few years into a spot in the NBA. This really does smell like their father wanting his family to be done with UCLA forever, but with how LaVar has acted in the past, anything is possible.