There are few non-superstar players who get more game-to-game scrutiny than Lonzo Ball. Between his father mouthing off at every turn throughout his rookie year to playing for the most famous team in basketball, the spotlight shines brightly on Ball's every move. Add in LeBron James and a new level of team success this year and now it's not just about development — he's expected to contribute to winning immediately. Then add in the fact that he ostensibly plays point guard but is now required to defer to James and the concoction creates a poor credit/blame ratio for Ball.
As tends to happen to a majority of James' teammates over the years, they often get little credit when things go well and a whole lot of blame when things go poorly. Ball falls in that same camp, with the spotlight all the brighter on him in Los Angeles.
Ball's particular set of strengths and weaknesses invite even more criticism. He just plain can't shoot — no matter how well he did at UCLA from beyond the three-point line, we have more than twice as many attempts at the NBA level to tell us that he's a below-average shooter. His catch-and-shoot numbers are awful and his pull-up numbers are even worse. Between the two, Ball is shooting a dismal 26.5 percent on jumpers this season. If that turns around, then the Lakers will prosper from it, but for now, it's just not there for him.
He's a preternatural passer in the half court and open floor, but his poor shooting puts a cap on how effective he can be in pick-and-roll as an every-possession ball handler. Teams are happy to skirt under picks and clog passing lanes with the knowledge that he's not going to punish them with his herky-jerky shot. Playing off of James was supposed to boost his shooting and secondary playmaking, but the results haven't been there, either — his assist rate is down significantly from last season, while turnovers are just as common. Whether it's a slow start to the year or issues adjusting to the new pecking order in Los Angeles, it's impossible to argue that Ball has been a positive for the Lakers offensively so far in 2018.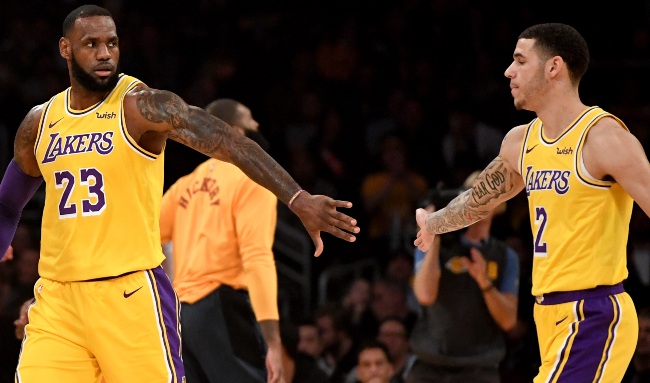 As down as his individual numbers have been this year, the Lakers have been strong when he's had a chance to run the show without James. In 150 minutes on the floor together, the team boasts a 113.0 offensive rating, per pbpstats.com.
Their overall offensive rating of 110.0 is just about average across the league, but those three points would elevate them to a top-five outfit for a full season. However, nobody could possibly argue the Lakers are better off when Ball is the primary playmaker and James is on the bench — their net rating in those situations is an absolutely dismal -11.22, which points to the other end of the floor.
The defense has been god awful when James hits the bench and specifically horrible when Ball remains in the game without him. It's often difficult to parse out what makes a defense good or bad because we just don't have the statistics at this point to accurately measure defense on an individual or team basis. Those who look to team-wide on-off numbers as a strong measure of an individual's defense have an argument that James has been an impactful defender for the Lakers this season, but nobody who watches the team on a nightly basis could make that argument with a straight face.
On-off numbers be damned, James has been a major defensive negative for Los Angeles this season. Missed box outs, lazy rotations, and non-existent closeouts have defined his year on that end of the floor. That's not to say that James will be that way come playoff time, because we've seen him turn up the intensity in years prior and get back to being the all-world stopper we all know he can be. For now, though, he's hurting them on that end of the floor.
Ball has the opposite problem. He's been mostly good and can't seem to get the on-off numbers to fall his way. Sure, he has his defensive weaknesses as well, including getting torched multiple times by James Harden in their recent game against the Houston Rockets.

He struggles in isolation situations, like those above against Harden. Very few defenders in the league can contain the Rockets' MVP guard, but Ball is on the lower end of that spectrum due to slower-than-expected feet and decision making. He gets caught flat-footed too often and doesn't have the lateral quickness to catch up when he gets behind the play. He can sometimes make up for mistakes with his size and length, which surprises opponents from time to time, but that same size gives him issues getting through screens.
It's more difficult for bigger guards to develop the slippery nature used by their smaller brethren, but it's not impossible. Paul George stands a full three inches taller than Ball and might be the best player in the league at getting through screens, both on- and off-ball. It's part of what makes him one of the best defenders in the league, and this is a skill Ball would be smart to attempt to emulate as he ages.
As a result, the Lakers have moved Ball into more of an off-ball role defensively, especially when Josh Hart is on the floor to guard opposing point guards. He's a smart help defender who, while sometimes prone to gambling a bit too much, understands opponents' strengths and weaknesses and does well to exploit them. Watch below how he "guards" Michael Kidd-Gilchrist on this possession.
Despite Kidd-Gilchrist not being Ball's primary assignment throughout the game, Ball is aware of his inability to shoot from outside and helps all the way to the nail on Walker's drive in the pick-and-roll, effectively snuffing out that threat. Helping one pass away like this is usually viewed as a cardinal sin in basketball, but when Kidd-Gilchrist is the player open, then it's the right play for Ball to make.
Ball's size and nose for the ball help him in low rotations as well, where he can be charged with rotating to a rolling big man or even protecting the rim when the Lakers' center is caught elsewhere.

As his mark cuts along the baseline, Ball is aware of what's happening elsewhere and rotates quickly to block Marvin Williams at the basket. He's not afraid to mix it up down low and will elevate to try to protect the rim, rather than sliding under bigger players in an attempt to fool the referees into giving him an unwarranted charge call, as many point guards tend to do in lieu of playing actual defense.
Ball is much more suited to an off-ball role, where he can create havoc and flex his best muscle on that end: rebounding. He was a wonderful offensive and defensive rebounder throughout his rookie year and nothing has changed in his sophomore campaign. Like Russell Westbrook in Oklahoma City, Ball's defensive rebounds turn into instant offense for his team – Los Angeles has scored 152 points on 118 recorded Ball defensive rebounds, an astronomical 128.8 offensive rating.
James has the freight train reputation in transition and can still go coast to coast when needed, but it's been Ball (and Kyle Kuzma, surprisingly enough) who have ignited the Lakers' fast break with their rebounding. While Ball's grab-and-go ability doesn't necessarily fall under "defense," his rebounding ability definitely does, and the pressure he can put on opponents in transition is a gigantic positive for the Lakers.
Ball is a polarizing figure. His strengths give him an intriguing skills package around which to build – passing, team defense, and rebounding – but his deficiencies are becoming more pronounced, namely shooting and on-ball defense. It is not a stretch to say it's difficult to see exactly where his place is on a team with championship aspirations.
If we've learned anything from the last several years in the NBA, it's that it's more important for role players to be well-rounded as opposed to possessing a few elite skills and and awful at a few others. Now that the Lakers are firmly in the LeBron James era and Ball has been relegated to one of James' running mates, working on those weaknesses becomes all the more imperative if he's going to see the floor for significant minutes in the playoffs over the next few years.