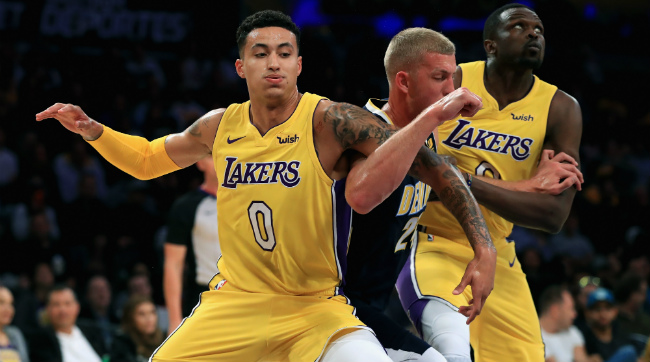 The Los Angeles Lakers' youth movement is in full swing. This has led to a number of positive developments, like two young players (Kyle Kuzma and Brandon Ingram) leading the team in scoring and a third (Lonzo Ball) setting the bar for the Lakers in assists. Plus Los Angeles is 8-2 over their last 10 games, which is tied for the best mark in the NBA.
It hasn't been all great, especially with regards to one of the team's veterans: Luol Deng. The Lakers have been clear that Deng is not part of their rotation, and seeing as how he's played in one game, they've backed up that assertion.
Deng, meanwhile, wants to play, but Los Angeles has had trouble moving him and the $36 million he is in line to make over the next two years. This is partly because, as Bill Oram of the Orange County Register noted, teams want Los Angeles to move one of the aforementioned three young players in a deal and the Lakers say no every time.
Deng said in November that he had asked the Lakers either for a trade or to buy him out of the two years remaining on his contract. He said Friday he is still hopeful for a resolution before the end of the season. In preliminary trade talks, teams have only shown a willingness to absorb the $36 million remaining on Deng's deal if Brandon Ingram, Kyle Kuzma or Lonzo Ball is included in the deal.

It's a weird situation in Los Angeles, because the Lakers can't really move Ball, Ingram, or Kuzma, as the three of them make up the team's core going forward. But at the same time, you have to make it worth a team's while if they are going to take on Deng's contract, and you can only do that with a quality young player because the only teams that can take on that kind of contract are bad teams with lots of space. Plus it's not like the Lakers haven't done this before — they traded D'Angelo Russell to the Nets during the past offseason, partly because it was the only way to get Timofey Mozgov's contract off the books.
Maybe the Lakers will get a deal that makes it worth parting with a young dude and Deng, but odds are they'll have to move on to discussions about a buyout since that doesn't seem like it's going to happen and they still have an end goal of landing two max players in free agency this summer.