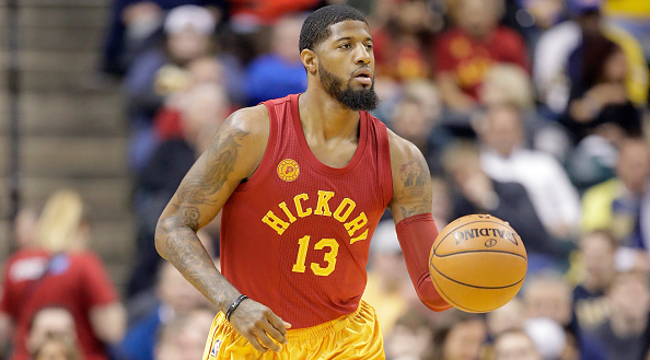 Paul George and the Indiana Pacers got swept out of the playoffs on Sunday by the Cleveland Cavaliers, and there was plenty of drama accompanying the organization along the way. He criticized C.J. Miles for taking the last shot in Game 1, blasted Lance Stephenson for his body language, and was at the helm of a team that blew the biggest lead in playoff history when the Cavs overcame a 26-point deficit to take Game 3 and a commanding 3-0 series advantage.
Even before all that, there were rumors that the Pacers were seriously trying to move George before the trade deadline, but were unable to get a deal done. Now, his future in Indiana is as uncertain as ever, complicated by the fact that he refused to address the topic immediately after Game 4.
He's made it no secret that he eventually wants to end up with his hometown Lakers, and new team president Magic Johnson hasn't exactly been subtle about his intentions to try and make that a reality. Here's what he had to say about it on a recent episode of Jimmy Kimmel Live when the host asked, hypothetically, what might happen if Magic and George ran into each other on vacation.
"We going to say hi because we know each other. I just can't say hey I want you to come to the Lakers … even though I'm going to be wink-winking. You know what that means, right?"
Some might argue that those comments themselves might constitute tampering, but that's neither here nor there.
The Lakers have a talented young core, but Johnson realizes that it's not enough to carry his team back into contention in the near future. They'll need a superstar like George to make that happen. This will be Magic's first major test at his new job.