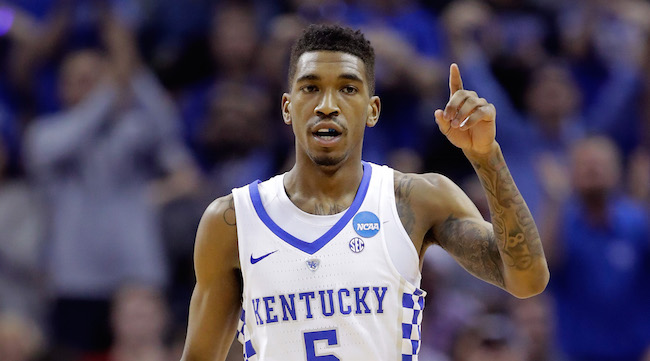 Malik Monk didn't play in the Summer League because of an injury, but Charlotte Hornets fans were hoping to see him in action soon. Unfortunately for Hornets fans, it doesn't sound like the ankle injury Monk suffered during pre-draft workouts will let him take the floor.
Monk shined at Kentucky and went 11th overall in the NBA Draft in June, but the injury has kept him out of the summer spotlight. It was thought that Monk would be out for a month with his injury, but there's still been little sign of Monk on the court this summer.
As it turns out, that's because the ankle injury was worse than initially thought. The Charlotte Observer's Rick Bonnell spoke to Hornets coach Steve Clifford on Friday and got an update about Monk's status.
That kind of language seems to indicate that Monk's on his way to recovery, but the initial injury was worse than they thought.
Clifford noted that Monk has a bit of learning to do with this Hornets team, and he will start with the second team in the team's open practice later this month. Fans are eager to see Monk in action because of his huge potential, but Clifford noted it's a long process to become a significant contributor in the NBA on both ends of the floor.
"Everything I've seen is good," Clifford said of Monk's work habits.
"We've watched film; I've made edits of his defense in college. It won't be okay (for him to continue guarding that way). It's a different world and they're going to go at him more.
"He's a terrific athlete, he's a prideful guy, and I'm confident we'll figure that piece out."
Staying on the floor to figure that out, however, is going to be very important for Monk this season.