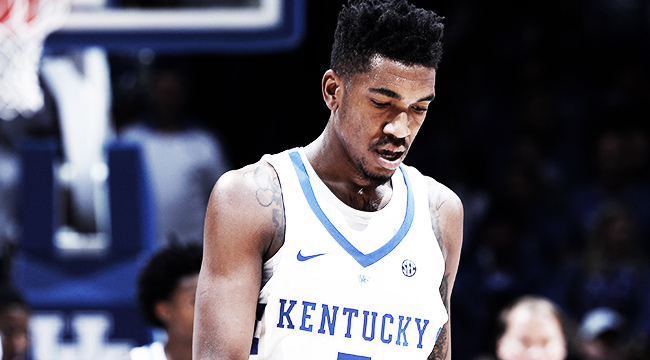 The University of Kentucky will have the most pro prospects in the green room at the NBA Draft on Thursday with three Wildcats in New York. Among them is Malik Monk, one of the most intriguing draft prospects in the pool. Monk dazzled in college and is a dynamic shooter ready to hit the floor and make it rain three-pointers for an NBA team this fall.
The projected Top 10 pick skipped the NBA pre-draft combine, but has been put through his paces in individual workouts. With the draft nearly upon us, we talked to Monk about draft night fashion, his thoughts on the Triangle and the Knicks, what it's like playing for coach Cal, and who he compares himself to as he gets ready to take his talents to the NBA.
You've been through a lot of workouts to get you prepared for the draft on Thursday. Have you enjoyed the process?
Oh yeah. It's the only time you have to travel and see different cities. I've enjoyed it.

Is there a team that stood out that had an interesting workout experience? Did anything surprise you?
No, not really. There weren't really any teams that threw things at me I wasn't expecting.
There were reports that when you worked out with the Knicks that they did a lot of things with you in the triangle. Is that something you'd be comfortable playing in?
Yeah. It's a lot of movement off the ball, and I can move off the ball pretty good. It was nice. (The triangle) is what the Knicks do, so their workout has to be revolving around that because that's what their players need to work in. So it didn't surprise me.
Playing in Kentucky in college, you get to play with so many talented young guys who want to get drafted as well. Was that the ideal playing situation for you?
Oh yeah. Every day in practice you're guarding one of the top guards in the draft. And when you're playing in Kentucky, you're playing under a microscope just like in the NBA. There's cameras everywhere, crazy fans following you. Kentucky was the best experience.
Speaking of cameras, the draft has become such a spectacle in recent years. Fashion is always a big concern for draft picks. What are you going to wear? Did you enjoy getting that together?
It was a really fun process. I'm working with Tissot, the watch maker. The work with the NBA to give every first round pick a special watch after the draft. And we get to customize that. But I can't tell you too much about my outfit. That's a secret.
That's something that a lot of players do—try to debut a look and make a splash. How long have you been working on your look?
I've actually been working on it since I've declared. I've been working on it for a while. I'm glad I can show it off soon.
Do you wear watches a lot? Is that something that's part of your everyday wardrobe?
Now it is. (laughs)
What's your style like on a day-to-day basis? Are you a sweats and team gear kind of guy or are you excited to dress up with the NBA'd dress code?
Oh yeah. Whenever I'm out I try to look the best that I can. Whether it's just sweats or dressing up for game days. I like fashion.
Boston had the first pick in the draft until Monday, when they officially swapped picks with the Sixers. Do you pay attention to that kind of stuff or are you just trying to keep your head down and see where things shake out on Thursday?
I'm focused on what's happening with me but everybody's gonna see that stuff. I wasn't, like, concerned about it but you know what's happening with trades and stuff.
So you skipped the Draft Combine in Chicago last month. Why did you decide to just do individual workouts with teams?
I thought it was just best for me to work on my game instead of doing those kind of tests for a couple of days. I didn't want to stop working on my game and the things I felt I needed to work on.
Kevin Durant talked about his bad combine experience and said he hated it, that it tested things that didn't matter for basketball players. Do you have a similar assessment about the combine?
Not really, I was just thinking that if I'm there doing stuff, I'm not working on me. I'm not getting better.
The concept of a "super team" is something a lot of people are talking about in the league these days. What do you think about super teams? As a player coming into the league do you worry about how you keep up with those teams?
I just want to get there, that's what I'm worried about. Getting on the floor. Once I do that, I can think about and worry about them.
So who do you say you kind of model your game after?
I'd assess myself as a player that can do a lot of different things well. Maybe like Brad Beal or Jamal Crawford.
When you're not focusing on the draft, how are you spending your time? Are you a big video game guy like a lot of players in the league?
Nah I'm a video game guy but not all the time. I like to work out, stuff like that. I like being outside.
So who will be with you on draft night?
At the table will be my brother, my high school coach, and coach Cal. And my agent, of course. But I'll have other family and friends in the city with me.
What was it like to play for Coach Cal? How important was playing for him to your development?
I loved playing for him. Like I said, he's a player-first coach. He always does what's best for players and their game. And he'll let you showcase your game as long as you do what he tells you to do and keep up your end, you'll be good.