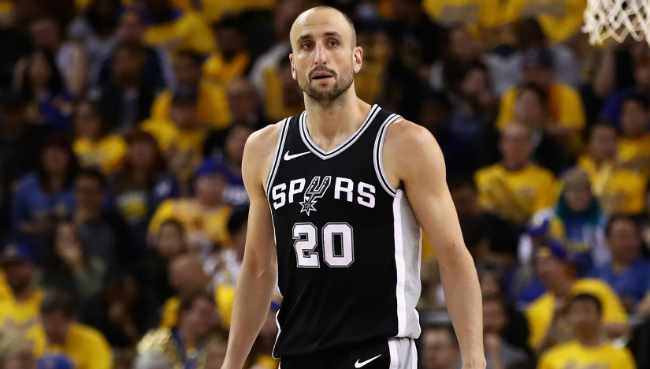 It's been a whirlwind of an offseason for the San Antonio Spurs, one which has seen the organization go through uncharacteristic upheaval. Most notably, San Antonio shipped Kawhi Leonard and Danny Green to Toronto for DeMar DeRozan. But as it turns out, those might not be the only pillars of the organization that the Spurs lose this summer.
According to Adrian Wojnarowski of ESPN, longtime guard Manu Ginobili is seriously contemplating retirement, so much so that a meeting is on the books between San Antonio's beloved guard and head coach Gregg Popovich.

Ginobili retirement drama isn't necessarily new — he's 41 years old and has flirted with the idea in the past. But as Wojnarowski wrote in his subsequent story on ESPN.com, the possibility of Ginobili finally calling it a career is weighing heavily on the greatest South American basketball player ever.
"Ginobili, 41, has been working out regularly at the Spurs practice facility and hasn't made a final decision on the coming season, but sources say that he's strongly confronting the possible end to an historic 16-season run with the Spurs that includes four NBA championships," Wojnarowski wrote.
It's still fun to watch Ginobili play, because his creativity and his fearlessness on the court are skills that will never deteriorate. However, no one would blame him if he decided to hang up his sneakers and call it a career — Ginobili is one of the oldest players in league history, and is the second-oldest player in the NBA right now behind only Vince Carter. A meeting with Popovich suggests he's not too far away from making up his mind, and while he is under contract for another season, it sounds like there's no guarantee he comes back for one final year.