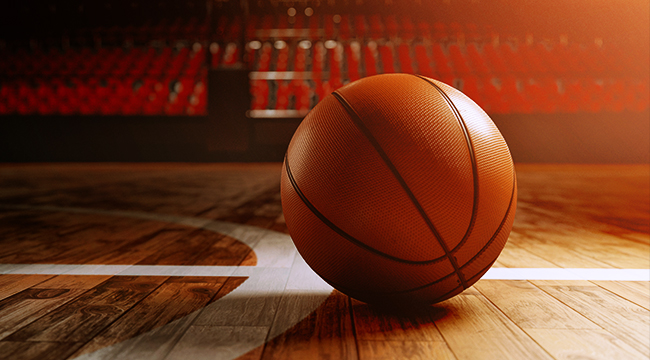 Thanks to an accident, one which has been rectified, a five-star high school girl's basketball prospect has been robbed of her senior season. Maori Davenport, the No. 2 center in her recruiting class, is a standout at Charles Henderson High School in Troy, Ala. and is slated to spend the next four years playing college basketball at Rutgers.
Prior to the fifth game she was slated to play in her final season of high school ball, however, Davenport was told that she had been ruled ineligible by the Alabama High School Athletic Association for reasons outside of her control. Like many good basketball players, Davenport was asked to represent the United States at the FIBA Americas U18 Championship last year. The red, white, and blue won gold, with Davenport averaging 7.8 points, 7 rebounds, and 2.7 blocks per game.
As a way to compensate her for her performance, Davenport was given a stipend check for $857.20. Now, because God forbid any amateur athlete gets compensated for something they do that either costs money or generates revenue, this is a gigantic problem in the eyes of the AHSAA.
Via ESPNW:
Typically, USA Basketball confers with high school federations to determine if players are allowed to accept payments. But due to an error USA Basketball admits it made, no call was made to the Alabama High School Athletic Association, which does not allow payments of more than $250.

When USA Basketball realized its mistake, it notified Henderson and the AHSAA. Davenport then sent the money back. But the AHSAA ruled that she was ineligible for one season.
In a statement to ESPNW, USA Basketball spokesman Craig Miller said "The NCAA allows us to pay athletes — who have no remaining high school eligibility — a small amount for the sake of representing the USA. Typically, if we have an athlete with high school eligibility remaining, we will check with their athletic association because the rules are different in each state."

Miller placed the blame on USA Basketball, saying it was "absolutely our mistake" and that he's never seen anything happen like this before in his time with the organization.
Now, if you are a human capable of, like, the bare minimum amount of rational thought and/or empathy, you will read that and go "hey, that's really stupid." And you'd be correct! It's painfully stupid that Davenport is not allowed to play her final year of high school basketball because USA Basketball made a mistake that was remedied. It's unfair to a teenager, it is unfair to her team, and it is unfair to the community that is robbed of one final chance to watch her play. As evidence of this, the NCAA — which is normally the worst with this stuff — won't let this impact her eligibility.
It's why responses to this have come from all over the place. The WNBA and some of its players have gotten behind Davenport…
…to some NBA players, namely Alabama's favorite basketball playing son, DeMarcus Cousins.
Her college coach, C. Vivian Stringer, has her future player's back, too.
Jay Bilas of ESPN used some airtime during the network's broadcast of a Kentucky-Alabama game to break it down even further, noting that this could all change in a heartbeat if AHSAA executive director Steve Savarese would just do the right thing.

David Holtsford, president of the Alabama High School Athletic Association Central Board of Control, released a statement on Monday addressing the matter after "numerous stories" that he felt were misrepresenting the board's views.
The stories and comments being circulated throughout the media and social networks are asking that an exception be made to the Amateur Rule because it was not the student's fault; the fact the money was repaid, and that the student is an exceptional athlete and will miss her senior year. However, if exceptions are made, there would no longer be a need for an Amateur Rule. The Rules are applied equally to ALL athletes. Furthermore, most eligibility violations are the result of adults failing to follow the rules. Here, the student's mother as a certified AHSAA Coach should know the rules; the School's Principal should know the rules, the Head Basketball Coach, as not only a Coach but also as a former Central Board member, should know the rules.
In other words, without rules this world would be chaos. Sorry folks.
So here's the deal: Amateurism is a gigantic sham. It is a system that exists so people can make money off of high school and college students who do all the work, and is one of those things that exists because "that's the way it's always been." College athletics are a billion dollar industry in which players never get paid. High school athletics are nowhere near as big, but as this shows, they can be even more brutal than the NCAA when a player gets compensated for what they accomplish.
Above all, it is nothing short of heartbreaking that Maori Davenport isn't allowed to play out her final season of high school hoops because of a clerical error. Yes, she accepted money for her ability to play basketball. No, it is not her fault, because anyone who says "she shouldn't have accepted the stipend that everyone usually gets with USA Basketball when it was offered to her" is not a reasonable person.
Davenport is still practicing with the team in the event her suspension gets overturned. Hopefully by the time you read this, that ends up being the case.