Being the weirdest thing in the NBA during a given season is an extremely high bar, but through this early point in the 2018-19 campaign, the weirdest thing we've seen so far came in an otherwise innocuous game between the Philadelphia 76ers and the Atlanta Hawks. The Sixers defended their home court and won, 113-92, but here was how the Hawks played defense against Philly guard Markelle Fultz.
To his credit, Fultz had a decent game against Atlanta, as he had 16 points on 7-for-16 shooting with seven assists and four rebounds in 25 minutes. It was his season-high in scoring and tied for his season-high in assists, but the Hawks are coached by Lloyd Pierce, who spent last year as an assistant in Philly. He saw first-hand what Fultz went through during his rookie campaign and decided the best way to defend him was to just not view him as a threat on the perimeter.
Fultz started the game 2-for-7 (well, 2-for-8 if you want to add the clock-beating heave at the end of the first, which he carried into the half) and eventually figured out what to do as the game went on. It's ironic, in a way, because so much of Fultz's season has been trying to figure out exactly what needs to happen, both in regards to him and his fit in Philadelphia.
One thing that gets lost in talking about Fultz is that, despite his injury/shooting yips/whatever, he's still an immensely talented basketball player. In a phrase I hate using, it's obvious when you watch him that this is the case. Fultz is still a tremendous athlete and someone who is capable of, say, attacking the rim and scoring when Boban Marjanovic is right there.

Or, perhaps, this clip from the aforementioned game against the Hawks, in which DeAndre' Bembry had a chance to contest a dunk but made a wise business decision.
The other positives: Only Ben Simmons and T.J. McConnell, whose spot in the rotation has declined in recent games, have higher assist percentages. Only defensive ace Robert Covington has a higher steal percentage. The only guard with a lower turnover percentage is the famously turnover-averse J.J. Redick.
If you want to be optimistic about Fultz — a 20 year old whose career has barely started — you're beyond right to do that. He is a spark plug for a Philly team that can absolutely use one, and there's this magical, wonderful thing that occurs when he checks into a game at home and starts cooking and Sixers fans begin to sense that what he's doing in these short glimpses of time could maybe, just maybe, be on the verge of occurring more frequently.
"You just felt the building change, you felt our team's mood change, we needed that injection of energy," Sixers coach Brett Brown said after the game, per Kyle Neubeck of Philly.com. "We are all going to see him push the ball and find people, but I thought his defense was excellent as well. He really deserves a lot of credit for injecting that type of momentum leading into the fourth."
The issue is that there are concerns that exist with Fultz, especially his shooting (which is getting there, even if it has a way to go) and his fit alongside Simmons and Dario Saric. Again, this all comes with the gigantic caveat of "it is early and everyone is still learning how to play alongside one another," but among pairings that have played 85+ minutes*, Philly's two worst two-man groupings are Simmons-Fultz and Saric-Fultz. The former has a net rating of -12.4 in 88 minutes, the latter's is -11.9 in 105 minutes. The Sixers' third-worst pairing? That's Simmons-Saric … with a net rating of -3.4.
(* — Why 85+ minutes? Easy: Because the Sixers are smart and are realizing that Simmons-Fultz isn't working great just yet. Despite starting games with one another, that pairing has played 88 minutes together so far this year, making it the fewest minutes Fultz has played next to another starter.)
Fultz's net ratings with his other two partners in the starting lineup — Covington (-0.9 in 141 minutes) and Joel Embiid (+2.6 in 174 minutes) — are better. The issue, if you want to call this one, is that the Sixers benched Redick to put Fultz in the starting lineup. Going with that aforementioned marker of 85+ minutes, wanna guess four of Philly's best two-man groups? (Hint: It's Redick with each starter, and they're throttling people.)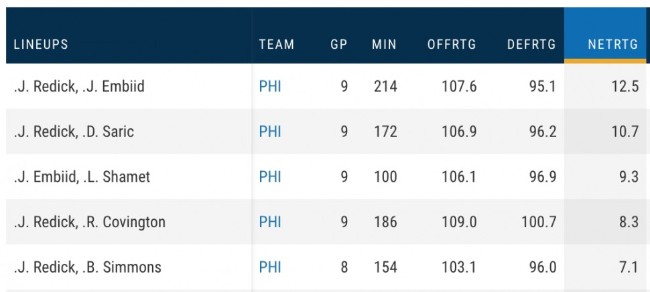 For the record: Sixth is Redick-Fultz with a net rating of 4.4, because of course it is. Also: Peace to Landry Shamet.
This isn't to say Fultz needs to get benched or anything like that, more that the Sixers had one of the best 5-man groups in the NBA last season and the chemistry that it had carried over to this year. They decided to tinker with that a bit, and the results so far haven't been especially tremendous. Philly's two most-used lineups are Covington-Embiid-Saric-Simmons with Redick or Fultz. They're night and day … for now.
That "for now" is the big thing here, since the beginning of the season is a time to figure stuff out, especially when you're a team incorporating a (for all intents and purposes) new player into your starting lineup. Besides, Philly is 5-4 behind five home wins against non-playoff teams and four road losses against three surefire playoff teams and the Pistons in a game where Blake Griffin scored 50 points. That's … about what you'd expect out of a team that's still learning how to use a player that went through everything Fultz went through last year.
The solution might be as easy as the Sixers just need to keep building chemistry with Fultz. As he puts it together, the team will almost certainly put it together, which is a crucial step if Philly wants to live up to the lofty aspirations it had entering the season. The best way to do that is to throw him on the floor and let him (and his teammates) figure things out, even if that's also the riskiest path forward, because while the hope is everyone swims, the possibility the Sixers sink exists.
There's a decent backup plan in place this year if that happens — plug Redick in and move forward — but long-term, Fultz being a former No. 1 pick is the kind of thing that can make or break whether Philadelphia is a legitimate title contender or just a very good team. Through nine games, Fultz hasn't looked like the game-changing offensive players whose creativity as a scorer and distributor made him a no-doubt top pick out of Washington. There have been enough glimpses, though, that it's not a stretch to say he looks more like a rookie than a bust, which might be as encouraging as anything.