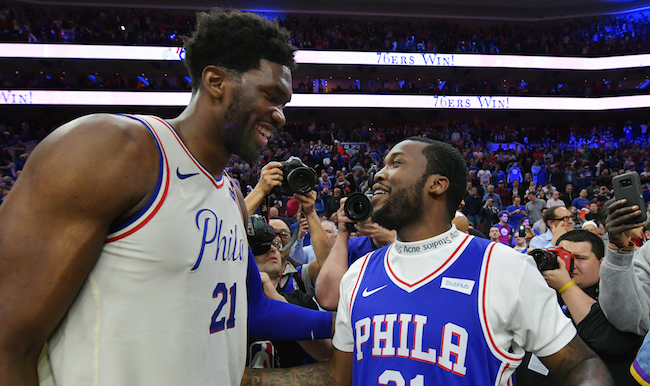 Just a few days removed from the release of his album Championships, his first proper release since 2017's Wins & Losses, Meek Mill is spending the week making the rounds on the interview circuit to talk what else but Philadelphia sports. And while the Eagles find themselves struggling to live up to task of being defending Super Bowl champions, a feat that was a major part of why Meek named his album what he did, the buzz around the 76ers is still palpable.
Sitting down with Sports Illustrated, Meek expressed his confidence that Jimmy Butler, who came to the 76ers in a blockbuster trade a few weeks ago, can lead Philly to an NBA Finals appearance and even a championship, something the 76ers haven't experience since 1983. Here was Meek's response when he was asked straight up if Butler could lead his newest team to the promised land.
"Yeah, Jimmy Butler is a beast," Mill said. "I remember two or three years ago we played them and I was talking trash to him. He had a 50-point game against us, so we wouldn't mind having a guy like that on our team."

Meek then appeared on ESPN's "First Take" and doubled down on his, well, take that the 76ers aren't far off from hoisting the Larry O'Brien trophy, Golden State Warriors be damned.
"I think the season (where the 76ers win it all) is coming up soon," Meek said. "We building up the team that we need to do it, and I think it's coming real soon."
If the 76ers do win it all in the next couple of season, Philly may need to build Meek Mill a statue.