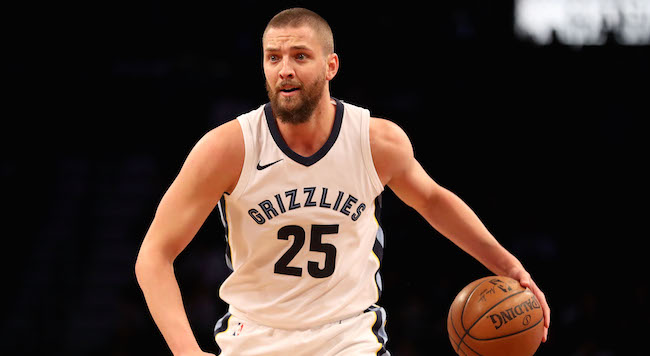 The Memphis Grizzlies were expected to be a fringe playoff team in 2017-18, but an early injury to Mike Conley Jr. and other issues saw them suddenly become one of the NBA's very worst teams. They fired David Fizdale as head coach and went on to tank their way into the No. 4 overall pick in this year's NBA Draft.
The value of that fourth pick will vary greatly based on who gets taken in the first three picks. The general consensus is that if Luka Doncic manages to slide past Sacramento and Atlanta, which is a possibility, Memphis would happily scoop him up. However, if Doncic goes before then, the players available to them will likely be some combination of center prospects, and whether they want to use the pick on a center when Marc Gasol is still on the roster for another year or two is a legitimate question to answer.
It's possible the Grizzlies could look to move out of the fourth spot, and according to The Athletic's Michael Scotto, they may look to do so by packaging that pick with Chandler Parsons' disaster of a contract to free them up with cap space moving forward.
The Memphis Grizzlies have gauged the trade market on a package of Chandler Parsons and the No. 4 overall pick, league sources told The Athletic.

Parsons is scheduled to make $49.2 million over the next two seasons, which is a lot for a player that's not been able to stay on the court due to health problems. That major swing in free agency a few years ago hasn't worked out, and Memphis will be hard pressed to find a team willing to take that on without them giving up one of their more significant assets, like the fourth pick.
It is also important to note the language in the report, which says they've gauged the market on that package, which likely means they've called around to teams to find out what is possibly out there. It's more than possible that they will find out that, even adding in the No. 4 pick, teams won't be offering much of the way in value in return for Parsons' contract. However, if a team does have their eyes on one of those players that could be there at four, they might be able to squeeze something out of nothing.
It still seems most likely that Memphis, which is a team in desperate need of an influx of young talent, keeps the fourth pick with an eye towards the future and looks at other alternatives to their cap situation regarding Parsons.
(Via CBS Sports)