The future of the NBA will be greatly impacted one week from now, when the 2018 NBA Draft arrives and teams have the opportunity to select from an impressive crop of prospects. In advance of the draft itself, rumblings and whispers have been circulating for weeks and, for example, virtually everyone expects Arizona big man Deandre Ayton to be selected by the Phoenix Suns with the No. 1 overall pick.
However, the consensus doesn't always jive with personal evaluations and, after several mock drafts (and more to come) incorporating actual buzz and reporting, we are here to provide an outline of what NBA teams should do when June 21 arrives. Of course, it has to be noted that the draft is a (very) inexact science and, as a result, a number of the evaluations both here and elsewhere will prove to be misguided in the coming days.
Still, this is a highly informed, researched collection of opinions and they represent the thoughts of exactly one person. Without further delay, let's roll through the list, beginning with a different outcome at No. 1 than is likely to actually occur.

1. Phoenix Suns – Luka Doncic (SF, Slovenia)
As noted above, Ayton is very likely to be the choice here but Doncic has been No. 1 on my board for months and that hasn't changed. Phoenix does have two quality building blocks on the wing in Devin Booker and Josh Jackson but Doncic would unlock a lot of things offensively with his basketball IQ and passing. We are picking nits in choosing between Doncic and Ayton but, to set the tone for the rest of the draft, we have to stay true to the board.
2. Sacramento Kings – Deandre Ayton (C, Arizona)
The sound you hear is Sacramento's front office doing cartwheels. It is tough to discern just how real the buzz is regarding the Kings potentially passing on Doncic in a real-life scenario but Ayton, who many believe is a sure-fire No. 1 overall player, would be a great prize for this particular organization. Physically, he is a marvel and there is very little question about his offensive ceiling as a result. Even if you have defensive questions (as I do), he's a great value at No. 2.
3. Atlanta Hawks – Jaren Jackson Jr. (C/PF, Michigan State)
This is a tough choice. Jackson Jr. and Bagley are very close on my board and it becomes personal preference at some point. Jackson Jr.'s defensive potential is off the charts and, simply put, he's the best defensive prospect in this class. It comes down to whether you believe in his offense enough to pull the trigger and, as a tie-breaker only, he happens to be a better fit alongside John Collins in Atlanta.
4. Memphis Grizzlies – Marvin Bagley (C/PF, Duke)
Memphis gets to make the easiest choice to this point, as Bagley is the end of a tier for me. He isn't a perfect prospect in that there are legitimate and troubling defensive issues to address, but comparisons to Amar'e Stoudemire on the offensive end are legitimate and he could be a star-level player on that end of the floor.
5. Dallas Mavericks – Mo Bamba (C, Texas)
The Mavs may choose to pursue the center position in free agency and, obviously, they have a better idea of what they'll prioritize than I do. With that said, Bamba is the best player available on my board and, at least at the moment, center is a position of need for the Mavericks. Sometimes, it's just that simple.

6. Orlando Magic – Trae Young (PG, Oklahoma)
Evaluating Young is incredibly difficult and that leads to a significant divide in the scouting community. This pick splits the difference to some degree. Young's offensive upside is tantalizing and the Magic absolutely need a spark. There is risk but, outside of the top five, the reward balances out and there isn't a perfect pairing out there for Orlando that would make Young worth passing up here.
7. Chicago Bulls – Wendell Carter Jr. (C, Duke)
For me, Carter Jr. is the best player available. If you feel as if Lauri Markkanen is a center moving forward, this selection makes less sense but Carter Jr.'s versatility and obscenely high floor are worth documenting. The two big men would play well together while also spelling one another and, while I'm probably higher on Carter Jr. than some, he is a worthy selection.
8. Cleveland Cavaliers (via Brooklyn) – Michael Porter Jr. (PF/SF, Missouri)
If LeBron James exits stage left, the Cavs might be more willing to take a swing here. Obviously, Cleveland won't know what LeBron is doing when the draft arrives but, even James returns, it feels likely that he will push for this pick (whoever it is) to be moved. Porter Jr.'s downside is significant, with injury and make-up concerns prevalent. With that said, he has No. 1 option upside on the offensive end. That's worth the risk for a team that could be rebuilding immediately.
9. New York Knicks – Mikal Bridges (SF, Villanova)
This wouldn't be a typical Knicks pick but Bridges is the best player available. A potential defensive pairing of Bridges and Frank Ntilikina would be a lot of fun and the Knicks also need a floor-spacer. It has to be said that Bridges may not have the highest ceiling but his 3-and-D projection (with room to grow beyond that) is enticing for a team that needs to hit this pick.
10. Philadelphia 76ers (via LA Lakers) – Miles Bridges (SF/PF, Michigan State)
Bridges lands in a perfect situation. The Sixers don't need him to be a primary scorer and, when freed from that constraint, the Michigan State product would be allowed to flourish as a versatile, do-everything combo forward with upside. Philadelphia adds the best player available and a position/role of relative need. It just makes sense.

11. Charlotte Hornets – Shai Gilgeous-Alexander (PG/SG, Kentucky)
It is fair to say that I'm higher than the consensus on Gilgeous-Alexander but this also might represent something of a tier drop. Regardless, the Hornets need another offensive creator and Gilgeous-Alexander wouldn't be pressured to take everything over in the presence of Kemba Walker. If you believe in Malik Monk (last year's lottery pick), this selection makes even more sense, as Gilgeous-Alexander has the length and potential defensive acumen to paper over some of his fellow former Wildcat's weaknesses.
12. Los Angeles Clippers (via Detroit) – Kevin Knox (SF/PF, Kentucky)
The Clippers boast a very weird roster and now have two picks in a row at a less than ideal spot in this particular draft class. Of course, the possibility exists that someone could slide but, in our mock, Knox fits nicely as a prospect with high-end pedigree and malleability as a combo forward. He isn't likely to blow anyone away but he's a lottery-level player.
13. Los Angeles Clippers – Robert Williams (C/PF, Texas A&M)
With Knox on board, there is freedom to go all over the board here. For starters, Williams is the best player available on my board. Beyond that, the looming potential of DeAndre Jordan fleeing in free agency exists and, even if he sticks around, Jordan isn't getting any younger. Obviously, the Clippers would know more about Jordan's future status than I but, if Williams coming to town would keep the organization away from a perilous long-term commitment to the veteran center, it would be a good idea.
14. Denver Nuggets – Troy Brown (SF/SG, Oregon)
This is higher than Brown will go in most mocks but, well, I'm higher on Brown than most. His basketball IQ is off the charts, he has passing vision on the level of a point guard and, most importantly for Denver, I believe he'll defend at a high level. Shooting isn't a strength but, when combining his talent with an obvious need for the Nuggets, the fit is a snug one.
15. Washington Wizards – Zhaire Smith (SG/SF, Texas Tech)
Smith may not be the best player available but he's close and the two players in the conversation for that honor make no sense in the nation's capital. If the Wizards don't love Kelly Oubre, Smith would be a great replacement. If they do, Smith's upside makes this pick worth it, especially if he adds to his offensive arsenal.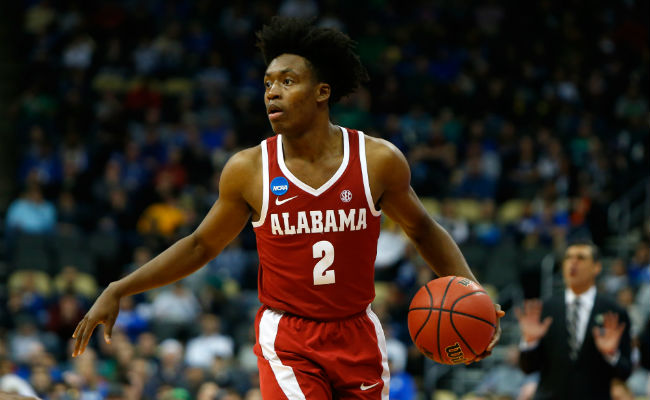 16. Phoenix Suns (via Miami) – Collin Sexton (PG, Alabama)
It would be a stunner if Sexton actually fell this far but the Suns would benefit. There is a faction that believes Sexton could be the best point guard in this class and they aren't inherently wrong. He doesn't bring the upside of Young or the size and versatility of Gilgeous-Alexander, but Phoenix has a need at the position. Beyond that, Sexton's competitiveness is legendary and this is almost a perfect landing spot for him.
17. Milwaukee Bucks – Lonnie Walker (SG, Miami)
Much like Sexton, Walker is consistently mocked higher than this but it is also tough to find a perfect fit. He is a pure shooting guard in my view and, even with on-ball creation ability, that is a spot that isn't always easy to fill. In Milwaukee, he would bring much-needed offense to the table and he doubles as the best talent available.
18. San Antonio Spurs – Melvin Frazier (SF, Tulane)
A lot of people will be surprised by this projected marriage but Frazier would be too perfect in San Antonio. It's an open question as to whether he will make enough jumpers to succeed as a 3-and-D type but San Antonio's ability to coax shooting out of wings is well-documented. If we assume that becomes anything approaching a strength, Frazier is a big-time athlete with a 7'2 wingspan and I'm planting my flag on him being a top-20 prospect.
19. Atlanta Hawks (via Minnesota) – De'Anthony Melton (SG, USC)
We have back-to-back "surprises," at least compared to conventional mock drafts. Melton would be seen in a brighter light if he had played for USC this season but, frankly, that isn't bothering me in the slightest. As of now, he brings everything to the table you would want in a combo guard (high-end defense, passing ability, etc.) with the exception of an elite jump shot. If he can become a solid catch-and-shoot player, No. 19 might be eventually viewed as having been too low.
20. Minnesota Timberwolves (via Oklahoma City) – Keita Bates-Diop (PF/SF, Ohio State)
I'm on the higher side when evaluating Bates-Diop, largely because he appears to be a perfect modern-day combo forward. He has a 7'3 wingspan, does a lot of things well and should defend at a high level in the NBA. Minnesota is certainly in win-now mode and he combines fit with overall aptitude.

21. Utah Jazz – Khyri Thomas (SG, Creighton)
If you believe Donovan Mitchell is a lead guard (as I do), it doesn't make a ton of sense to pair him long-term with a traditional point guard. The Jazz do have Ricky Rubio under contract for one more year and a pending decision on Dante Exum in restricted free agency but, in Thomas, they add a versatile, defense-first guard that fits their mantra in basically every way. With a 6'10 wingspan and the ability to defend point guards and switch on bigger wings, Thomas is very valuable on that end and he shot 41 percent from three last season to boot.
22. Chicago Bulls (via New Orleans) – Chandler Hutchison (SF, Boise State)
This wouldn't be the sexiest draft of all-time, as the Bulls pair Hutchison with Wendell Carter Jr. in the lottery. Still, I'd argue it was a home run for Chicago, as Hutchison brings scoring punch, great size and a high floor on the wing. The Bulls have a weird confluence of perimeter players but their small forward of the future (to the extent that can be said about the No. 22 pick) might be here.
23. Indiana Pacers – Aaron Holiday (PG, UCLA)
Holiday is both the best player left on my board and, in my mind, a tremendous fit with the Pacers. Victor Oladipo needs the ball in his hands but Holiday has proven to be an excellent shooter that also has high-end defensive instincts and aptitude. He isn't huge by any means but Holiday has a 6'7 wingspan and, even if he probably isn't going to be a star, the third Holiday brother has the look of a long-time NBA rotation player.
24. Portland Trail Blazers – Jacob Evans (SG/SF, Cincinnati)
Portland's draft slot brings one of the more difficult decisions in this mock. Evans may be a bit of a reach here but the Blazers need two-way players and there isn't an obvious fit elsewhere. Evans has a high basketball IQ, can guard and would be playable immediately. That should appeal to a team trying to win now and the Blazers' investments in big men during the 2017 draft keep them away from the frontcourt.
25. Los Angeles Lakers (via Cleveland) – Mitchell Robinson (C, High School)
Robinson should be in real consideration in the late teens but, after that, there is a run on franchises that don't have center needs moving forward. The Lakers absolutely do, however, and Robinson brings lottery-level talent to a situation where there is no one standing in his path. Los Angeles may look to clear salary by getting off this pick but, if they keep it, Robinson might be the best-case scenario.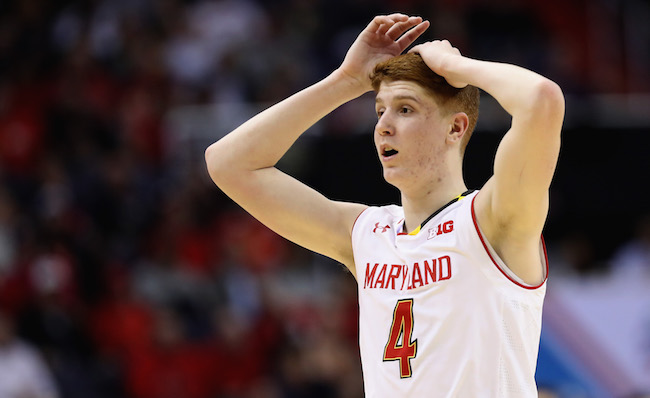 26. Philadelphia 76ers – Kevin Huerter (SG/SF, Maryland)
This is probably too low for Huerter based on the consensus that he seems to have a first-round guarantee by a team drafting ahead of this spot. This mock operates under my rules, though, and he lands softly with Philly in a situation tailor-made for a prospect with his shooting acumen and quick release.
27. Boston Celtics – Josh Okogie (SG, Georgia Tech)
There is a reason that Boston has been linked to virtually every combo guard in this class, as both Terry Rozier and Marcus Smart have potentially tenuous standings with the franchise moving forward. Okogie may be the best of the bunch from an upside perspective but, more importantly, he fits in Boston's culture as a potentially tantalizing defender who can also create a bit for himself.
28. Golden State Warriors – Donte DiVincenzo (SG, Villanova)
It seems silly to say this out loud but the Warriors really do need more shooting. Preferably, it would arrive in the form of a player with a bit more size than DiVincenzo brings but the Final Four hero has good athleticism to go along with his intriguing shooting stroke. He wouldn't be guaranteed playing time early but, as we saw throughout the playoffs, it isn't as if Golden State has the league's deepest bench and he could bring some needed firepower.
29. Brooklyn Nets (via Toronto) – Elie Okobo (PG/SG, France)
In a vacuum, I might select players like Shake Milton, Bruce Brown or Jevon Carter over Okobo. For the Nets, however, upside truly matters and it doesn't make as much sense to go for a lower-ceiling player in this spot. Okobo has some risk but, offensively, his skill set really pops and the Nets might be moving on from Jeremy Lin sooner rather than later.
30. Atlanta Hawks (via Houston) – Jalen Brunson (PG, Villanova)
Much like the Nets, the Hawks might want to take a swing and that could mean a player like Anfernee Simons or Dzanan Musa. However, Atlanta has the No. 34 pick as well and it might make more sense to take their flyer in the second round, rather than with this pick and guaranteed salary. In the end, Brunson is a fantastic value at this point in the draft and Atlanta's point guard situation is anything but settled, even if Dennis Schröder starts the season with the Hawks.