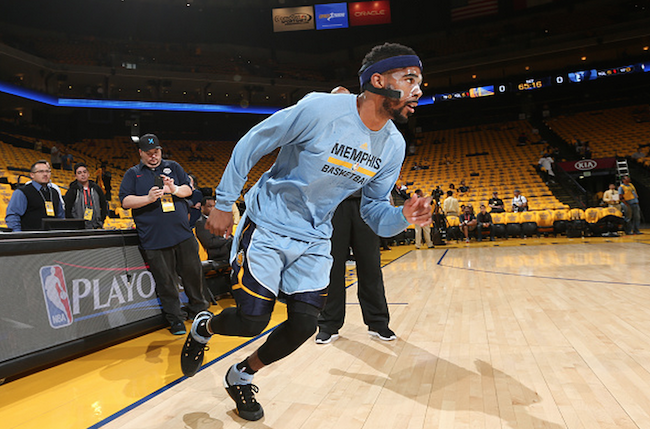 If the Memphis Grizzlies' 101-86 loss to the Golden State Warriors in Game 1 of the Western Conference Semifinals made one thing clear, it's that Dave Joerger's team will need to play near its peak to best the league's top playoff seed. This latest news ensures the Grizzlies will have a far better chance of doing just that.
Hours ahead of a crucial Game 2 from Oakland's Oracle Arena, Grizzlies point guard Mike Conley – who's missed the last three contests after suffering facial fractures and undergoing subsequent surgery – said he's optimistic about playing in Game 2. Via Michael Wallace of ESPN:
"I believe I will," Conley said when asked if he will play Tuesday. "But I believed that for the last week. So I'm really hopeful. They tell me I can play once I'm ready, and I feel like I'm ready to go. It's just on me."
Conley originally sustained the injury on a collision with C.J. McCollum during Game 3 of his team's first-round series against the Portland Trail Blazers. He had a procedure to repair it last Monday, and the Grizzlies haven't disclosed a timetable for his return in the interim.
The 27 year-old is officially listed as questionable to play in Game 2. Joerger wouldn't speculate on Conley's status one way or another at shootaround this morning, but said his point guard would be in the starting lineup if available.
Conley's presence would be a major boon for Memphis.
The Grizzlies lack any semblance of reliable perimeter dynamism without the lefty in tow, and his absence yields a rotational trickle-down effect that limits them on both ends of the floor. Conley can capably check Steph Curry when in the lineup, for instance, while Tony Allen guards Klay Thompson. His addition would also mean scant minutes – it any at all, actually – for Game 1 starter Nick Calathes, a gifted defender but severely limited player on the other end.
The corollaries of Conley's return are numerous, and make Memphis a much more worthy opponent to Golden State. Anyone expecting him to play at his accustomed All-Star level, though, should temper expectations. Conley won't only be wearing a mask for the first time in his career, but will also need to overcome inevitable subconscious adjustments of playing with an injury not yet fully healed.
The Grizzlies' chance to steal home court from the Warriors is obviously much greater with Conley on the floor as opposed to the bench. Even his limited capabilities would represent an upgrade for Joerger and company. But don't get too excited, either. At its best, Memphis simply isn't as good as Golden State – and is unlikely to reach that level while Conley remains compromised.
Game 2 tips-off at 10:30 EST on TNT.
[ESPN]