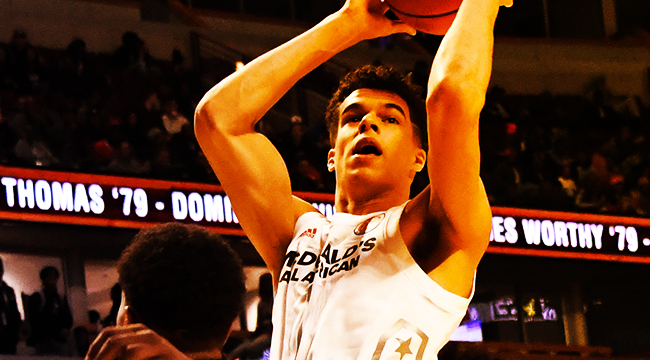 At this early juncture, the 2018 NBA Draft appears to be loaded and, while that is often the case in November, the top-tier talent available this time around is quite appealing for the teams battling for ping-pong balls. European swingman Luka Doncic is perhaps the greatest prize, if only because he is far more proven than any potential one-and-done player could possibly be. The draft also features wildly intriguing modern big men in Duke freshman Marvin Bagley III and Arizona big man DeAndre Ayton at the top of the class.
That trio would represent an impressive group of elite-level prospects on its own (with Texas big man Mo Bamba on the cusp) but Missouri forward Michael Porter Jr. looked to be in the mix as a firmly entrenched member of the top-level quartet. Unfortunately, though, Porter's freshman season in the SEC seems to be over before it began, as the consensus top-five high school prospect played only two minutes for the Tigers before disappearing with an odd injury. Now, Porter's fate has been sealed and it appears as if he will miss the vast majority, if not all, of his only projected season at the college level.
In the grand scheme, there is nothing apparent in his current medical evaluation that would keep Porter from becoming the All-Star player that he projects to be. Evaluating 18-year-old prospects can sometimes be a perilous exercise, but the 6'10 future power forward is quite polished and established when compared to other players his age, bringing a tantalizing skill set at a modern NBA position that translates well with his complete physical package.

It has to be noted that the injury almost certainly will have an effect, if only from a perception standpoint. While players like Ayton and Bagley will have the opportunity to impress at the college level and Doncic is playing against high-end competition in Europe, Porter will be going through extensive injury rehab and largely operating in obscurity. Of course, it isn't as if Porter will fly under the radar for any die-hard NBA Draft follower but the loss of a few months of development could be significant and this isn't a thoroughly typical injury with a well-known timeline.
Because Porter, like most young prospects, has real question marks, the uncertainty will likely roll over into his pre-draft evaluation, simply because he will not face an opportunity to answer those prompts on a college floor. There is no question that his frame, skill set and positional versatility are incredibly appealing at the NBA level and, if his medicals check out in a purely clean way before the spring, all should be well when it comes to his stock.
In some ways, it seems thoroughly inconceivable that Porter could slide out of the top five in the 2018 NBA Draft, even with full knowledge that another player (or two) could arrive in full force to overachieve when compared to preseason expectations. Still, the presence of uncertainty, especially when it comes to a prospect's back (a notoriously fickle part of an elite athlete's body) adds a layer of intrigue in less than ideal fashion. Could Porter slip in a meaningful way outside of damaged medicals? It feels unlikely, but the notion that he is arguably the safest prospect in a non-Doncic world is now suddenly and swiftly out the window.
Michael Porter is a fantastic modern forward prospect that would, at least on paper, make the vast majority of NBA teams better in short order. The question of his safety at the top of the draft is now unanswerable, however, and that will remain the case for at least the next few months, much to the chagrin of lottery-bound teams that have glaring weaknesses that Porter could fill.