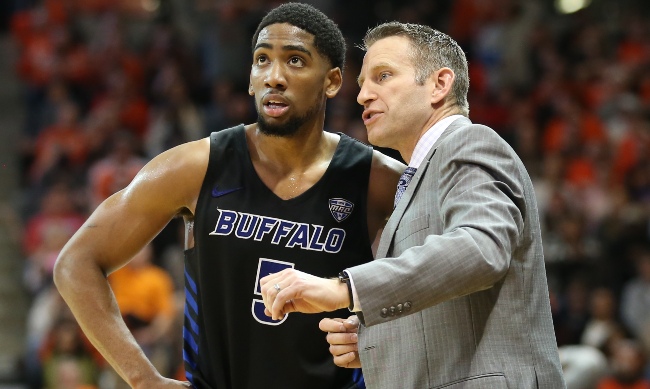 The most wonderful aspect of the NCAA Tournament lies in its greatest inefficiency: A single-elimination tournament to determine a champion is a terrible way to determine which team is the best in the nation. The good news is it's a blast, and every year, a team or three from mid-major conferences take advantage of this system by getting hot at the exact right time. Those squads always captivate college hoops, normally because they have to knock off at least one higher-seeded squad from a major conference and everyone loves a good underdog story.
This year, the Tournament is ripe with smaller schools that have the potential to make it to the second weekend and beyond. Between favorable matchups and squads just being, well, really good, there are a handful of teams that have the potential to make a whole lot of noise. These are the ones that have the best shot at a run to the Sweet 16 or later. (As a quick plug, if you would like to learn about all the mid-majors out there, a gigantic stamp of approval to the site Mid-Major Madness.)
Belmont (11-seed, East Region)
The Bruins have already picked up a win in March Madness with their convincing First Four victory over Temple. If you like teams in the same vein as the Florida Gulf Coast squad from six years ago that made a Sweet 16 run — a fearless mid-major that wants to get out, run, and outscore an opponent — Belmont is your squad.
Rick Byrd's bunch is an offensive juggernaut, sitting second nationally in points per game (87.4) with the 31st-fastest tempo and the third-best effective field goal percentage in America. Dylan Windler, Kevin McClain, and Nick Muszynski will all score, and if they can string together stops, Maryland in round one and either LSU or Yale in round two are in serious trouble.
St. Mary's (11-seed, South Region)
Randy Bennett is a damn good coach, and the Gaels are one hell of a basketball team. Just look no further than how they put the clamps on Gonzaga in the WCC championship game, holding the best offense in the country t0 47 points on 37.5 percent shooting from the field. They're excellent at slowing games down and executing, and the two-man duo of Jordan Ford and Malik Fitts is as good as you'll find.
Villanova and Purdue as a road to the Sweet 16 would be awfully tough to navigate, but when St. Mary's can impose themselves on opponents, the nation's 30th-best team is KenPom can knock them off. No matter when they bow out of the tournament, the Gaels are going to make sure their opponents have to fight tooth and nail to send them home.

UC-Irvine (13-seed, South Region)
Want a team that's scorching hot? You'll love the Anteaters, which have not lost a game since Jan. 16 and are riding a 16-game winning streak. They're not a perfect squad — the UC-Irvine offense leaves a fair amount to be desired — but this defense is nasty. No team is better at keeping opponents from hitting twos than the Anteaters, and by effective field goal percentage, this is the fifth-stingiest defense in America.
If Max Hazzard (excellent name) and Evan Leonard hit shots, UC-Irvine is going to be a problem. Kansas State will go into the first round without standout big man Dean Wade barring a miracle. Wisconsin and Oregon are both tough squads, but the Anteaters are feisty enough to make both teams really work.
Wofford (7-seed, Midwest Region)
The best skill for a mid-major with hopes of a run can possess is shooting, and the Terriers have that in droves. The No. 19 team in the nation in KenPom has an arsenal of shooters that few other squads can match, as Wofford hits 41.6 percent of its threes, the second-best mark in the nation. It also helps that Mike Young's bunch is on fire right now, sitting at 29-4 on the year and riding a winning streak that goes back to Dec. 29.
Fletcher Magee, a 6'4 guard with range for days and the greenest light in America to let it fly, leads the Terriers with 20.5 points per game and a 41.3 percent success rate from deep. Big man Cameron Jackson is happy to mix it up inside, while Nathan Hoover and Storm Murphy will punish opponents from deep if they get open — especially Murphy, who shoots an unreal 50.6 percent from three. Seton Hall will have their hands full in the opening round, and if the Terriers advance — and Las Vegas has them the favorite to do so — a potential matchup against Kentucky in the second round looms awfully large.
Buffalo (6-seed, West Region)
The West is loaded with mid-major squads, the best of which being Gonzaga, which has a case for being the best team in America. We'll leave them off because putting the Zags on this list would be cheating. Instead, let's start with the Bulls, which you might remember being the team that kicked the unholy hell out of Deandre Ayton and Arizona in the opening round last year.
Buffalo brought back a number of contributors from that squad, most notably flamethrowing guard C.J. Massinburg and imposing big man Nick Perkins. They play at a breakneck pace, they score, and they're really good on defense — the Bulls are one of 12 teams in the top-30 nationally of offensive and defensive adjusted efficiency. Plus, at 31-3, they boast the best record in college basketball.
Buffalo will be favored to win its opening round matchup against Arizona State or St. John's, and a potential showdown with Texas Tech in round two would be one of the tournament's best opening weekend games. An Elite Eight or Final Four run is possible, albeit a bit optimistic.

Nevada (7-seed, West Region)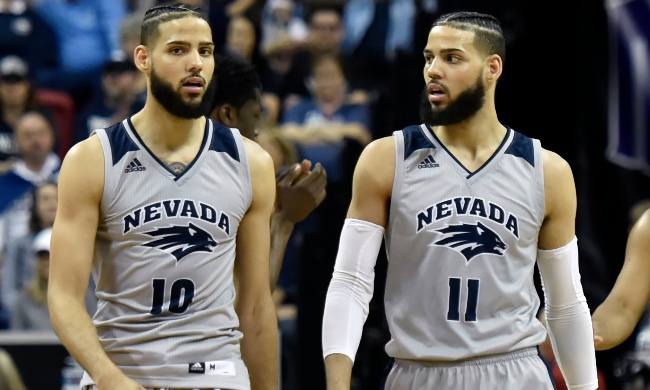 Speaking of teams you remember from last year, Nevada has been a bit of a disappointment in the eyes of some this year, which says a ton, because they went 29-4 and won the MWC regular season title. Eric Musselman's team looked like it might run the table before dropping a few games in conference play, getting bounced from the MWC tournament, and falling from being a top-5 squad in KenPom to its current spot as the No. 25 team in America.
Having said all of that, there are exactly zero teams that would want anything to do with the Wolf Pack, because when they're kicking, they will mess opponents up. Caleb and Cody Martin are bad, bad dudes, and Jordan Caroline will battle opponents for 40 minutes, and Jazz Johnson sets the table at the point beautifully. As Kyle Cajero of Mid-Major Madness pointed out, Nevada is 27-0 when it hits 38 percent of its shots from the field and 2-4 when it does not.
Watch that closely, because the Wolf Pack's opening weekend involves playing Florida and, in all likelihood, Michigan, the teams with the 14th and second-best defenses by adjusted defensive efficiency, respectively. An appearance in the second weekend would not be a shock.
Murray State (12-seed, West Region)
You know Ja Morant, who is the hottest of fire and the kind of player who can win a game or two on his own if need be. Even beyond him, though, the Racers are quite good, and their opening round matchup with Marquette is going to be wonderful — Morant and Markus Howard going shot-for-shot would be must-see television. The same would be said if they move on and face Vermont or, more likely, Florida State.
Murray State is 21st nationally in effective field goal percentage on both ends of the floor — they're especially good at hitting twos at the fifth-best mark in the nation and are the fourth-best team in the sport at preventing opponents from hitting threes. Morant rightly attracts the most eyeballs, but his backcourt mates of Shaq Buchanan and Tevin Brown can ball out, too, while Darnell Cowart inhales offensive boards.