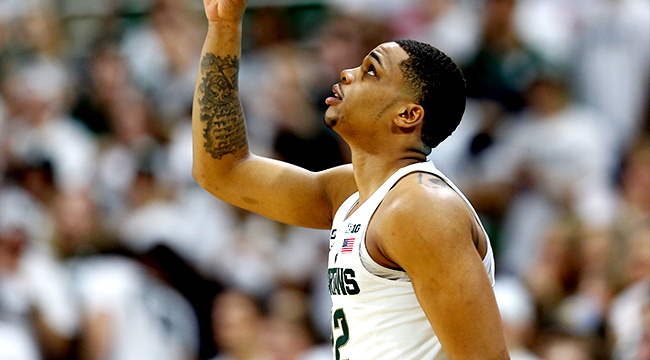 The 2018 NBA Draft is four months away and, at the moment, it appears as if the top of the class will be littered by one-and-done prospects with a sprinkling of 18-year-old Slovenian wunderkind Luka Doncic. That projection comes on the heels of a 2017 class that featured exclusively one-and-done prospects (and Frank Ntilikina) for the first 11 picks, and the focus on freshmen does not appear to be fading away as long as the NCAA and NBA collaborate to produce a scenario in which players have incentive to attend college for exactly one season.
This situation means that prospects like Miles Bridges, a sophomore forward for Michigan State, do not receive nearly as much attention. Entering the 2017-2018 college season, Bridges was a near-consensus National Player of the Year front-runner, which made a ton of sense. The 6'7, 225-pound forward averaged 16.9 points and 8.3 rebounds per game as a true freshman in East Lansing. According to many pundits, Bridges was a virtual lock to go in the lottery of the 2017 Draft before deciding to return to school.
In some ways, that made sense given what many considered to be a high-end crop, one which included star freshmen Markelle Fultz, Lonzo Ball, and Jayson Tatum. The same thing has happened this year, and Bridges has retreated into the background.

But a funny thing has happened this year with Bridges as the spotlight has been on other players. The sophomore is producing almost identical numbers to his freshman season and Michigan State is actually performing at a vastly superior level. Some of that can be attributed to health and the injection of talent from players like lottery pick Jaren Jackson Jr. but, when prompted to provide one name as the "best college player" on the Spartans' roster, Bridges would almost certainly be the answer.
Still, the 19-year-old has fallen victim to a suddenly familiar refrain. Many mock drafts project Bridges as a lottery pick but there is little to no buzz about the two-way forward crashing the party as a top-five selection. In fact, a consensus is building that Jackson Jr., not Bridges, is the best NBA prospect on the Michigan State roster. With more scouting tape available, the lack of transcendent upside to Bridges' game undoubtedly sends some scouts running for the hills when comparing him to some freshmen in the class.
Despite that, Bridges is still a tremendous NBA Draft prospect. At 6'7 with a reported 7'0 wingspan, Bridges has the tools necessary to operate at a high level on both ends of the floor. His positional fit is up for debate as a result of his relatively limited height but Bridges can almost certainly function as a small-ball 4 in many NBA schemes with more than enough perimeter ability, including shooting and play-making, to slide to the small forward position when asked to do so.
More than anything, Bridges' apparent descent in NBA Draft circles comes as a result of his projection becoming more firm. He profiles as a high-level role player at the next level and, even with full knowledge of the immense value that can bring, it is far less sexy to dream about quality two-way play than it is to fantasize about dominant scoring, rebounding, or long-distance shooting.


Every team in the NBA needs players of Bridges' size and build to defend high-end wings in the mold of LeBron James and Kevin Durant. The presence of real, tangible offensive skill makes his package of talents all the more enticing. Ironically, a player with similar attractions at the professional level is Villanova's Mikal Bridges (no relation), who struggled early in his college career before rapidly ascending into the ideal makings of a 3-and-D prospect.
Michigan State's Bridges isn't quite as easy to slot in as a pure wing and, for some, that will be a deterrent to his prospects at the next level. His ability to reasonably, and potentially ideally, serve as a full-time power forward could draw additional love, though, and in a draft that features an extremely strong group of eight or nine one-and-done players, Bridges stands out as a more polished, less feverishly projectable forward.
If (and when) Bridges slips out of the top-10 in the 2018 NBA Draft, stories will be written about how the best sophomore in the country made the "wrong decision" by returning to the college ranks for another season. In some ways, that will be the correct evaluation in that Bridges may have cost himself a few million dollars and a few draft slots, leaving the nuts and bolts of the choice up for debate.
Still, Miles Bridges is an NBA prospect that is unlikely to disappoint at the next level. Having additional time to evaluate him may provide more reasonable expectations of a player who, despite not having the highest ceiling in the draft, should still be a lottery pick.