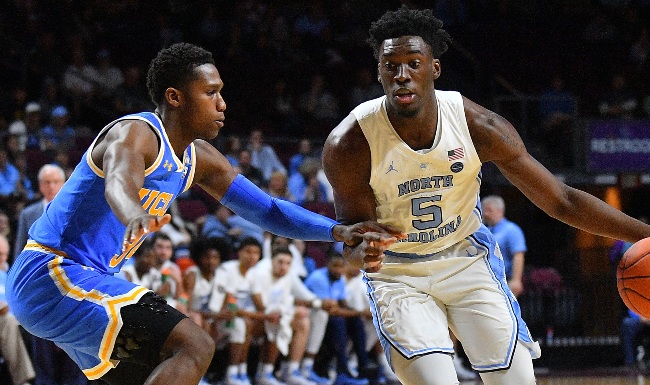 Nassir Little is going to make himself a lot of money playing basketball in the not too distant future. Little was the No. 3 recruit in all of America in the final 247Sports Composite ratings, and decided to take his talents to Chapel Hill. On Friday, Little and the seventh-ranked North Carolina Tar Heels were in action in the Las Vegas Invitational against the 17th-ranked UCLA Bruins, and in the second half, Little reminded everyone that Zion Williamson isn't the only thunderous dunker on Tobacco Road.
Little got the ball at the top of the key with about 12 minutes left in a tight game and saw a lane to the rim. He turned and went for broke, making his way into the lane where he was immediately met by UCLA big man Jalen Hill.
While Hill tried to make a play, Little thought it'd be fun to elevate and dunk on him. Because he is good enough at basketball to pull this off, that's exactly what happened.

There is a belief that the top of the 2019 NBA Draft could be some order of Williamson, R.J. Barrett, and Cam Reddish, but Little is the kind of talent who can spoil that for Duke. He's talented enough to make that happen, and besides, this is the best rivalry in college hoops, so you know the Tar Heel is going to do anything he can to prevent the Blue Devils from getting a win that big.