For years, the NBA has been dictated by superteams. The squad that has found a way to get three or four All-NBA level players together has generally been the one that wins. We can debate for days whether or not that's been a good or a bad thing, but for at least the start of the 2019-20 season, that won't necessarily be the case.
The NBA is as wide open as it has been in some time, and while talent still dictates the direction in which the wind blows, this season is all about duos. Teams with hopes of making some noise once the postseason rolls around have plenty of talent, and they might have three or four players capable of making up their best 1-2 punch on a given night, but on the whole, each team has a pairing that has us excited as we scan the basketball landscape three months before the year begins.
As such, we decided to rank the 10 best two-man games the league has to offer heading into next season. Whether they're established groupings or new partnerships that come from a hectic free agency period/trade market, these are the players who will team up with the hopes of winning a Larry O'Brien Trophy sooner rather than later.
10. Nikola Jokic and Jamal Murray
The best thing about this pairing, other than the fact that they have a wonderfully wacky game in which Murray screens Jokic's man and Jokic does some wild stuff while the defenses reacts, is that they're going to be around for a long, long time. Jokic agreed to a five-year max extension last offseason, while Murray followed suit this summer. The pair have plenty of room to grow together and carve out All-Star caliber careers, and while they're really, really good now, the sky is the limit.

9. Mike Conley and Donovan Mitchell
We haven't seen what these two will look like next to one another yet, but the fit is snug. Conley has never played next to a wing as good as Mitchell, while Mitchell won't need to create as much with one of the best floor generals in the game next to him in the backcourt. Utah has been floated as an NBA Finals contender this year, and with those two standing next to one another at the guard spots — and, of course, Rudy Gobert locking things down in the paint — it makes sense.
8. James Harden and Russell Westbrook
It might be a bit too low, but there are serious questions about how the two will fit next to one another, especially due to the fact that Westbrook is not a particularly good shooter. Having said that, it's not every day two MVPs are playing next to one another, and when the Rockets acquired Westbrook, it was with the understanding that talent generally wins out. If it works out, this could end up being a championship-caliber pairing.
7. Joel Embiid and Ben Simmons
Speaking of pairings in which the fit isn't perfect but the talent is undeniable, let's head to Philly for the next entrant on the list. Embiid and Simmons are both monsters who could both end up being top-5 players on earth, and like the duo in Denver, they have agreed to extensions that will keep them in the City of Brotherly Love for the foreseeable future. If either one of them can end up consistently knocking down jumpers, it's game over. Until then, well, they'll just have to settle for being extremely good.

6. Damian Lillard and C.J. McCollum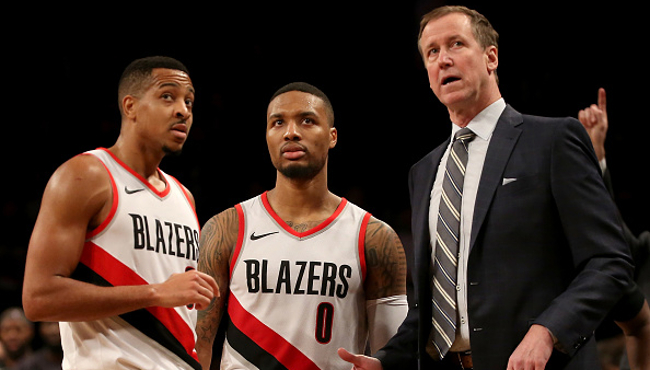 Every year, Lillard and McCollum do the exact same thing: Take a Portland team that probably shouldn't be quite as good as it ends up being, and by sheer force of will, get it to the top half of the Western Conference. Lillard is an MVP candidate and might be the best leader in all of the NBA, while McCollum is good enough that he could be the lead guard for any other team in the league. As long as these two stick around — and they both seem like this is a point of pride for them — Portland will be a force to be reckoned with out west.
5. Giannis Antetokounmpo and Khris Middleton
In terms of the ability to impact a game on both ends of the floor, the Bucks dynamic duo is as good as it gets. Antetokounmpo just won his first MVP award on the back of a season in which he was a wrecking ball on offense and defense. Middleton is a marksman from three, a killer from the midrange, and is capable of locking opponents down. Together, they're the pillars of a franchise that made the Eastern Conference Finals last season and is hungry for more. With the Greek Freak and The Guy Who Desperately Needs A Nickname (basketball-reference says WD-40, so we'll go with that) in tow, Milwaukee has every right to think they're awfully close to a title.
4. Steph Curry and Klay Thompson
3. Kevin Durant and Kyrie Irving
These pairings are similar. They both boast a guard capable of getting thermonuclear hot and a wing who is an absolute killer, but as we all know, Durant and Thompson just suffered major injuries in the NBA Finals. Call this one a bit of a hedge — Curry and Thompson have been in the conversation for the league's best 1-2 punch for some time, and there's no reason to think that won't be the case as long as Klay can come back healthy. Durant and Irving very well might be the league's best if KD's able to come back from his ruptured achilles and be perhaps the best player in the world again. At the very least, watching Steph and Kyrie bust out their respective flamethrowers while we wait for them to get back should be fun.

2. Paul George and Kawhi Leonard
How much time have you spent since you heard about these two pairing up thinking about what they're going to do to opposing teams on the defensive end of the floor? I highly recommend taking some time and doing that right now. Here is 10 hours of waterfall sounds to have on in the background while you do that.
George was an MVP finalist and had one heck of an argument to win it before shoulder issues caused him to fall off a bit before the end of the 2018-19 campaign. Leonard, well, you watched the NBA Finals. The pair are stone cold killers, and putting them together has rightly made the Clippers the championship favorites this season. Still, they're not the best duo in the NBA. Hell, they're not even the best duo in their own building.
1. Anthony Davis and LeBron James
Caveat: This may only be for a year. LeBron is getting older, his groin injury might have been a harbinger of things to come, and missing out on Leonard means the load he has to shoulder to win a ring only increases. Having said that, my goodness is this pairing amazing. Neither guy has ever had a teammate like the other — James, for all the great teammates he has had over the years, hasn't had the kind of springy, game-changing big man that Davis is, and while AD's supporting cast in New Orleans was a touch underrated, getting to team up with LeBron is on another level. Picks-and-rolls with the two of them alone are going to make Lakers games worth the price of admission. They'll have plenty of competition for the best 1-2 punch in the world, but for now, they take the top spot.