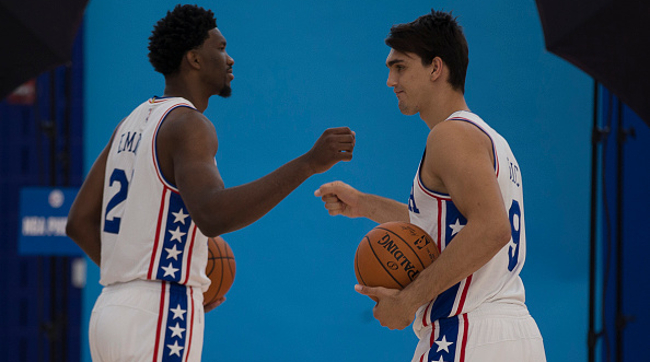 Ahead of Monday night's NBA Awards where Rookie of the Year will be handed out, the league announced the All-Rookie Teams for the 2016-17 season. Unsurprisingly, the Sixers' duo of Dario Saric and Joel Embiid landed on the first team along with the Bucks' Malcolm Brogdon — they also happen to be the finalists for Rookie of the Year.
Saric and Brogdon were unanimous first team selections (100 out of 100 votes), while Embiid earned 82 first team votes but was left off of 11 ballots all together. Embiid playing only 31 games certainly had an affect on some voters, that clearly felt despite his incredible production his limited sample size wasn't enough to warrant him receiving a vote. Buddy Hield of the Kings and Willy Hernangomez of the Knicks round out the rest of the All-Rookie first team.
Hernangomez narrowly edged out Nuggets' guard Jamal Murray by five points for the final first team spot, and the Sixers were the only team to land two players on the All-Rookie teams. You can see the full teams and voting breakdown below.

First Team
Malcolm Brogdon, Bucks: 200 points (100 first team votes, 0 second team votes)
Dario Saric, Sixers: 200 points (100 first team votes, 0 second team votes)
Joel Embiid, Sixers: 171 points (82 first team votes, 7 second team votes)
Buddy Hield, Kings: 154 points (63 first team votes, 28 second team votes)
Willy Hernangomez, Knicks: 128 points (44 first team votes, 40 second team votes)
Second Team
Jamal Murray, Nuggets: 123 points (34 first team votes, 55 second team votes)
Jaylen Brown, Celtics: 106 points (24 first team votes, 58 second team votes)
Marquese Chriss, Suns: 91 points (20 first team votes, 51 second team votes)
Brandon Ingram, Lakers: 83 points (11 first team votes, 61 second team votes)
Yogi Ferrell, Mavs: 63 points (7 first team votes, 49 second team votes)
Other players receiving votes, with point totals (first-place votes in parentheses): Rodney McGruder, Miami, 61 (7); Caris LeVert, Brooklyn, 36 (2); Domantas Sabonis, Oklahoma City, 19 (4); Tyler Ulis, Phoenix, 10 (1); Patrick McCaw, Golden State, 8; Skal Labissiere, Sacramento, 7 (1); Kris Dunn, Minnesota, 5; Juancho Hernangomez, Denver, 5; Taurean Prince, Atlanta, 5; Isaiah Whitehead, Brooklyn, 5; Alex Abrines, Oklahoma City, 4; Davis Bertans, San Antonio, 3; Dejounte Murray, San Antonio, 3; Thon Maker, Milwaukee, 3; Andrew Harrison, Memphis, 2; Fred VanVleet, Toronto, 1; Dragan Bender, Phoenix, 1; DeAndre' Bembry, Atlanta, 1; Jakob Poeltl, Toronto, 1; Malcolm Delaney, Atlanta, 1.