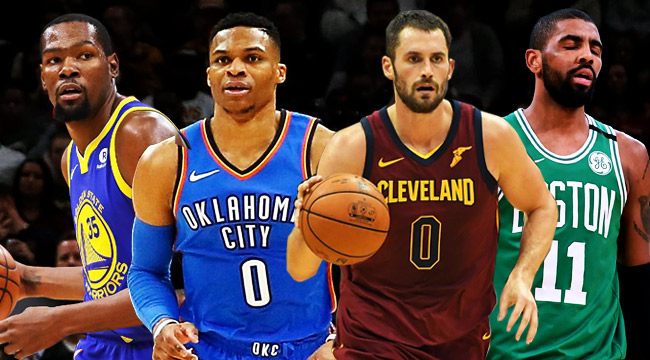 There's been a lot of complaining about the format for the NBA All-Star draft. As many of you know, this year is different than previous All-Star team selections in that instead of an East vs. West format, there are team captains who will pick their teams, streetball style. That's all exciting, but there's one problem: The selections won't be televised.
That's right. They're all done in private and nobody will even know the order that players are picked. That's no fun. So I decided to contact my sources, i.e. Crown Royal and boredom, to imagine how the team-picking event would go if it were done the old-fashioned way. So sit back, relax, and enjoy a bit of fanfic.
All of the NBA All-Stars, sans LeBron James and Stephen Curry, enter an empty basketball gym. DeMarcus Cousins is last. They begin to shoot around, but they wonder where Curry and LeBron are. After about an hour, two large platforms descend from the ceiling. Curry is standing on one. LeBron the other. Confetti and fireworks go off behind LeBron. Tiny sparklers go off behind Curry. The players aren't sure who is behind the theatrics but they notice the tiny Nike swoosh under each platform.
LeBron grabs a microphone:

LEBRON JAMES: Hear ye, hear ye. All of you are gathered here to compete for a chance to be on my –
STEPHEN CURRY: That's … that's not how this works.
JAMES: Well, we'll see. We are here to pick our All-Stars. I just for one am happy to play with some guys who will actually have my back out there.
*cut to Kevin Love, the Curb Your Enthusiasm theme plays*
CURRY: So, you have the first pick, right?
JAMES: Right. Thanks, Steve. Okay, well, I'm obviously picking Kevin Durant.
Durant grabs his cell phone and hops on Twitter. He switches from his KDTrey5 account and holds the phone close to his chest, his shoulders hunched over so nobody can see the screen. he opens up another account and starts typing:

@KDeezNuts Tweets: LeBron James is my 2nd favorite player and I think his team will beat Steph Curry's bum a$$ squad
JAMES: What are you doing?
DURANT: Oh, nothing. Words With Friends.
CURRY: So, for my pick I'm going with a guy who is the most dominant player I've ever seen. A man who's revolutionized the game of basketball. A visionary. A man, who, if you ask me, is under-appreciated. Who should be more recognized at a team that would love and nurture him *cough 2020 cough*. Anthony Davis.
JAMES: son of a —
CURRY: Hashtag light years.
JAMES: Now, I want to pick my former sidekick. My right hand man. My pup. My baby shooter. My Robin. My eentsy weentsy dribbling little sprite.
KYRIE IRVING: We get it.
JAMES: Let me finish. My Marty Jannetty. My adopted baby clutch. My Scrappy Doo. Kyrie Irving.
IRVING: Can I get traded?
CURRY: Giannis.

*Giannis looks up from drawing heart eyes around pictures of Jason Kidd* Cool.
JAMES: James Harden for me.
CURRY: I'll take DeMar DeRozan.
*Drake somewhere has mild heart palpitation*
JAMES: DeMarcus Cousins. I can't wait to play for a big man for once
*cut to Kevin Love* *sad trombone sound*
EMBIID: Hey, man, what gives?
JAMES: You keep your grimy hands away from Rihanna.

So our starters are LeBron, Harden, Durant, Cousins, Irving against Curry, Giannis, Embiid, DeRozan, Davis. On to the reserves. Curry gets first pick.
CURRY: Klay. Obviously. Because he's my guy. Of course I'm going to pick my teammates next, right? Who wouldn't? Right?
JAMES: I'm taking Al Horford.
*Kevin Love puts his head down*
CURRY: Yikes. Gimme Draymond.
DURANT: *calls Player's Tribune*
JAMES: Lemme get Russell Westbro —
DURANT AND WESTBROOK SIMULTANEOUSLY: Noooooooope

JAMES: You guys are funny …
*Westbrook doesn't budge*
JAMES: For real? *Sigh* Jimmy Butler.
CURRY: Westbrook!
WESTBROOK: *Pop locks to Curry's team*
What follows is a rapid fire slew of guard picks. As each guard gets picked, Dame Lillard's nose flares a bit more. His fists clench and jaws tighten. He's reciting his own rap lyrics in his head.
JAMES: Lowry.
CURRY: Wall.
JAMES: Beal.
CURRY: Oladipo.

LILLARD: Seriously? I'm the last guard picked?! I would just like to remind everyone that I am THE MOST OVERLOOKED POINT GUARD OF ALL TIME AND…
*everyone rolls their eyes loud enough to drown out Lillard's rant*
JAMES: … I'll take … Lillard … ?
CURRY: I'm gonna take LaMarcus Aldridge. Wow, it's only bigs left. So, Bron, I imagine you're going to take —
JAMES: Karl-Anthony Townes it is.
LOVE: I HAD A DOCTOR'S NOTE, DAMMIT!
CURRY: Um … I'm going to take Porzingis
All of the players are now either standing by Curry or James. Only Love is left.
JAMES: And now I'm going to take my road dog. My right hand man. My rock. My ace. My brother from another …
After four hours of LeBron listing accolades, the gym clears out one by one. The only person left is LeBron. He's still giving Kevin Love nicknames. And scene.

So we have our lineups:
Team Curry:
Stephen Curry
Demar DeRozan
Giannis Antetokounmpo
Anthony Davis
Joel Embiid
Klay Thompson
Draymond Green
Russell Westbrook
John Wall
Victor Oladipo
LaMarcus Aldridge
Kristaps Porzingis

Team James:
LeBron James
Kevin Durant
Kyrie Irving
James Harden
DeMarcus Cousins
Al Horford
Jimmy Butler
Kyle Lowry
Bradley Beal
Damian Lillard
Karl-Anthony Townes
Kevin Love