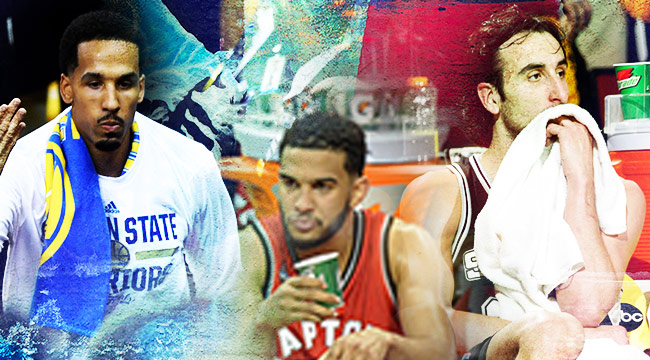 Necessity is certainly the mother of invention, but it's been so much more than that for Steve Kerr.
The circumstances surrounding Draymond Green's promotion during the reigning Coach of the Year's first training camp with the Golden State Warriors are well known by now. If incumbent starter David Lee hadn't been sidelined by a strained left hamstring for his team's final preseason game and the ensuing seven weeks, the Warriors as we know them might not exist. Would Green have eventually forced his way into Golden State's fabric with equal parts versatility and intensity? Perhaps, but the point remains that external factors are what began his meteoric rise to stardom.
Andre Iguodala, meanwhile, found himself in Lee's position. A basic lifetime before he led the Warriors to a title, the 10-year veteran was told by a rookie coach he'd be coming off the bench for the first time in his career. Not due to promising wing Harrison Barnes maturing into a superior player, either, but because Golden State's new motion-heavy attack needed a table setter – and Iguodala was the only one on the roster who could fill that role with free-agent acquisition Shaun Livingston also hampered by injuries.
"Like I said, our whole focus with this team is to try to continue to improve and make the most out of our unit," Iguodala explained to The Bay Area News Group in October 2014, "and we have so much depth, there are opportunities for us to get where everybody wants to be."
That one-for-all mindset is increasingly prevalent throughout the league. Starting games has never been an accurate indicator of a player's worth to his team, and there's no finer example of that reality than Iguodala blossoming into basketball's preeminent sixth man while the Warriors became a juggernaut.
But the 2015 Finals MVP isn't the only high-level performer whose surroundings make him a perfect fit off the bench. This is a team sport; individual ability alone will never decide a player's place in the league. Sacrifice is paramount in basketball, and roster-specific context can make it necessary for even the most-gifted players.
Iguodala, obviously, is the starting-quality reserve who leads that pack. These similarly talented bench players, though, also find themselves among it.
Patty Mills and Manu Ginobili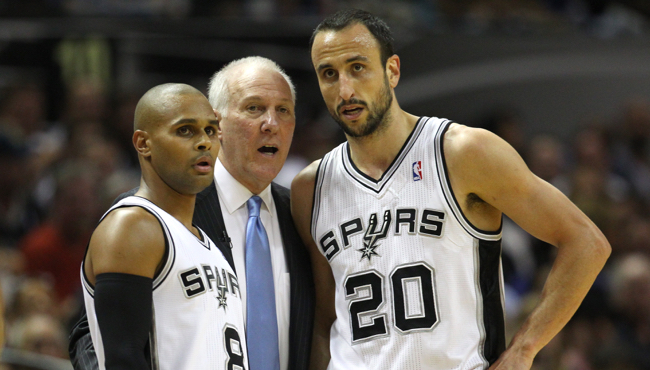 No duo in the league better exemplifies the symbiotic relationship reserves share with their on-court peers than Mills and Ginobili. They rely on each other to be the best versions of themselves. Mills couldn't race around screens for quick-hitting jumpers if Ginobili wasn't such a comfortable playmaker, and Ginobili couldn't be the second unit's primary ball handler if Mills had to have it in his hands to thrive. Theirs is a perfect marriage in terms of schematic fit as much as it is a stylistic one. The San Antonio machine can sometimes chug along on both ends without the dynamism that separates it from other well-oiled outfits, but not when Mills and Ginobili are on the floor. These guys change the game – for both good and bad.
The positives brought forth by such talented, energetic players far outweigh the negatives. The Spurs' net rating with Mills and Ginobili in the lineup last season was a sterling +14.9, the second-best mark among San Antonio tandems that notched at least 700 minutes and one accomplished with equal prowess on each side of the ball. Caveat: Those units also had a team-high turnover ratio of 15.5, an inevitable byproduct of kinetic energy like this.
Such is the give and take Mills and Ginobili represent. Considering the Spurs' bench has been a driving force behind its success for years, though, it's certainly a "risk" worth taking for the notoriously stringent Gregg Popovich on a nightly basis.