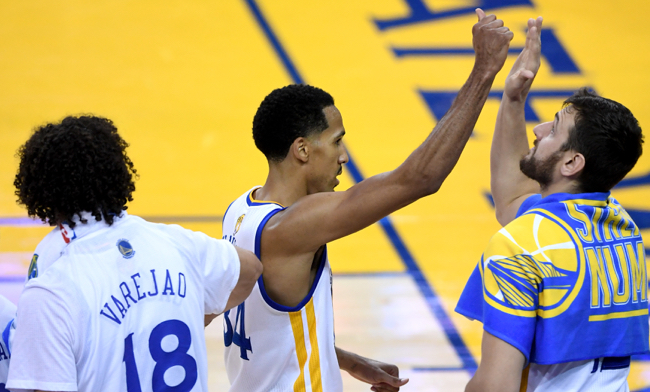 Confession: We didn't even watch this game. Not really, not like you should watch the NBA Finals. Real basketball fans should see it from beginning to end, with perhaps a bathroom break, or a brief inside joke with a companion. They shouldn't miss large swaths of game time as they hurriedly tried to entice strangers to click a button on their computer or smart phone. They should not watch with their head buried in their computer. They should just watch.
So instead of telling you about the game we didn't see, we'll try to piece it together with the splices of action we did happen to glance when the assembly-line construction of new content eased. Oh, and the box score. Praise be the box score, a blogger's best friend since Blogspot was popular.
The final tally was 104-89, Warriors. That might sound like a blowout, but it felt closer. Maybe we're wrong — again, we didn't really see it — but the sound of the crowd on our television set was irregular, which tells us there were snippets of time where the Cavs played well.
The Warriors had 29 assists, which is actually a little lower than their league-leading average from the regular season. But the Cavs only had 17. This probably doesn't mean anything, though. The Cavs don't move the ball like the Warriors with individual talents like LeBron James and Kyrie Irving. Those two were a combined 16-for-43, by the way (thanks box score!). That's not so great. But they weren't the only superstars who failed to play well. At least we think.
We just heard Steve Kerr say that Steph (that's Stephen Curry) just wasn't himself. The box score said the same thing (Curry shot just 4-of-15 from the field). Inside the NBA's Kenny Smith also mentioned Steph missing a couple of wide-open shots when we flipped over to NBA TV to get some post-game analysis we could then pawn off as our own as we write this. So we guess the two-time MVP is determined to have all his teammates win the Finals MVP. What a swell guy. He's so humble; except, of course, when he's not.
Klay Thompson is talking on the TV now, and he seems happy. He just mentioned how the Warriors didn't turn the ball over, a serious weakness for them all year, despite hitting ol' 73. Lets look at the box score and see. Whoa! Only nine. Single-digit turnovers are a godsend for a squad like the Dubs. Good for them.
The puzzle pieces about what happened in Game 1 are starting to fit together.
There was one player who really brought it on Thursday and we think we've heard he hit a playoff career high by scoring 20 points in the win. That's Shaun Livingston by the way, the Warriors' backup point guard. Yes, the same scrawny-looking guy who started in place of Steph during his two-week playoff sabbatical with the tweaked knee.
Again, we could probably look up that whole career high thing, but it's late, and we still have to watch the game and then get up and pretend to know what we're talking about. Or, we guess, at that point we will know what we're talking about because we'll have watched it. Anyway, Shaun hasn't had a lot of playoff experience so we're gonna go ahead and say it's his playoff career high (This was later confirmed as accurate on NBA TV — they're so informative).
Livingston was 8 of 10 from the field, and since we did well at the whole math thing growing up, we know that's 80 percent, which is very good. Livingston, in case you didn't know, is a good guy, too. He battled back from a devastating knee injury early in his career and was spotted in various cities on 10-day deals, interspersed with pit-stops in the Developmental League. The whole while he was just trying to find his way back into the Association on a permanent basis. Back in his Brooklyn days, after he finally did make it back as a regular rotational contributor, he was really kind to our girlfriend when we were at a charity event with him. Decent dude. Where were we? Oh right, Game 1.
Andre Iguodala was pretty spectacular on defense, again, too. The box score is bad for the whole defense thing, though. It says he had a block and a steal, so thankfully our social media guy pinged us about this fun sequence:
Cavs coach Tyronn Lue is on the podium now and he said they missed 28 shots in the paint. He just said it again, so it must be important. We didn't see, but 28 missed shots in the lane is not so good. The paint is pretty close to the bucket, and so most players are accurate from that distance. That's a good omen for the Cavs moving forward, we think. Again, not so sure, but it sounds about right. Missing 28 shots in the paint leaves significant room for improvement.
Because of that helpful stat, the knucklehead who works for us and predicted a sweep, is still probably gonna be wrong.
Game 2 is Sunday. We hope we get to watch this time, but we're gonna watch Game 1 now. Toodles.
UPDATE:
BEAST MODE WAS AT ORACLE!
That's something, we guess.