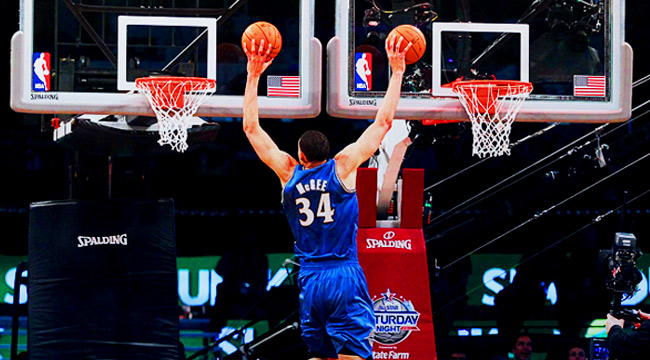 "Was that the Blake Griffin Kia one?"
Ask around the NBA about the 2011 Slam Dunk Contest and you're likely to receive some variation of that response, even after priming with some details about the event. The lasting image of the event is Griffin dunking over a Kia, at once the explosion and the jumping-the-shark moment of integrated marketing in live sports. A series of tremendous dunks from four dunkers, and the first thought that comes to mind is Griffin catching a pass from a grinning Baron Davis, a car commercial come to life.
It is unfair, insomuch as the collective memory of a dunking exhibition registers on any scale of justice, because the 2011 Slam Dunk Contest in Los Angeles was one of the best in the modern era.
It's likewise unfair to lay the blame at the feet of Griffin, who had a number of tremendous dunks to go along with the Kia spectacle and didn't get to do the car dunk he wanted. Get your money where you can, nobody is mad at that. What they are mad at is a "janky" outcome that left every competitor feeling robbed and claiming the throne for themselves seven years later.
In speaking with JaVale McGee, DeMar DeRozan, Serge Ibaka, and others who remember the 2011 Dunk Contest vividly, there is no shortage of claims to the throne. Every participant thinks they should have won (shocker), and every participant was either certain something shady was going on —- the press release smoking gun! —- or wouldn't comment out of fear of Big Mid-Sized Sedan.
What follows is a look at the case for each dunker, and an examination into just how deep the fix was in against each.
JaVale McGee
If there's anyone with a legitimate gripe, it should probably be the person who made the finals alongside Griffin. McGee's performance in this dunk contest is low-key one of the best ever, including perhaps the most under-appreciated dunk in contest history.
Originally, McGee planned to dunk on a 12-foot net, looking to upgrade one of Dwight Howard's dunks. In practicing it, though, McGee felt it didn't look quite right. On the day before the contest, he thought he'd try something completely original, dunking on two nets at once.
The idea sounds impossible. NBA backboards are six feet wide, meaning the space between the center of the rims would be six feet if two nets were pushed together. It requires a ridiculous wingspan —- "His arms ain't that damn long!" protested Charles Barkley at the time —- before even accounting for the coordination required.
"I can't be JaVale," says Lucas Nogueira, one of the few players with the requisite wingspan for such a dunk. "He's a supreme athlete and a very nice guy."
"Only him," Ibaka agrees. "That was tough. Only him, because he's so long. Only him, that's crazy impressive."
Some dunkers struggle to take off on one leg, a necessity for this kind of dunk. Even a stationary two-net dunk would have impressed. McGee took it a step further, though, throwing a self-alley-oop off of one backboard and dunking it on the opposite rim. That it took a couple of attempts shouldn't downgrade the dunk at all, because he might be the only player in the league who could have pulled it off with an hour of attempts.
"That dunk is super underrated," says Larry Nance Jr., who will participate in the Dunk Contest this coming weekend. "I mean, I can jump, but I don't know if I can do that. You have to have a certain kind of wingspan to be able to do that. That's absolutely one of the most underrated dunks, I think."
The rest of McGee's suite of dunks was nearly as fun. The two-rim dunk received a 50, he followed it up by dunking three balls at once for a 49. In the finals, he went under the basket for a cradle reverse he had to duck his head under the backboard for, then delivered an off-backboard alley-oop where his face was right at the rim.
(Incidentally, his two-ball dunk and cradle were both upgrades on dunks from Larry Nance Sr., the winner of the first NBA dunk contest and the father of McGee's pick for the 2018 dunk contest.)
In a sea of trash-talk asking around about this competition, there wasn't an unkind word to be found about McGee's performance, which lost to Griffin in a fan vote.
"I feel like I definitely should have won, but I mean, it was fan vote," McGee says. "That was the first year they were doing that fan vote thing and bringing the calculation. So that's janky right there. It didn't matter. Whoever needed to win was gonna win that Kia-sponsored car."

Serge Ibaka
Ibaka had the lowest opening-round performance with scores of 45 and 45, though he has no less a gripe. Those are two really good scores! It's hard to put up a 90 and not proceed onto the final round. That score would have had Ibaka in the finals in three of the four years prior, and there's a case that each of his dunks was a little underrated in the moment.
The first saw Ibaka enter the arena flanked by a number of ushers bearing NBA Africa flags. Ibaka wore an adidas NBA Africa shirt, too, proud to be the first African-born dunk contest participant since the re-launch of the event in 2000.
Given the league's rapid global expansion and increasing depth of international players during the aughts, Ibaka's moment to represent his continent couldn't have gone better. Approaching from back at the opposite corner, Ibaka unleashed what is perhaps the second-best free-throw line dunk ever (after, obviously, Michael Jordan). Ibaka took off with barely a toe beyond the line, glided to the rim for a one-handed flush, and stuck the landing.
"It was legit, though! I said that to him, too," Raptors teammate C.J. Miles says. "He legit, from behind the free-throw line."
The man is 6'10! Consider it the curse of the big man that this dunk wasn't more awe-inspiring in the moment, because in retrospect, a near-seven footer unleashing a clean free-throw line dunk is remarkable. To some, anyway.
"I mean, Serge jumped from the free throw line or whatever, but he's seven foot," Norman Powell, another teammate in Toronto, says. "So, I mean, still, he's got the height. It doesn't look as good."
Even if that dunk wasn't fully appreciated, the representation was.
"I went to Basketball Without Borders in 2012 and Serge was there, a lot of NBA players," Pascal Siakam says. "I took a picture with Serge, actually, from that day. So definitely, yeah, somebody that you look up to, because he made it at the level that you one day — I don't even know if I dreamed that I was gonna be in the NBA at that time — but still, you know? I remember that. I remember that moment. I saw him in it and then Basketball Without Borders. It's definitely cool."
Like his size may have cost him on the first, his second dunk may have been underrated due to prop fatigue or a miscalculation of just how tough it was. A child approached Ibaka asking him to help him get a stuffed toy down from the rim, and Ibaka obliged with an upgrade on Gerald Green's cupcake dunk. Ibaka approached from the baseline, bit — bit! — the toy off of the rim, and threw down an emphatic one-handed jam as he came around the other side of the net, landing with the toy in his mouth.
"It's creative. Gotta give him that," says Nance Jr. "It's a big man, so I'm partial to him. But at the same time, it's impressive, you know, get your face that high up by the rim, be able to bite the toy and still dunk it? I don't think the average fan knows how tough that would be."
Ibaka's current teammates are far less impressed by the dunk, with the topic immediately making Raptors burst out in laughter. It's been a recent point of friendly trash-talk around the locker room.
"Serge did that weak-ass dunk. He pulled the bear with his teeth. Whose idea was that?" Miles asks.
(There is some controversy that the idea belonged to another dunker, though Ibaka insists it was his attempt to inject something new to the contest.)
"It was terrible," adds DeRozan. "I thought it was terrible then, and it's terrible now."
Ibaka, obviously, disagrees, suggesting something may have been up that kept him from the finals.
"We don't really know," Ibaka says. "It was in L.A. so, you know, it was in L.A. and that's what happened. That's all I can say, it was in L.A. and that's what happened. I know what happened but all I can say is it was in L.A."
The freeze-frame of Ibaka's mouth highlights how tough this one was, and he's been on tilt trying to get his mouth the proper appreciation on Snapchat ever since.

DeMar DeRozan
One year after losing by two percentage points in a fan vote finals against Nate Robinson, DeRozan returned home to L.A. looking to become the first Raptor since Carter to win the event. He made an early and critical mistake, though: Wanting to involve one of his Young Gunz teammates, DeRozan tasked Amir Johnson with throwing him an alley-oop pass off the stanchion.
"I mean, Amir was the last person that I would want throwing me a lob," Ed Davis, their teammate at the time, says.
In retrospect, maybe Sonny Weems, watching courtside, was the right Young Gunz choice as a lob-thrower.
DeRozan is adamant that it worked seamlessly in practice, but when it came time for the East Bay Funk Remix, Johnson and DeRozan required a couple of attempts to connect. When they finally did, the Isaiah Rider/Jason Richardson upgrade was good enough to earn DeRozan a 44. That's a decent score and not too great a penalty for requiring over a minute to complete the dunk, but in an event that wound up as tight as this did, every point mattered.
DeRozan's second dunk required no second attempts and no caveats. It is one of the 10-best dunk contest dunks of all-time, and though it earned him a 50 here, it still feels under-appreciated. DeRozan throws himself a perfect high-arcing bounce lob, catches the ball with just his right hand, and throws down what I guess you could call a reverse cradle windmill. There's so much grace, athleticism, and power going on at once here it's hard to know how to describe it.
(For the record, Ibaka describes DeRozan's performance as "trash," but that's probably a minority opinion.)
It's the Ibaka and DeRozan dunks that have been cause for plenty of teasing in the Raptors' locker room of late, now that they're teammates. Alfonzo McKinnie, himself an experienced dunk contest participant, jokes that he doesn't remember either being in it, suggesting they should have jumped over a motorcycle to make it memorable. Others agree that the entire contest was underrated. Some took sides, and not surprisingly, Powell, a California kid and DeRozan fan, thinks DeRozan was better, while the bigs think Ibaka was more impressive.
"I think he was super athletic, and he did some good dunks," Kyle Lowry says, before taking an unnecessary dig at the person asking the question. "He should have won, I think? He should have won, right? No offense to Blake. We don't like Blakes. Naw, he did some really good dunks. He had fun with it."
"I thought he should have won it," Davis agrees. "But I think it was set for Blake Griffin to win with it, 'cause that's when he jumped over the Kia and all that stuff. So he was just going against the odds, I guess."

The Final Word
Who should have won remains a question open to interpretation. To a man, the other participants think it was them, not Griffin. That's fairly normal. The complication here is that not winning maybe wasn't a matter of judge or fan opinion but of a massaged system. Was Griffin a lock to win no matter what anyone else did? Whether this was a matter of league conspiracy is something only some people are willing to discuss matter-of-factly.
Griffin does have his supporters, though. It's hard to argue with some of his dunks, which included "one of the best misses ever," according to Miles, a dunk scored a 50, and a dunk over a car that, while gimmicky, was still pretty cool.
"I thought it was impressive," Nance Jr. says. I mean, jumping over a car, that's not bad, right? Got himself a nice little car deal out of it too. That's a double-whammy there. Definitely. I was impressed, personally. I always enjoy seeing big men win it, so I loved seeing Blake win it."
The biggest takeaway going back through the 2011 Dunk Contest, though, is that it's criminally underrated, genuinely competing for the title of best dunk contest between Vince Carter and the Zach LaVine-Aaron Gordon dunk-off.
It's hard to know what to credit that to, whether it's those impossible bookends to measure up to, Griffin's Kia dunk making the outcome feel sullied, general prop fatigue, or a run of down dunk contests masking a terrific event in the middle of a multi-year lull that saw the league tweak the format multiple times. Whatever the case, a very good, very deep, and very fun dunk contest is slept on a little bit.
"I mean, that was just a great dunk contest," McGee says. "I don't feel like anybody had any bad dunks at all. Serge dunking from the free-throw line, DeMar was being extremely athletic, and Blake jumping over cars, me using two rims. So I feel like it was one of the better dunk contests. I definitely think people forget that. 'Cause, I mean, noone's ever dunked two balls on two rims before and noone's ever dunked three balls on one rim, which is a Guinness world record. To have a Guinness world record, to jump over a car with a choir behind you, to jump from the free-throw line, to, I keep forgetting what exactly DeMar did, but I know it was crazy.
"Like, if you really watch that dunk contest and just watch dunk after dunk after dunk, you'll truly be amazed."
It's strongly recommended re-watching to gear up for this weekend's Dunk Contest, if the 2000 and 2016 events aren't enough. And they shouldn't be, because the dunk contest is usually the best, and 2011 was no different.
Have you checked out the new DIME podcast?
[protected-iframe id="423dabec2916a75281522f945705aae3-60970621-10222937″ info="https://omny.fm/shows/the-dime-podcast/episode-19-nba-trade-deadline-bonanza/embed?style=artwork" width="100%" height="180″ frameborder="0″]