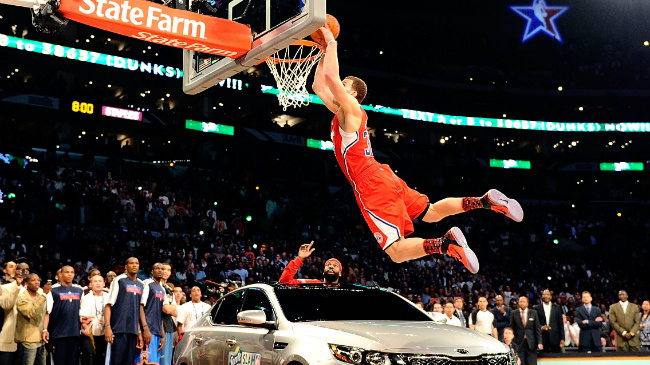 The 2011 Dunk Contest featured one of the high points of Blake Griffin's career. The Los Angeles Clippers star won the contest, firmly establishing himself as one of the most exciting big men in the league with a mix of power and athleticism that were rather unique for someone who plays power forward.
His most memorable moment came when he jumped over the front of a Kia and dunked. Baron Davis threw him a pass from the moonroof, and in what might have been the most absurd moment in Dunk Contest history, Kenny Smith led out a choir to sing "I Believe I Can Fly." It really was a spectacle.
The big complaint against Griffin, though, was that he jumped over the front of the car, and plenty of people said it wasn't that impressive because it wasn't the top of the vehicle. In a profile written by Lee Jenkins of Sports Illustrated, Griffin revealed that his original plan was to do the dunk over a convertible, but the NBA stepped in and made him change his plan.
"My plan for the dunk contest was to jump over a convertible with four teammates inside," Griffin says. "The NBA kind of messed up that plan. They wanted me to jump over a Kia, because it's a league sponsor, but the Optima is a huge car. I could only do the hood, so it didn't look as cool."
Griffin also made it clear that he didn't do this with the hopes of getting a sponsorship from Kia, which is a somewhat common mini-conspiracy theory about the dunk because he eventually signed an endorsement deal with the car company. While that made him upset Griffin did make it a point to have a hand in "creative input and agreed to ads only where he could make fun of himself."
(Via Sports Illustrated)