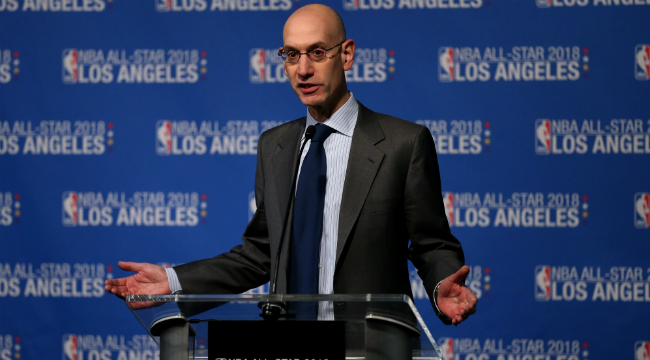 It seemed likely a few days ago, and now it has reportedly come to pass: The NBA is going to put advertising on their jerseys, probably starting with the 2017-18 season.
It's a sad, yet inevitable turn of events — the NBA as a moneymaking enterprise is obligated to continue expanding its revenue streams, as Adam Silver told Rachel Nichols on The Jump (transcribed by USA Today):
"So let's begin by saying this isn't going to affect the competition," Silver told Nichols. "What we're talking about is a patch on the jersey. And one of the reasons we want to do it is that it creates an additional investment in those companies in the league … the amplification we get from those sponsors, those marketing partners of the league, who want to attach to our teams and our players.

"But once they put their name on the jerseys, they'll then use their media to promote the NBA extensively. That's probably the greatest reason for us to do it."
Silver also called it "inevitable" backs when the NBA moved the team logos to the backs of jerseys, and most importantly, selling ad space on jerseys has precedents in NASCAR and club soccer. The NBA can easily point to those sports as examples to follow to shield themselves from criticism about being money-grubbers (they'll still get it, but they also won't care). It will surely be the subject of much complaint early in the rollout, but after a few months' time, the ads will become routine and we'll all move on to other petty grievances.