There's something uniquely fun about Isaiah Thomas playing basketball.
Yes, you know where I'm going with this: he is short (it is in the Constitution that everything written about Thomas must include the fact that he's 5'9), but he plays with a chip on his shoulder that no one else in the NBA possesses.
Being undersized has been viewed as a detriment for some time. It's why he was the No. 187 recruit in America, per his 247Sports composite rating. It's why he was the last pick in the 2011 NBA Draft, behind players like Chukwudiebere Maduabum, Tanguy Ngombo, Ater Majok, and Ádám Hanga. It's why everyone came into this year saying the Celtics needed to acquire a superstar despite having an All-Star point guard who averaged 22.2 points per game in 2015-16.
At every turn, though, Thomas has found a way to turn his diminutive frame into something he uses to his advantage. Watch, like, Ty Lawson play. Watch as he (or really any dude 6' or shorter) tries to navigate his way through the trees but struggles to generate any offense for themselves.
Then watch Thomas, who has turned being shorter than six feet tall into an asset. It's incredible. He has mastered the art of going lower than anyone else and getting around guys solely because he is closer to the floor than they are.
But Thomas has been doing this all year. Hell, he's been doing it for a few years. In January, though, look at how Thomas has been a killer from all over the court (thanks to StatMuse):
This is ridiculous. Thomas just missed putting up a month of 50/40/90 shooting (his final numbers were 49.7 percent from the field, 43.2 percent from three, and 94.1 percent from the stripe). He attacked the rim and shot 1.4 percentage points below the league average, again, despite being 5'9. He was a killer from three, he didn't take all that many mid-range jumpers, and by field goal percentage, three point field goal percentage, free throw percentage, points per game, assists per game, and rebounds per game, he just had his best month of the season.
Everything the Celtics need, Thomas is providing.
Thomas also just, you know, had the fourth-best scoring month in Celtics history.
Plus there's one additional quality Thomas possesses that has especially been on display in January: when games are tight down the stretch, he wants the ball in his hands, he wants to make a play, and he gets the job done. Thomas is a warrior, the kind of guy you love because he is going to fight like hell every night and not shy away from big moments. It's so much fun to watch as Thomas takes over games in crunch time and just wins them. Well, unless you're on the other team, then that feeling of fun is more like a feeling of inevitable hopelessness.
At the end of December, LeBron James raised a few eyebrows when he said the Celtics have a "clear-cut star" in Thomas. As James noted, "They're a good team for a reason and it starts with the head of the snake and that's Isaiah."
A player can get all the praise in the world, but if they don't back it up, it's all for naught. Thomas more than backed up this phrase, as he proved he is among the best players in the NBA during the month of January. Basketball fans, players, coaches, and the media are all desperate to declare a guy a "superstar." How you define that is up to you, but if Thomas doesn't fit your definition of a "superstar," then your definition probably needs to be tweaked.
All hail the King in the Fourth.
Honorable Mentions

Dion Waiters: Raise your hand if you expected Dion's transformation into a crunch time killer for a Heat team that suddenly cannot lose. Over Miami's recent eight-game win streak, Waiters is averaging just under 22 points a night and is putting games away for the team. Waiters has always been talented, and this month showed that he can be really, really fun.
Otto Porter: Remember after his rookie and sophomore years when everyone labeled Porter a bust and declared the Wizards' decision to use a top-3 pick on him a bad move? Well, Porter has turned into an indispensable member of a surging Washington team. Percentage wise, he's the best three-point shooter in the league (look at his percentage on shots from the right wing). His offensive rating of 129 is the best in the NBA, too. Keep shooting, Otto.
The Sixers: Sometimes, you just have to throw your arms in the air and admit you have no idea why something is happening. For example, the Sixers are currently playing with the most swagger of any team in the league. Philly went 10-5 in January. For reference, the team went 10-72 last year. Something special is happening in Philadelphia, mostly because Joel Embiid is just wonderful, but even in games where Embiid doesn't play, the Sixers are getting the job done. I don't know. I did not see this coming, but as someone who enjoys basketball, it's been a blast watching the Sixers play this month.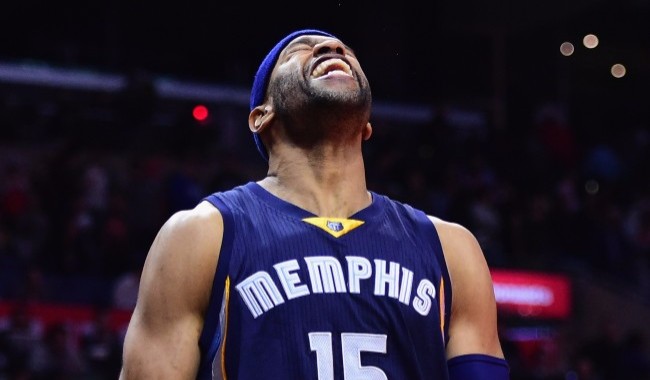 Vince Carter: Vince turned 40 this month. He averaged 25.4 minutes a night in 14 games and did this in one of them. This month marked 17 years since his performance in the 2000 Dunk Contest, which is still the best individual performance in the contest ever. The day Carter retires should be declared a national holiday. Hopefully that day never comes and in 20 years we're watching a 60-year-old Vince hit threes, play solid defense, and do acrobatic stuff every now and then.
James Harden and Russell Westbrook: Harden is probably winning this one month, but I'm going to put the two of these dudes in the honorable mention category for the rest of the year because they're fantastic. Westbrook is still Westbrook. I watched Harden throw down a triple-double with 51 points against Philly in person. In terms of being "must-watch," these are the two best players in the NBA. Every night, their potential for doing something incredible is higher than everyone else's.