We won't waste a lot of digital ink charting out the Byzantine complexity involved in trying to quantify a given player's value to his team, or revisiting the old familiar arguments about which major factors should weigh more heavily than others when it comes to awarding the league's most prestigious individual accolade, i.e. the NBA MVP trophy. It's well-trodden territory. Suffice it to say that a number of criteria come into play, such as available statistical data (both basic and advanced), team success, recent play, strength of schedule, that rather nebulous quality we like to call "leadership," clutch play, defense, hustle, overall basketball IQ, championship contender status, toughness, entertainment factor/GIFability, a healthy amount of subjectivity and/or confirmation bias on our part, "what have you done for me lately," and much, much more.
So, here are our top three MVP candidates through Feb. 7. We've whittled the list to three instead of five so that we're only discussing the very cream of the crop and because this is a bi-monthly column, so that we can focus more narrowly on what's happened in just the past two weeks. We'll still briefly discuss a handful of other players who just missed the cut, but deserve a shout-out nonetheless.
After a pair of subpar outings against the East's non-elite, Curry brought the Beltway traffic to a standstill with his most dominant performance of the season against the Washington Wizards last Wednesday. He dropped 51 points on 67.9 percent shooting, which included seven three-pointers in the first quarter. He had 36 points by halftime and had missed just one of his 14 attempts from the field. Curry was so good that he completely overshadowed John Wall's 41-point, 10-assist explosion. The Warriors have now won nine-straight games, a streak that includes victories over the Cavs, Spurs, Bulls, and most recently, the Thunder.
The Slim Reaper was named the Western Conference Player of the Month for January, and there was a pretty good reason for that. He averaged 28.5 points, 9.3 rebounds, and 4.3 assists, on 49.7 percent shooting from the floor and 36.6 percent from downtown for the month. After a sublime start to 2016, he picked up right where he left off in the first week of February with back-to-back wins over Washington and Orlando, the latter of which culminated in a 37-point explosion and game-winning three-pointer. A win over the Golden State Warriors would've been the icing on the cake, but Durant and the Thunder came up short, joining the rest of the league's elite teams who've been forced to bend to the Dubs' implacable will. But don't count Durant among those eager to sound the Thunder's death knell.
The Toronto Raptors have been the second hottest team in the NBA since the start of 2016. They've won nine out of their last ten games, and they have a virtual stranglehold on the No. 2 seed in the Eastern Conference standings. Their All-Star backcourt duo comprises one of the best guard-tandems in the league, led by Kyle Lowry, who averages 21 points, 6.2 assists, five rebounds, and ranks third in the league in steals with 2.3 thefts per game. He and teammate DeMar DeRozan will represent the Raptors at the All-Star game next weekend on their home floor at the Air Canada Center in Toronto.
Notables
No MVP discussion is complete without the best player on the league's second-best team so far this season, Kawhi Leonard. The Spurs have won four in a row and eight out of their last ten, but those two losses came against the Cavs and the Warriors. Nonetheless, San Antonio's first-time All-Star has been solid as a rock. Despite his consistency, the Spurs rediscovered just how difficult life can be without the 39-year-old Tim Duncan in the lineup.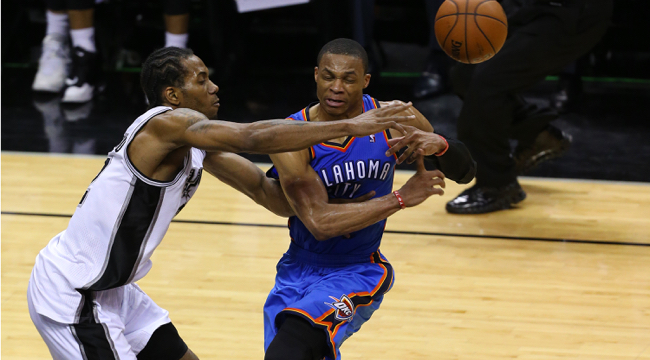 Before their eight-point loss to the Golden State Warriors on Saturday night, the Thunder had won five-straight and 12 out of their last 14. Russell Westbrook logged three-consecutive triple-doubles in that stretch: 24 points, 19 rebounds, and 14 assists against Orlando; 17 points, 13 rebounds, and 11 assists versus the Wizards; and 26 points, 10 boards, and 14 dimes in a win over the Houston Rockets. Though they came up short to the Dubs, OKC's two-pronged scoring attack revealed a potential vulnerability in GSW's armor.
Chris Paul continues to keep the Clippers afloat through all the turmoil in Los Angeles. They've won eight of their last 11 overall (and 11 out of their last 13 road games) amid relentless Blake Griffin headlines that have included trade rumors, looming inter-organizational disciplinary measures, and a super secret second operation on his broken hand. In the month of January, CP3 averaged 21.1 points, 10.4 assists, 4.4 rebounds, and 2.3 steals on 48.7 percent from the field and 46.3 percent from downtown. They'll need even more from Paul now that backup point guard Austin Rivers has also suffered a broken hand.
LeBron James and the Cleveland Cavaliers were able to halt their two-game losing streak with a much-needed win over the New Orleans Pelicans Saturday night. It's been a roller-coaster ride for the Cavs so far during the Tyronn Lue era, which was to be expected, and that's been compounded by James' ongoing shooting woes from long-distance. He was 0-of-18 from downtown going into their game against the Pelicans.