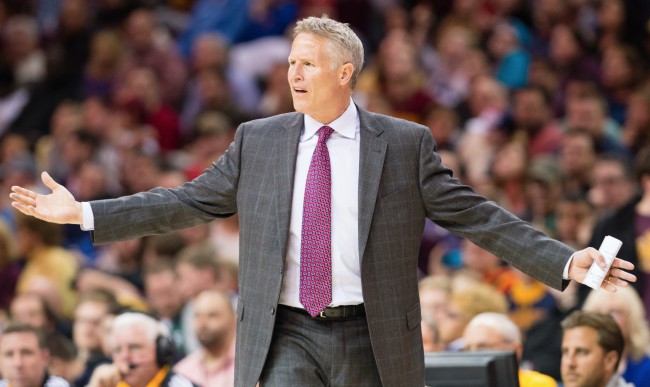 School's out early for these teams, so it's imperative they hit the books over the summer.
2015-16 Progress Report
No reasonable league follower expected anything close to respectability from the Philadelphia 76ers this season. Some relative optimism about Brett Brown's team existed before 2015-16 tipped off nonetheless, though, a hope that's proven a bit more fleeting over the ensuing six months than perhaps even naysayers of "The Process" anticipated.
Jahlil Okafor's rookie season was cut short by a torn meniscus and marked almost as much by off-court headlines as on-court effectiveness. Nerlens Noel took small steps in his sophomore campaign as opposed to long strides. Robert Covington suddenly performed like the undrafted free agent he was three years ago, and Jerami Grant's ongoing evolution into a viable stretch power forward was met with more stops than starts.
The Sixers, after all, have half as many wins as they did in 2014-15 and 10 fewer victories than the year this arduous rebuild began. Philly set a record by losing 28 consecutive games during a stretch that began last Match and finally ended on Dec. 1, and at 9-64 needs another win to avoid matching the league's record for futility in a non-lockout season.
Legitimate progress in the City of Brotherly Love is hard to see. But if squinting hard enough, season-long improvements of both team and individuals are definitely there. Are those blurred sights enough to placate the increasingly agitated Sixers fans who just watched their perpetually overmatched squad reach a new low point? Probably not.
But enforcements are coming for Philadelphia in the form of draft picks old and new, and management has stressed this will be the offseason it finally dives head first into the free agency pool. Better times really are coming, basically, even if 2015-16 suggested just more of the same going forward than anything else.
Summer Reading
Draft assets: In addition to their own first-round pick, the Sixers will receive first-round choices from the playoff-bound Miami Heat and Oklahoma City Thunder. If the Los Angeles Lakers' selection falls outside of the draft's top three selections, they will get the purple and gold's first-rounder, too. Philadelphia has the right to swap picks with the Sacramento Kings and doesn't own a second-round pick.
Incumbent free agents: Ish Smith and Elton Brand. Don't be surprised if the Sixers retain Smith. He ignited their season after being acquired for a pair of second-round picks just before Christmas, giving Philly's offense much-needed stability and a dose of off-dribble dynamism. He's not good enough to start for a playoff team, obviously, but Smith is a perfect placeholder until the Sixers find their point guard of the future – assuming the league-wide market is as cool on him as it's been in the past. Brand, meanwhile, will likely retire for good after agreeing to mentor Okafor and company for a half season.
Cap space: Approximately $57 million. Philadelphia has spent the past three years scraping the bargain bin of second-rounders, undrafted free agents, and minimum-salary veterans with the goal of pouncing in free agency when the time is right. Needless to say, the front office will certainly have enough cash to throw at whatever targets it chooses.
This summer could finally mark the Sixers' ascent from the league's abyss. Jerry Colangelo made no secret of his desire to stock Philly's roster with veterans upon coming aboard in December, and Brown recently told ESPN's Zach Lowe his team would pursue free agents of middling caliber – in addition to stars, of course – this July.
But just what type of player would take Philadelphia's money? Almost the entire league will be flush with financial flexibility as the salary cap spikes to $90 million or above. It stands to reason that most available players would rather sign with a team that has legitimate aspirations of competing than one still firmly in the early stage of rebuilding. This could be where the Sixers' Process comes back to bite them most.
Money talks, though, and Colangelo and Sam Hinkie will boast more of it this July than the competition. If Philly is willing to overpay on a player's market value, it's likely to leave free agency with a signing or two that could help propel this team to respectability – maybe sooner than later.
The draft will certainly affect the Sixers' more specific free agency plans, but it's safe to say they'll covet help on the perimeter regardless. Okafor, Noel, Grant, Joel Embiid, and Dario Saric are all youngsters worth developing for the future or using as bait in potential trades. Aside from Covington, Philadelphia likely lacks a wing or guard in house who's a part of its long-term plans.
This summer is about adding talent for the Sixers, but also experience. After adding one more foundational piece to the puzzle in the high lottery, expect Philly to be very, very active on the trade and free agency markets with the aim of finding proven perimeter players who could balance its bottom-heavy roster.
Next Year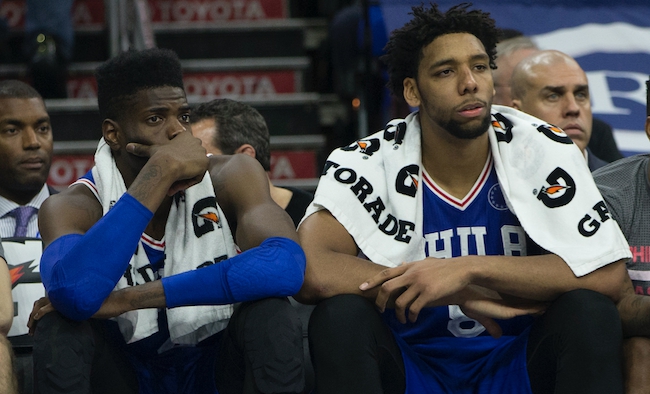 Growth really was there for the Sixers this season.
Okafor connected on 31.3 percent of his mid-range jumpers before the New Year, compared to 38.8 percent after the calendar turned. Noel fared far better after recovering from an early-season ankle injury, shooting 56.6 percent from the field since Dec. 1 and adjusting his shot distribution so more attempts came at the rim. Grant pulled off the difficult task of upping his usage while increasing his efficiency and decreasing his turnover rate. And the Sixers as a whole improved markedly after the midseason addition of Smith, lending credence to the notion that their young players will reap rewards from playing with better teammates.
Getting those teammates is the next step for Philly, and that's why this summer is so, so crucial for this organization's big-picture outlook.
Duke's Brandon Ingram would fill a glaring void on the wing if the Sixers get a top-two pick. Kentucky's Jamal Murray, Providence's Kris Dunn, and Oklahoma's Buddy Hield would pay immediate and long-term dividends should more fortunate teams jump Hinkie's in the lottery. A steady presence like Michigan State senior Denzel Valentine makes sense with another first-round choice, and development of the Sixers' many youngsters would surely be expedited by the selection of Kentucky floor general Tyler Ulis.
The possibilities come June 23 are almost endless. Might draft night, for instance, be Philadelphia's best opportunity to trade one of its coveted young big men?
Regardless, the Sixers' draftees should have little to no impact whatsoever on their targets in free agency. This is the team that should feel comfortable throwing max-level money at a heretofore role player like Harrison Barnes or oft-injured star like Bradley Beal. And after those guys inevitably say no to Philadelphia or their incumbent teams match signed offer sheets, Hinkie and Colangelo should throw cash at young, mid-tier free agents like Kent Bazemore and Allen Crabbe.
Importance of the 2016 offseason to the Sixers' future can't be stressed enough, and helps explain why another season in the league-wide cellar might ultimately be of little consequence. Next year is Philadelphia's biggest litmus test. If tangible progress isn't made, it might finally be time for this organization to change its backwards, if sensible, approach to success.