The NBA's trade block is always quiet this time of year. Right before the season, there isn't a single team that actively wants to do some kind of deal that ships a cornerstone elsewhere.
But as the season progresses and teams analyze their strengths and weaknesses, putting players on the trade block is the easiest way to try and remedy issues. If you're a fan of trade rumors and what not, this year's trade block has the potential to be insane.
We decided to look at which players need to be traded during the 2017-18 season. This doesn't necessarily mean that players are bad or anything, they just possess some amount of trade value and having them on their team might be a bit superfluous. Whether they are a young player who can be flipped for a piece that can help now, or a veteran who is on a rebuilding team and should get the chance to join a squad with playoff aspirations.

A Portland Big Man
There are all the players Portland currently has logging minutes in the frontcourt:
Jusuf Nurkic, Meyers Leonard, Zach Collins, Al-Farouq Aminu, Ed Davis, Noah Vonleh, Caleb Swanigan
That's a lot of minutes for a lot of dudes who all bring something to the table. Even more interesting is that Nurkic, Davis, and Vonleh are all free agents after this season, while Aminu hits free agency next summer.
Seeing as how Collins and Swanigan are rookies, Leonard's deal isn't exactly appealing (three years, $31.7 million), and Nurkic looks like he might be a star who will be in for a big payday with the team next summer, the odd man (or men) out should come from the Davis/Vonleh/Aminu trio.
This isn't a case of "Portland needs help," mind you — although getting another point guard might not be the worst idea in the world — but rather they might as well try to get something back for any of three talented basketball players. At the very least, if the team thinks Collins and Swanigan are guys who can become impact basketball players, moving any of those aforementioned three dudes on expiring deals not named "Jusuf" would be smart for their further development.
Brook and Robin Lopez
The two Lopez brothers are in similar situations. Both are steady veteran big men who are currently on rebuilding teams that don't really need a steady veteran big man. Neither Los Angeles nor Chicago are really going anywhere this season, and while providing intangible things like leadership will be valuable, the Lopez brothers would be more valuable on teams where their scoring (Brook) and defense (Robin) could help a contender.
While Robin is cheaper, Brook is the one on an expiring deal, meaning there are reasons for trading for either brother. Plus they're radically different players, which has been the case since the two were at Stanford.
If a team needs a guy who can get the ball on the block, and get two points, Brook Lopez would be a tremendous addition. If a different team needs a big man who can rebound and protect the rim with a little scoring sprinkled in, there's no reason to not kick the tires on Robin Lopez.

DeMarcus Cousins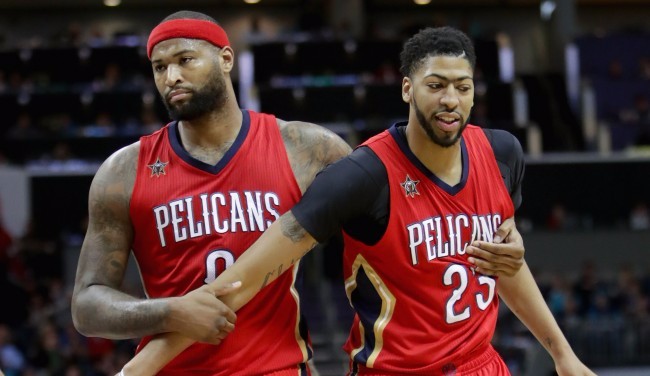 The idea behind getting Cousins was a really good one — with basketball teams inherently getting smaller and smaller, New Orleans decided to throw arguably the two best big men in the league next to one another. Sometimes, when everyone else zigs, it's worth trying to zag and seeing what happens.
There's just one problem with this plan: The Pelicans' backcourt and wing depth isn't, uh, especially great. Jrue Holiday is a very good point guard, Rajon Rondo is what he is at this point, Tony Allen is a great defender, and beyond that, there are a ton of question marks.
Cousins is on an expiring contract, is an outstanding basketball player, and teams will be champing at the bit to add him if he's on the market. If a deal comes along that would help the Pelicans' backcourt and wing depth — or, in other terms, a deal that helps them build around Davis, which should always be the team's No. 1 priority — how can New Orleans say no?
Terry Rozier
There have been, approximately, 300,000,000 tweets sent joking about Boston's refusal to part ways with Rozier. The usual joke is the Celtics want to do a trade, but the second Rozier is mentioned as a piece the other team wants, Boston gets all defensive and refuses to trade him despite the fact that he has yet to be an impact player during his NBA career.
But this year, it might be time to ship Rozier elsewhere. Unlike the last few years, the Celtics have their point guard of the present and future (assuming he re-signs) in Kyrie Irving, so it might be time to consider sending Rozier elsewhere.
He also does still possess some a fair amount of value, as he's 23 and has shown the ability to annoy opposing guards on the defensive end of the floor. If Boston decides to package one of its many draft picks with a player to add some reinforcements to its Irving-Gordon Hayward-Al Horford core, Rozier is the player who is most likely to get flipped.

Reggie Jackson?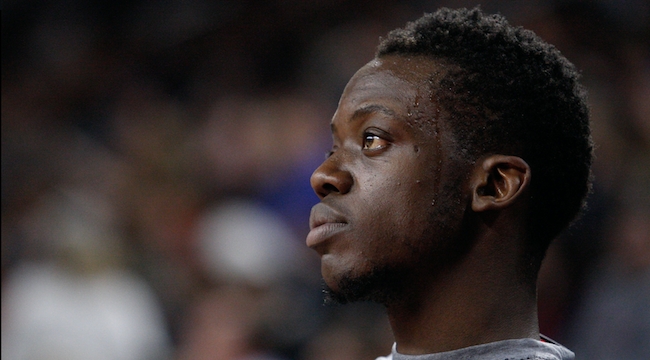 So Jackson has a question mark because his potential spot on the trade block would be dependent on what the Pistons end up doing this year. If Detroit looks like the team some have expected for the last few years — one that surrounds a dynamic point guard (Jackson) and a bruising big man (Andre Drummond) with guys who can hit shots — then maybe they'll make the postseason and this is all for naught.
But if that doesn't happen, Detroit is at the top of the list of teams that should consider blowing it all up. What if Drummond is nothing more than a crazy rebounder with a limited offensive game? What if Stanley Johnson never puts it together? What if Bradley struggles in his new surroundings, and Tobias Harris is what he is at this point?
The player at the forefront of any Pistons trade discussions, though, would be Jackson. He's been mentioned as a candidate to get traded in the past, he's going to be 28 in April, and after this season, Jackson has two years and about $35 million left on his deal.
The thing is Jackson is still a pretty good basketball player, and if a team with postseason aspirations needs a point guard, he'd be a home run addition for the stretch run. If, you know, Detroit is in a position where it needs to trade him. Also, along those lines…
A Grizzlies Cornerstone
The Memphis Grizzlies have had a tremendous run of success. Since the 2010-11 season, Memphis has been as safe of a bet to make the postseason as you'll find in the league. The team has had a defined identity during that time: We are going to play hard, we are going to be physical, and we are going to give you hell for 48 minutes. Quite simply, it rules.
This makes the fact that Memphis could be at a crossroad this season so weird. The Grizzlies' roster is basically Marc Gasol and Mike Conley with a whole lot of question marks. Can Chandler Parsons stay healthy? Can any of their shooting guards — Wayne Selden, Tyreke Evans, Ben McLemore — put it together for an entire season? What should we expect out of really anyone who will line up at forward?
To be 100 percent clear, I think Memphis will be fine, because they are the Grizzlies and they're always fine. But in the event the team decides it's time to get younger and change their identity, trading a player like Parsons or, in an absolute worst-case scenario, Gasol or Conley is something that should be considered. Additionally, the thought of Memphis losing Gasol and/or Conley within a few months of losing two other Grit 'N Grind legends — Zach Randolph and Tony Allen — is the worst.