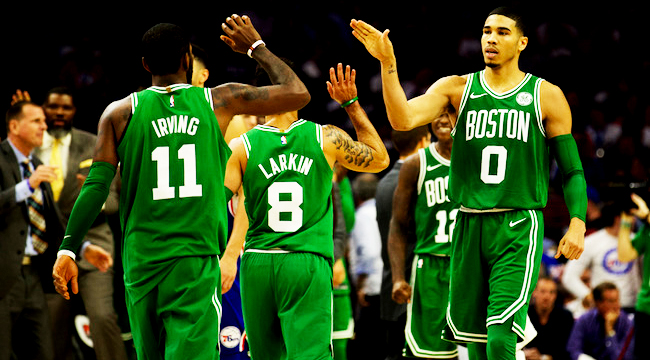 For most teams in the NBA, the first week of action doesn't change much. Yes, the results can force knee-jerk reactions from those on the outside but, for the most part, preseason analysis holds true after the (very) small samples of mid-to-late October. For the Boston Celtics, though, things are very different now than before tip-off in Cleveland last Tuesday.
Gordon Hayward's season-ending injury has been analyzed from every angle but, in truth, his absence hasn't been properly felt just yet. Everyone in the NBA world likely realizes that the Celtics won't be the team they were projected to be on paper and Boston definitely won't be living up to the (very) lofty early projections that placed the team with the highest over/under win total in the Eastern Conference. Just how much will the Celtics fall off? Well, that's interesting.
Boston's roster overhaul made sense in many ways but it also placed a reliance on young, unproven players and removed some of the trademark depth that helped to lead the team to the No. 1 seed a season ago. Beyond that, Isaiah Thomas was ridiculous during the 2016-2017 season and, even with Kyrie Irving likely operating as a better overall player, it was already a lot to ask for the former Cavs point guard to replicate what his predecessor was able to produce.
Now, the Celtics are left with a young, relatively shallow roster that features some real question marks. Having Irving and Al Horford as a baseline is not a bad thing, especially in the East, and Marcus Smart, Marcus Morris and others should provide stability. Still, the Celtics are no longer anything approaching a no-doubt home-court advantage team in the Eastern Conference when considering the learning curve that likely must take place for Brad Stevens to maximize his available talent.
Where do the Celtics fall in the first "real" edition of our NBA Power Rankings? Let's find out.


1. Golden State Warriors (2-2, Last week — 1st)
The Warriors have two losses. I do not care. Golden State is the best team in the league and, even if Steve Kerr admits they were "unprepared" at the outset, it would take a lot more to remove them from the top spot in these rankings.
2. San Antonio Spurs (3-0, Last week — 4th)

It is extremely Spurs to begin the season with a 3-0 mark in the absence of Kawhi Leonard. Throughout the summer, we talked about the Spurs' roster being relatively weak and that still may be true. San Antonio still has two quality wins and we have yet another reminder that Gregg Popovich is the best in the business.