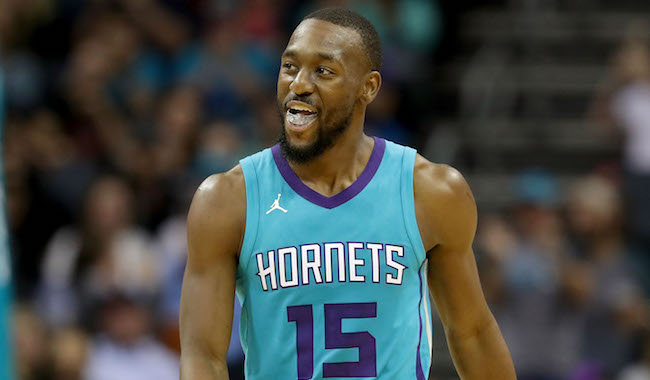 The Cleveland Cavaliers are in significant peril at the moment, even with LeBron James on the roster and history on their side. As currently constructed, few believe that the Cavaliers are actually title contenders and, given the presence of James, that is the only prism that actually matters.
With that in mind, it is easy to turn to the trade market for theoretical help but, in looking a bit deeper, Cleveland's assets aren't necessarily attractive in a broad sense, especially when removing the already infamous Brooklyn Nets' unprotected first round pick from the equation. To that end, the Nets pick has been thrown around in rumors for a while and, on Monday, Zach Lowe of ESPN unearthed it in discussing the Cavs and Hornets getting together on a deal for Kemba Walker.
Part of the issue with the Brooklyn pick is that, well, there isn't a top-level player available that would be worthy of that kind of investment. Walker, though, may be the best player that is theoretically on the market and Lowe indicates that "the two sides have at talked at least vaguely" discussed a move at this point.

It is very important to note, though, that discussions involving Walker and the Cavs are very complicated and Lowe went on to outline exactly the hiccups that are in play. Namely, the Hornets want to offload one of their bad contracts — Lowe suggested the rest of Nicolas Batum's five-year, $120 million deal that expires in 2021 — but to make it work financially, Cleveland would have to send back its own bad contracts, like Tristan Thompson and J.R. Smith.
But even those are tough to construct. If the Hornets have to take both Thompson and J.R. Smith, they might view the return — even with the Nets pick — as selling too low on Walker. Including Cleveland's pick instead is probably a nonstarter for Charlotte.

The Cavs are already paying a ghastly repeater tax bill. Batum and Walker make $34.4 million combined this season. Send out any less than that — Thompson, Thomas, and Iman Shumpert make $32.9 million combined, for instance — and Dan Gilbert pays several multiples of the difference. You might not care about Gilbert's money. LeBron definitely doesn't. But Gilbert does.
Beyond the obvious worry about James leaving Cleveland in free agency, money could certainly keep Dan Gilbert from signing off on a deal that would take on an incredible amount of salary for the future. In addition to two additional guaranteed years totaling more than $49 million for Batum, the veteran swingman has a player option for more than $27 million in 2020-21 that he is almost certain to pick up.
Even in "regular" financial terms, that is a huge investment and, as noted, the Cavs are paying luxury tax penalties that would make that kind of deal almost unpalatable. Adding Walker (and, frankly, Batum on the wing) to the Cavs would be the kind of move that could actually make things interesting, especially through the prism of his shot creation and defensive uptick over Isaiah Thomas, who would likely move in such a deal.
The hurdles are definitely in place for both teams to clear in their separate ways, though, and this one is seemingly more about daydreaming than actual reality at this juncture.