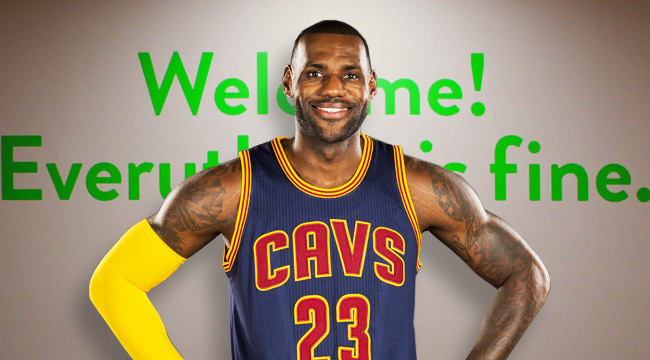 Ever since I started watching The Good Place, the NBC sitcom where characters navigate an afterlife in which a Good, Bad, and even Medium Place exists, I haven't been able to stop thinking about the NBA in the context of the show's premise.
(For those who don't watch the show, the easiest way I can explain the premise is: the Good Place is a utopia where the afterlife is prosperous and everything smells like roses. The Bad Place is where people get tortured, like eternally. The show has referenced penis-flatteners and butthole spiders as torture methods in the Bad Place. The Medium Place is where everything is perfectly mediocre.)
The other day, Google accidentally listed LaVar Ball as the NBA's founder. Everyone had a laugh at the gaffe, but I immediately thought this was what the NBA would look like in the Bad Place, where everyone would have to wear Big Baller Brand shoes and LaVar would be the announcer, play-by-play guy, color commentator, sideline reporter, studio show host, studio show analyst and head coach of every team in the league.
Think long and hard enough ,and you can start categorizing everything in the NBA into the Good, Medium and Bad Places. This is why whenever I hear the name of Raptors forward Bruno Caboclo, the guy who is forever two years away from being two years away, I think of him as the Bad Place version of Giannis Antetokounmpo.
What else would you find in the NBA version of the Good, Medium and Bad place? Here are some ideas.

In the NBA Bad Place …
Everyone talks like Kyrie Irving.
If Irving started doing post-game interviews in a foreign language by February, I would have to try very hard to feign surprise. Forget about the guy in the Dos Equis beer commercials, Irving is the most interesting man in the world until further notice. He believes the Earth is flat (and because everything is marketable, there was literally a Flat Earth machine at a Nike sneaker pop-up event in Boston this week), his latest sneaker has an "All-Seeing Eye," and he doesn't believe Christmas is a holiday.