Joe Lunardi loves brackets even more than you probably thought he did. So much so that he recently created a bracket for the Westminster Dog Show presented by Purina ProPlan. Chances are he'd make a bracket for your daughter's piano recital if you asked him. And with the Super Bowl and the NBA All-Star game behind us, this is the time that most sports fans rub their eyes, look around, and remember that there's college basketball to watch.
That's where Lunardi comes in. As ESPN's resident Bracketologist (a term he made famous through his repeatedly updated projections of the NCAA Tournament field), he treats the time between now and March Madness the same way accountants view tax season. While everyone else pops in to join the college basketball party, Lunardi has his own Groundhog Day the day after the Super Bowl.
As he puts it, "I peek my head out to let everyone know we've got six more weeks of hoops."
With Lunardi's help, we've got a few tips for the folks trying to get caught up on the NCAA basketball experience in time for the tournament.
Don't sleep on the mid-majors
You get told this every year, but it's important to note. We've seen George Mason, and Butler, and Dayton, and so many other teams not just take down the big dogs, but make a legitimate run in the tournament (and even make the Final Four). This year is no different. There are plenty of teams outside the major conferences that demand our respect, from Chattanooga to Valparaiso, as well as some darn good basketball teams that could earn pretty high seeds (like Dayton and Monmouth).
Upsets are going to happen.
Pay attention to the Big 12
If you're looking for a power league that could have a big March, this is it. Oklahoma, Kansas, West Virginia, and Iowa State have played incredibly good basketball this season, and they all could conceivably get hot when it matters most.
"It's hard to pick against the Big 12 at this point," Lunardi said. "All four of the top four teams in the league could be in the Final Four, and that's not even counting Texas."
While the ACC has the most projected teams in the field as of now, the Big 12 might have the most making it to the second weekend – and beyond.
Keep an eye on Oregon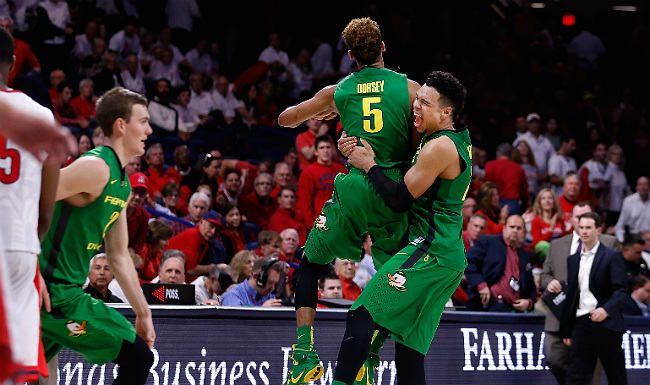 SB Nation already called the Ducks a Final Four contender, and Lunardi is inclined to agree. Oregon is winning road games, which is a key indicator for future tournament success.
"Now that they're beginning to win those hard Pac-12 games away is saying to me that their play is catching up to their computer metrics," Lunardi said. "It wouldn't surprise me at all to see them in the Final Four."
The Bracketologist himself has the Ducks in the West region currently, with two games in Spokane, and they'd get a coin-flip type situation in the next two games for a chance to make it to Houston.
It's a wide open field
Remember last year when we had Kentucky, and Duke, and Wisconsin, and it was pretty much a lock one of those teams was going to win it all? Yeah, that's not happening this year. People's runs at the top of the polls in 2016 have been shorter than the stints of people in power in a George R.R. Martin book.
"There isn't anything close to a dominant team," Lunardi said.
Of course, this just makes for an even better tournament. This is when you see upsets all across the first weekend. Which means we might have another Cinderella making a big run when the bracket gets blown up.
Bet on Izzo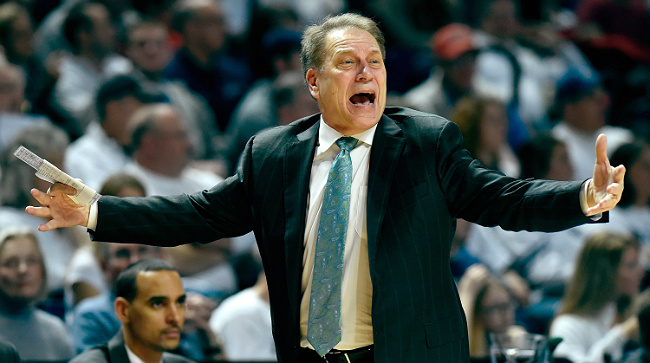 It's a general NCAA Tournament rule you should be following at all times, every year, for all eternity. Tom Izzo's teams always perform better than their seed, and wherever you plan on taking them, go ahead and take them another round. You won't regret it.
There's something about the Spartans that gets them playing their best ball in March, so even if you see Michigan State losing a tough one to Purdue, or Wisconsin, or Nebraska during the season, don't let it change your mind. Especially in a year like this.
"This is one of those perfect Izzo teams that no one is expecting to win," Lunardi said. "I don't know what it is about him or his program is wired to succeed in this position. They just do it a lot. It no longer seems random."
No. 1 seeds are going to fall
Be prepared for disappointment ahead of time if you are planning on betting on a top line team. This year, everyone is vulnerable. The four seeds currently on the top line in Lunardi's bracket would be the weakest group of No. 1 seeds in the 30-plus years since the field expanded to 64, according to his data and advanced metrics.
But that's not such a bad thing.
"From a fan perspective, this lets us jump up and down in March," Lunardi said. "If Duke is winning on Thursday afternoon when you're at work and they're playing East Tennessee State, you keep working. If Duke is losing to Lehigh, or Mercer, you stop working. Those of us who make this our living are better off when you stop working. This is one of those years, unquestionably. If more than half the one seeds make it, I'm going to be really surprised."
Brand names with lower seeds might just make a run
When the top teams go down, the path to a Final Four gets a lot easier for some of those teams on the No. 5 through No. 9 line. And if you're a school that underachieved in the regular season, but has elite talent (like a Kentucky) or a great coach (like Duke), it just might be possible to take advantage of the chaos.
Villanova could let you down
It's happened the past couple years – the Wildcats play great in the regular season and fall apart in the Tournament. This could be another one of those years (although I really hope it isn't because Jay Wright's teams are so fun to watch and are such exciting basketball).
"I don't even think this Villanova team is as good as the last two Villanova teams," Lunardi said. "Could they go further in the tournament? Maybe because they're due, but not because they're better. But if you're looking for teams you're unsure on, Villanova is on my list."
Be wary of the Pac-12
The Pac-12 is going to get a bunch of teams in the field in March, but the league is ripe to get decimated in the field before the second weekend. Lunardi feels as though a bunch of those teams have "gamed the RPI" this year, and he sees California, Stanford, UCLA, Washington, and even Arizona all suffering an early exit.
Bracketology currently has seven different Pac-12 teams in on Selection Sunday, but it might be all downhill from there for everybody except Oregon and Utah.