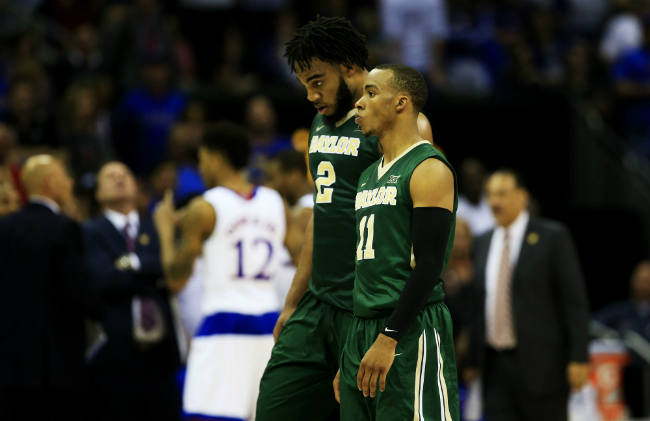 If you're a diehard NCAA Tournament viewer like me, you're going to find a way to be posted up in front of as many TVs as possible with a never-empty plate or cup for more than 12 hours per day for the entirety of Thursday and Friday. This is what March was made for, the marathon of close games, flipped channels, endlessly recurring commercials, dunks and big shots all pressure packed into one easy to digest but certifiably insane package.
If you're not a diehard NCAA Tournament viewer like me, the sheer thought of having to navigate through all of this seems too labor intensive and not worth it. "Wake me if a game is close." "Tell me if there's a possible buzzer beater." "None of these teams are going to make the Final Four anyway." I get it. I do. If it's not your sport, it's not your sport. But you can still enjoy March Madness and still hopefully find a way to get the games on your screen that should be there.
I've made it easy for you – no mess, no fuss. Just the games you should keep an eye on in the Round of 64 that are worth your time. That's it. No hidden agendas. No extra work. (I feel like I'm pitching an infomercial here.) If you don't have fun after all of that, then you can go back to your normal routine. At least you'll hopefully have had a few tasty beverages and some good food to go along with it.
All times are in eastern because of East Coast Bias and the later games may be even later depending on scheduling stuff.
No. 3 Baylor vs. No. 14 Georgia State, 1:40 p.m. Thursday, TBS
There are a few good things about this game. Baylor doesn't exactly play disciplined or pretty basketball, but it is always entertaining. The Bears like to get out and run, they dunk it a lot and they share the ball well. As teams not named Kentucky go, they're extremely fun to watch. Plus, they have a tendency to make games a lot more interesting than they should be against teams they should beat, which opens the door for Georgia State to keep this close and make the game worth monitoring down the stretch.
Georgia State has a coach who tore his achilles tendon celebrating the fact his team won the Sun Belt and got in the NCAA Tournament to begin with. Said coach's son (RJ Hunter) is one of the best ballers in the country. And the Panthers have two players you've probably heard of in Kevin Ware and Ryan Harrow. Among the early afternoon slate, this one is definitely set up to at least have some potential.
No. 7 VCU vs. No. 10 Ohio State, 4:40 p.m. Thursday, TNT
I already have VCU consistently among my "must watch" teams in the tournament because of how entertaining Shaka Smart's style of play is, so the fact they're drawing an interesting matchup with one of the best freshmen in the country (and a possible NBA lottery pick) is just a bonus. If you're unfamiliar with VCU in general, this team plays something called "Havoc" where they press you, use an obscene amount of length to make it difficult on your offense and basically just shoot threes and get layups. It's exactly the style of basketball I'd want to play if I was a high school kid making a decision on a college. While the Rams haven't been quite as good since they lost leader Briante Weber, they've pulled it together a bit down the stretch.
As for Ohio State, just focus on D'Angelo Russell. The Louisville (Ky.) native averages 19.3 points, 5.6 rebounds and 5.1 assists at the guard position and can do just about everything. He's a star, and hopefully his skills translate well to the next level as well. The Buckeyes had a season in which it felt like they lost a game a week since the beginning of February, so they're inconsistent enough to either get blown out or shock VCU and likely nowhere in between. You've got to love standard deviation like that heading into the tournament.
No. 5 Utah vs. No. 12 Stephen F. Austin, 7:27 p.m. Thursday, truTV
Among 12 vs. 5 upsets that might actually happen, this one might end up being the best overall basketball game if you can handle the fact that Utah typically takes its time on the offensive end of the floor. Both teams have very good offenses, and Stephen F Austin has only lost one game since the end of November.
Aside from having wonderful hair, SFA's Jacob Parker is shooting a sparkling 47 percent from beyond the arc and might just start firing away from distance with it being a tournament game and all. Utah has Delon Wright, a senior guard who can do a little bit of everything. The Lumberjacks beat VCU in one of the best early round tournament games last year, and they'd certainly like to make some noise once again.
No. 4 Georgetown vs. No. 13 Eastern Washington, 9:57 p.m. Thursday, truTV
We're sticking with truTV for the late game for a couple of reasons. First off, Georgetown lately has been a perennial they're not going to actually lose their first game are they oh my gosh they actually are lol can you believe it team the past few times they've made the tournament, so they're already on upset alert. Even though this year's team is a bit different. Sure they're overseeded as a No. 4, but Joshua Smith and D'Vauntes Smith-Rivera can ball, and the Hoyas play great defense.
If the upset is going to happen, it's because Tyler Harvey goes bonkers. The sophomore averages 22.9 points a game and recently put up 42 in a game against Idaho where he hit 8-0f-12 three-pointers. Harvey penned an essay for Medium's The Cauldron sports site describing his mindset, and Eastern Washington's coach went on Jim Rome's show on Wednesday guaranteeing a win. What else do you need?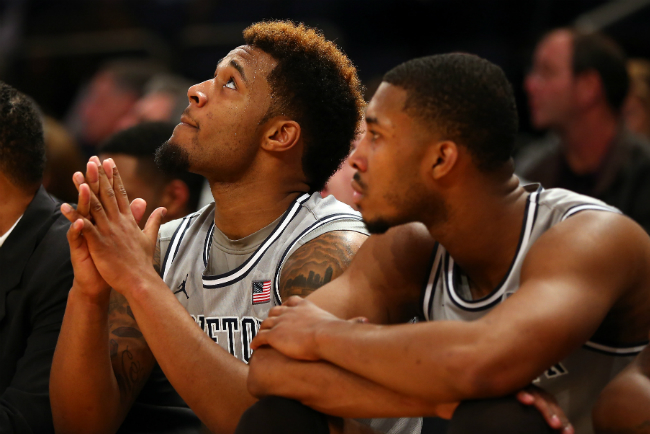 ---
MARCH MADNESS COVERAGE
Printable bracket | Our expert's picks | Tips for filling our your bracket
---
No. 5 Northern Iowa vs. No. 12 Wyoming, 1:40 p.m. Friday, TBS
So I'm a fan of 12 vs. 5s. Now that that's established and out of the way (and I was tempted to include the Buffalo vs. West Virginia game in here as well), let's take a look at this matchup in particular. Northern Iowa is ranked above teams like Iowa State, Baylor, North Carolina and Louisville in the KenPom ratings, so they're no ordinary five seed. A big part of the reason for that (as well as that 30-3 record) is the dominating performance this season from Seth Tuttle. The forward does everything for the Panthers and is one of the smartest players in college basketball, so much so that he'll call timeouts to tell his coach what he thinks they should do based on what he's seeing.
The Panthers draw one of the coolest stories this season in Wyoming. The Cowboys are in their first tournament in 13 years, and they're led by Larry Nance Jr., the son of former Suns and Cavs player Larry Nance (naturally). The younger Nance averages 16.1 points and 7.2 rebounds a game and has built a reputation as one of the best dang dunkers in the country, just like his dad.
No. 4 Maryland vs. No. 13 Valparaiso, 4:40 p.m. Friday, TNT
We're not suggesting with any real bet of confidence that Valparaiso is going to do what it did in 1998 (make the Sweet Sixteen), but there's reason to believe this team could put a scare into Maryland. Valpo is coached by none other than Bryce Drew, the same guy who hit that famous shot way back when, and the Crusaders have a great mid-major player in Alec Peters. Aside from that, there's some size (Vashil Fernandez), a heady guard (Keith Carter) and some interesting if not polished perimeter players (including David Skara).
They're going to have to do a formidable job of shutting down one of the best guard duos in college hoops in Melo Trimble and Dez Wells, who helped propel Maryland to a 27-6 record in its first season in the Big Ten. With the always-intriguing Jake Layman as well, Maryland more than deserved its No. 4 seed. Let's see if it can play up to it on Friday.
No. 7 Iowa vs. No. 10 Davidson, 7:20 p.m. Friday, TNT
Talk about a matchup made for the NCAA Tournament. Iowa is an extremely fun team (if not frustrating at times) with a star in Aaron White, a coach who is always good for a quote in Fran McCaffery and a guy who you either love or hate in Adam Woodbury. The Hawkeyes beat North Carolina this year, topped Maryland and swept Ohio State in conference, and they're competent on both ends of the floor which is key because Davidson is a rock solid team as well.
The Wildcats shoot it extremely well and rarely turn it over, but they run into trouble if they start giving up points in bunches. In their seven losses, they allowed an average of 80.4 points a game. Keep this thing in the 60s, and Davidson should really have a shot at pulling the minor upset. There's no Steph Curry on this team, though, so temper your expectations accordingly.
No. 8 San Diego State vs. No. 9 St. John's, 9:40 p.m. Friday, CBS
A virtual coinflip of a matchup (KenPom has San Diego State winning this one 60-59), this thing could be a physical and ugly game that will either bring you a lot of aggravation or lots of enjoyment. I'm leaning towards the latter or I wouldn't have included it in the list. San Diego State has a great forward in Winston Shepard, a couple of really intriguing freshmen in Trey Kell and Malik Pope and a rock solid senior guard in Aqeel Quinn.
The talent edge goes to St. John's, but San Diego State really works hard on the defensive end (and might be one of the five best defensive teams in the nation). Steve Lavin's bunch has recruiting stars everywhere (including D'Angelo Harrison, Rysheed Jordan and Sir'Dominic Pointer) and it's not crazy to think the Red Storm underachieved this season despite holding wins over Providence, Georgetown and Xavier (twice). Beating the Aztecs would help alleviate some of those concerns.