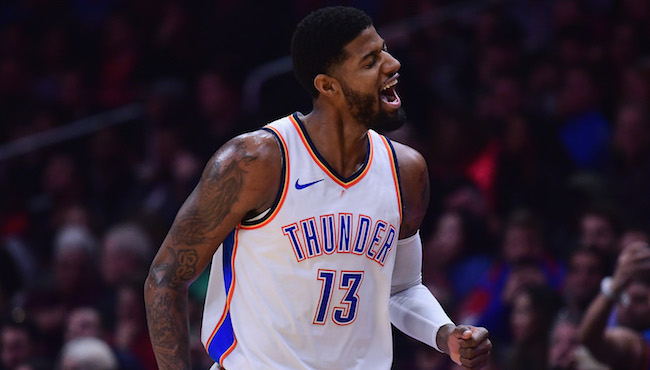 DeMarcus Cousins' spectacular season ended on Friday night when the Pelicans' star center ruptured his left Achilles. The injury has significant ramifications for both the Pelicans and Cousins, as New Orleans looked primed to mount a run to the postseason and Cousins is set to become an unrestricted free agent this summer.
Cousins' status as an All-Star starter for Team LeBron in a few weeks in Los Angeles was of far lesser importance, but a replacement for Cousins was something the league had to take care of nonetheless. On Saturday night, the NBA announced its choice for a replacement from the Western Conference to join LeBron's team would be Paul George from the Thunder.
George was considered one of the biggest snubs from the game out West along with Clippers' guard Lou Williams, so his selection comes as little surprise and with relatively little controversy as he was the player with the next highest vote total from the coaches, per ESPN's Royce Young. That said, Williams, his fans and the Clippers will likely not be pleased that he was passed up again. Blake Griffin did his best to make a late push for Williams to be the replacement on Twitter, but it did not sway Adam Silver's decision in the end.
Williams' selection would have also been justifiable, if for nothing else to get someone from one of the two L.A. teams into the game. Instead, they go with the L.A. native in George, which will please the Thunder and Russell Westbrook.