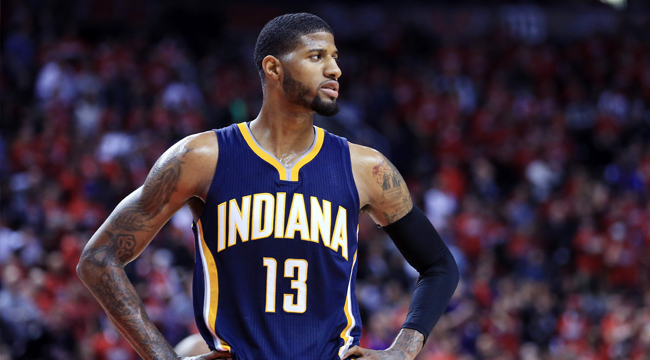 Over the last eight seasons, 75 percent of the NBA's MVP awards have gone to two men, LeBron James and Stephen Curry. Derrick Rose and Kevin Durant have snuck in wins between consecutive Bron and Curry awards, but the former pair have been heads and heels above the rest of the league.
Paul George believes that their reign as the league's top individual regular-season award winner is over. In an interview on SiriusXM NBA Radio, George said that this is his year to win it.
"I want to be MVP. I definitely want to be the MVP this year. It's tough, as always. It would be a challenge, but with coach Nate and the guys that I got here, I'm in a position to move into that spot as long as I remain being me, being a leader, being aggressive and wanting that. It's not mine for the taking. I got to go get it. And this is my year to go get it."
While George is going into the season with his mind on becoming the NBA's best player, he still has a long ways to go to catch both Curry and James. Curry joining forces with Durant could potentially eliminate both guys from winning the award.
Kawhi Leonard could make a case if he continues to grow without Tim Duncan steadying the ship. And then there is Russell Westbrook, who is looking to annihilate every living being who gets in his way this season.
The award, at least going into the season, feels like James' to lose, though. George, when healthy, is one of the NBA's best two-way players, but James is still building his case to become the greatest player ever. George is going to have to put up ungodly numbers for the Pacers while tallying up enough wins throughout the season to finish second in the Central Division.
So far, Bovada is giving the best odds for the 2017 MVP to Russell Westbrook (+200), with Steph Curry (+400) and LeBron (+450) rounding out the top three.
A few other long shots for MVP include James Harden, who will operate under Mike D'Antoni's offense this year and Anthony Davis, who is as good as anyone in the NBA when he can stay healthy. George is going to have his work cut out for him if he's going to become the NBA's MVP, but it isn't entirely impossible.
(via Pro Basketball Talk)