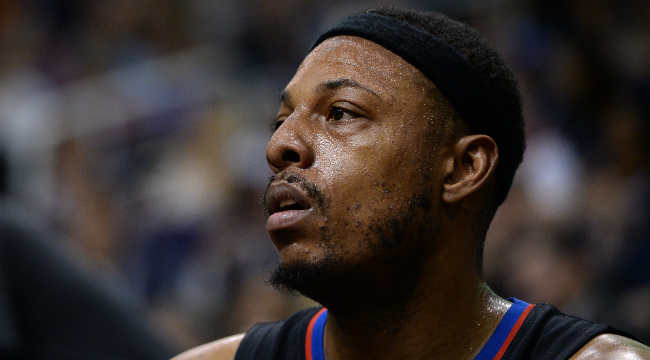 Paul Pierce played his last NBA regular season game on Wednesday night and took a moment to reflect on finishing his career in Los Angeles.
The 19-year NBA veteran who grew up near Los Angeles spoke to reporters before LA's regular season finale against Sacramento, a 115-95 win over the Kings.
"It was special," Pierce said. "The fans appreciate what I've been able to accomplish in my years here in the NBA. We have a lot of knowledgable fans here."
Pierce said finishing his career in front of family has made it even more special.
To end it all in front of family and friends here, it's special. Looking up and seeing my mom in the stands—she didn't make a lot of trips to Boston. Seeing my brother and his family in the stands, it means a lot to me. So it's been a long ride, it's been a great ride and hopefully we have a couple more months to play.
The Clippers face the Utah Jazz in the first round, which begins on Saturday. Pierce hopes that series won't be the end of his long ride in the NBA.
"Even though it's the last regular season game that I'll ever be a part of, I'm still looking forward to the playoffs and having a long run," he said. "Hopefully I'll win a championship."
Fox Sports West also had a video looking back on Pierce's journey from growing up in Inglewood to playing in college and starting with the Celtics.
Pierce's retirement tour has been a bit smaller than the one Kobe Bryant got last year, but the big difference between the two is simple: Pierce still has a playoff run to make.