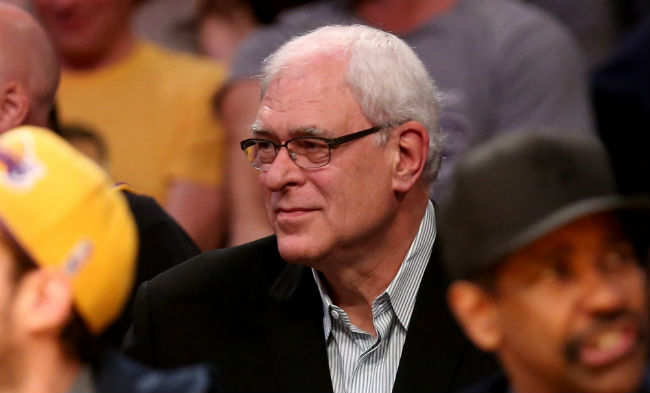 While Phil Jackson likely has his feet up counting his money somewhere, the dragging of the former New York Knicks president continues in the Big Apple.
First came the reports of him sleeping during draft workouts, and the general sense of chaos that he brought to the table with the Knicks. From stepping in and running practices to forced tentacle eating, there have been plenty of negative things to come out of New York with regards to Phil's tenure.
The latest Phil Jackson report comes from a pretty credible source, though it was a bit of a throwaway point on a podcast. ESPN's Adrian Wojnarowski recorded a podcast with ESPN Knicks beat writer Ian Begley and, naturally, the topic of Phil Jackson came up.

In the conversation, Woj said he'd heard a number of "horror stories" about players meeting with Jackson and coming away disturbed by the encounter, as transcribed by NBC Sports' Dan Feldman.
"I heard some horror stories about Phil in presentation situations with players – unprepared, just disorganized," Wojnarowski said. "And sometimes, he'd have Steve Mills in there, who'd try to re-direct him. But I know of a couple players who walked out of meetings in a couple different free-agent scenarios and, "Wow, that was Phil Jackson? That's not how I imagined he'd be."
These situations are often tough to parse. When a front office person leaves an organization there's always a lot of running for cover through the media, whether it's to safe face for their own job and deflect criticism or establish reasons the two parties needed to part ways.
But the narrative around Phil Jackson's time in New York has been pretty negative all around. And much of this talk is coming from people outside of the organization who were turned off when presented the opportunity to join it. The Knicks will have enough trouble shaking off its reputation for organizational chaos moving forward, but stories about how bad it was under Jackson probably aren't helping anyone at this point.