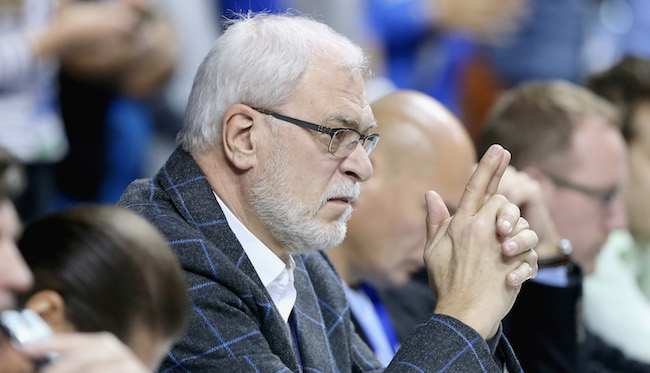 Since Phil Jackson took over as the Knicks President of Basketball Operations in 2014, the Knicks have not reached the playoffs and have not won more than 32 games in a season. In his three full years at the helm, New York is 80-166, and the best thing they have to show for that effort is Kristaps Porzingis.
However, the lack of progress made in roster building and the failure to reach the playoffs isn't enough to get James Dolan to push Phil Jackson out the door, as the Knicks and Jackson picked up his two-year option for 2017-18 and 2018-19 earlier this spring, according to ESPN's Ian Begley and Ramona Shelbourne. Dolan made public his intentions to keep Jackson around through the full five years of his contract earlier this year during the Charles Oakley fiasco. The New York owner seemed to enjoy passing the buck for the Knicks' failures to Jackson, who Knicks fans clamored for in 2014.
Jackson's championship acumen has not translated from the bench to the front office, as he's built a roster of misfits and veterans that don't fit the long-term needs of the team. That would be more acceptable if the Knicks were trying to hang around as a lower-seeded playoff team, but as a team that's not come close to sniffing .500 the past three years, it has simply been an exercise in futility, trying to shortcut their way to building a quality team.
So, even with the Knicks entering a critical offseason in which they will have about $24 million in cap space at their disposal (with flexibility to get more by cutting non-guaranteed contracts), Jackson's recent signings don't create much optimism in the Big Apple. The biggest free agent departure this offseason from the Knicks is Derrick Rose, who recently told The Undefeated he wants to stay in New York, but will explore all options in his first true free agent offseason.
Rose's production prior to his season-ending meniscus injury was solid on paper, but that production didn't line up with team success. With Rose reportedly looking for a max contract or close to it this offseason, the Knicks should probably turn attentions elsewhere in an effort to get younger this offseason, rather than re-sign the injury prone point guard entering the back-half of his prime years.

While how they spend that cap space is important, the elephant in the room for the Knicks right now is Carmelo Anthony. The star forward rebuffed trade possibilities at the deadline, but Jackson and the Knicks have done their best to try and push him to the point of wanting out and being willing to waive his no trade clause. That has strained the relationship between Anthony and Jackson to a near breaking point, with Anthony telling reporters after the Knicks final game that it's "hard to trust" Jackson and that he would have to have a conversation with the Knicks to determine their "commitment to winning" and then discuss everything with his family and his personal team about what he wants to do.
This offseason could be a reset for the Knicks. A much needed one. If they were to commit to a rebuild around Porzingis, and could convince Anthony to take a trade somewhere that would net them younger assets or draft picks, that would probably be the best case scenario for the franchise this offseason. However, nothing about Jackson's tenure in New York suggests that the best case scenario will take place. This is the man that committed more than $70 million last offseason to Joakim Noah, which was bad to begin with and somehow got worse as Noah just had surgery and will start the 2017-18 season serving a drug suspension.
Maybe this season has offered Jackson some sort of revelation that he needs to change his approach to team-building. Maybe a third year of on-court failure will direct him to change course and look to build for the future. However, for a man that still insists the Knicks run his beloved triangle offense, that seems like a long shot.