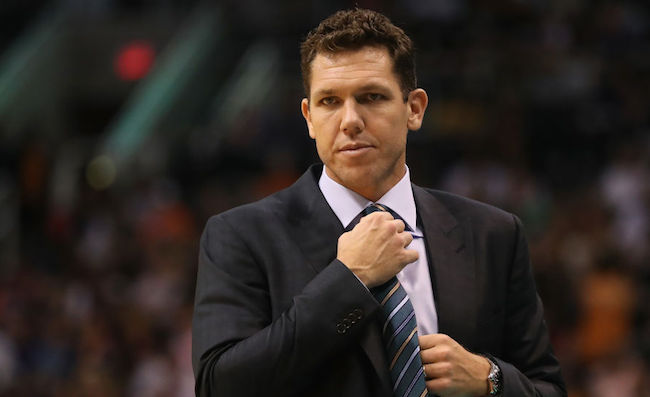 The Lakers' season has fallen into disarray following the trade deadline, with the team slated to miss the postseason for the sixth year in a row. It will likewise be the first time LeBron hasn't qualified for the playoffs since his sophomore season, an outcome that will assuredly have wide-ranging implications for everyone involved in the organization.
A personnel shakeup is a certainty as the team will look to upgrade a roster that has been dotted with players who are either under-achieving or well past their prime, but they won't be the only ones in the hot seat when the front office starts conducting their performance evaluations.
That will surely spell trouble for Luke Walton, who was hired prior to both LeBron's arrival and Magic Johnson and Rob Pelinka's ascension to the top executive roles. But if he does get the ax, he may not be out of a job for long, as the Phoenix Suns are rumored to have set their sights on him should he become available this season and they opt to make a coaching change of their own.
Via Sean Deveny of The Sporting News:
The Suns have not committed to bringing first-year coach Igor Kokoskov back for next season, and with just 16 wins, Phoenix could take a step backward in a season in which improvement was expected. A source told Sporting News that Walton, who starred at Arizona, is seen as a top potential replacement for Kokoskov should the Suns make a move.
Kokoskov became the first NBA head coach born outside of North America when he took over the job last May, but the Suns have once again underperformed this season while showing little signs of progress toward working their way back into respectability.
Other coaches around the league, like Steve Kerr, who Walton worked under with the Warriors, as well as Erik Spoelstra, have publicly supported Walton as he's battled the perception that he's not cut out for such a high-profile job.
Magic Johnson, who had an ugly spat with Walton earlier this season that was eventually made public, ensured that Walton's job was safe at least until the end of this season, but has made such no promises beyond that. And with the way the Lakers imploded during LeBron's absence, it doesn't bode well for his long-term future with the franchise.