Gotta say, I don't envy the coaches who have to fill out the roster for this year's NBA All-Star Game (UPDATE: Here are the reserves as selected by the coaches). The starters being announced last week added a bit of clarity, but it certainly didn't illuminate everything. Selecting reserves for each conference, particularly out East, was incredibly arduous. The pool of talent around the league these days is overflowing.
It's long overdue to make the teams 15 spots deep. When the number moved from 11 to 12 in 1982, there were only 23 teams. That's 105 fewer players than a standard roster today (excluding two-way deals)! But alas, I braved onward and tried my hand at picking the 14 backups for this month's exhibition in Salt Lake City.
Let me make a few of my housekeeping notes clear. The criteria is three frontcourt members, two backcourt players and two wildcards (frontcourt or backcourt) for the East and West. Kevin Durant and Zion Williamson were both named starters, but are currently sidelined with injuries, so I'll also highlight one player from each conference to hypothetically replace them.
I don't harp too much over games and minutes played, as long as everyone is hitting what I believe to be a reasonable threshold (65ish percent of games, 32-33 minutes a night). For instance, James Harden (16 games) and Paul George (17 games) missing some substantial time didn't ruin their cases. Yet others such as Anthony Davis and Jaren Jackson Jr. were dinged because neither has logged even 1,000 minutes this season; Jackson's missed as many games as Harden, but played 300 fewer minutes, which is a massive discrepancy. Both Davis and Jackson have performed like All-Stars candidates when on the floor, but they've simply not been out there enough in my eyes unfortunately.
I try to weigh context as much as possible. Primary scoring and defensive options will usually be prioritized over secondary ones. The same applies for those on similar ground impact-wise with differing surrounding circumstances. I'll typically favor the one whose context is less beneficial, or at least try to. I'm sure my rationale is not flawless or perfectly consistent. I can't stress enough how limiting 12 spots are, the league has had certainly more than 24 All-Star-caliber players this season. It's frustrating to make cuts to those who I think are of that standard.
Anyhow, well, *gulp* let's do this thing, shall we?
Eastern Conference Backcourt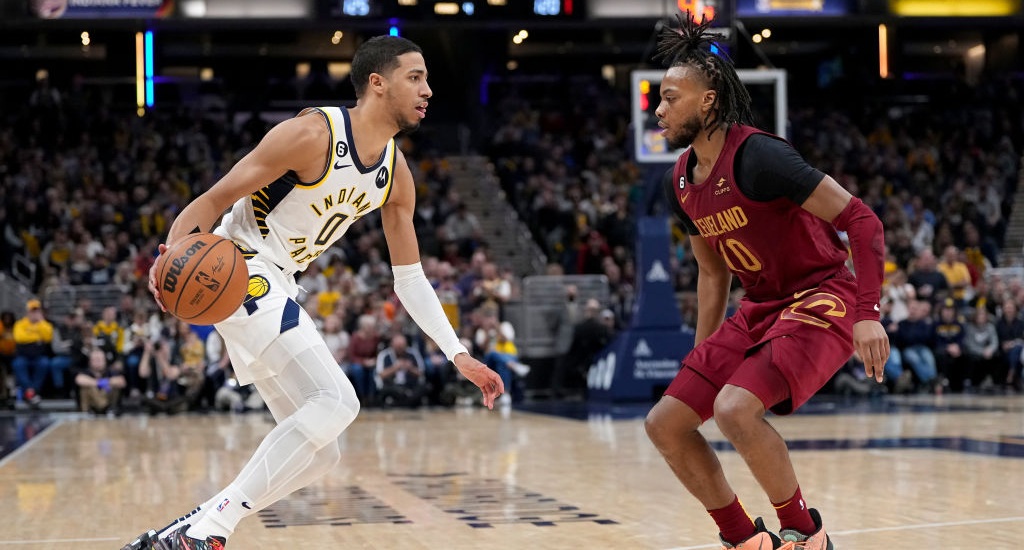 Tyrese Haliburton
40 games, 1,336 minutes, 20.2 points, NBA-best 10.2 assists, 1.8 steals, 61.3 percent true shooting
In year three, the Oshkosh, Wisconsin native has cemented himself as a star. Prior to suffering knee and elbow injuries, Haliburton was leading the upstart Indiana Pacers, which have lost 9 of 10 amid his absence, to playoff contention at 23-19. He's improved his downhill aggression (career-high 27 percent rim frequency) and capacity to endure physicality (career-high 56 percent shooting on two-pointers). He's also assumed a much larger creation load and preserved high-level efficiency.
Shooting 39.9 percent beyond the arc, including 40.5 percent off the dribble, he's proven to be a versatile and elite long-range shooter. His passing remains manipulative and creative to set up the likes of Buddy Hield and Myles Turner. The 22-year-old is one of the game's foremost initiators and it should earn him his inaugural All-Star appearance.
Darius Garland
44 games, 1,565 minutes, 21.8 points, 8.1 assists, 1.3 steals, 58.2 percent true shooting
A fellow youthful star ball-handler from the Midwest Division joins Haliburton here. After punching his first ticket to the All-Star Game last season, the Vanderbilt product has backed up his play with another campaign worthy of such recognition. He's adapted seamlessly to fit alongside Donovan Mitchell, thriving as an off-ball threat who can drill triples (47.2 percent on catch-and-shoot looks, 39.9 percent overall), jitter inside on the catch for buckets or dimes, and curl around screens to rise up for deep bombs.
When Mitchell sits, Garland takes on heightened ball-handling duties and showcases his snappy, live dribble playmaking skills, which have long existed. Across 1,386 possessions, Cleveland's net rating is plus-5.4 with Garland on and Mitchell off. He's carried some janky lineups short on creation and spacing, while also wiggling around picks, applying physicality at the point of attack and ensuring the two defensive anchors, Jarrett Allen and Evan Mobley, aren't taxed with every single responsibility on that end. Garland is just a really good player in the middle of another really good season.
Eastern Conference Frontcourt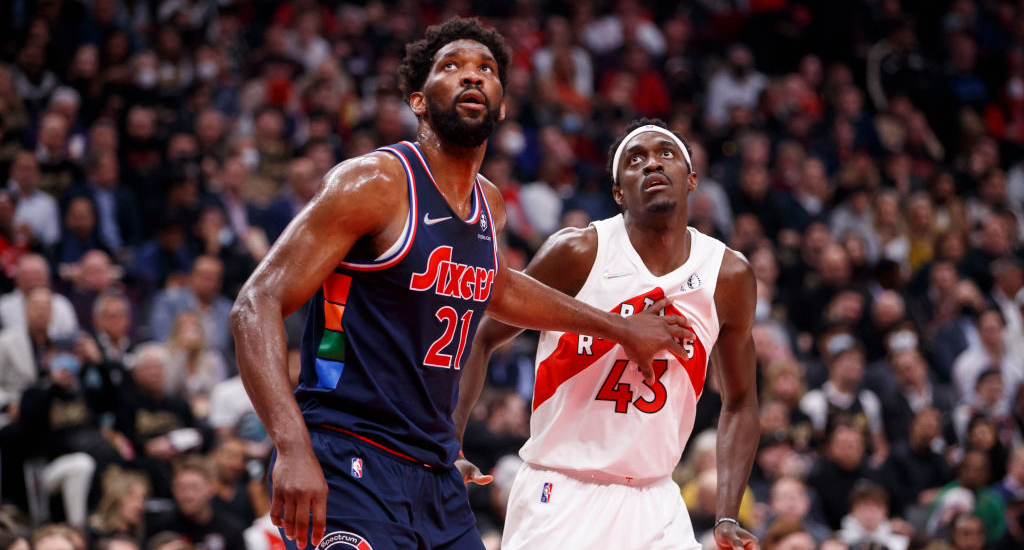 Joel Embiid
37 games, 1,288 minutes, NBA-best 33.6 points, 10 rebounds, 4.2 assists, 1.7 blocks, 1.1 steals, 64.1 percent true shooting
As an MVP contender and (conservatively) one of the league's five or so best players this year, Embiid is a victim of antiquated positional requirements. Nonetheless, his All-Star candidacy is straightforward. Cooking teams off the dribble, as a roll man, as a floor-spacer and in transition, he's the NBA's leading scorer on plus-6.2 relative true shooting (how far above or below one's true shooting is from league average). He's tallying a gargantuan 47.4 points per 100 possessions. He and Harden form arguably the most potent pick-and-roll duo.
By way of rim protection, deterrence and playmaking, he's guiding a roster lacking interior size and point-of-attack depth to a top-10 defense; opponents' rim frequency is 4.7 percent higher when he's watching from the bench. The Sixers are 10.5 points better when he's on the court. That's all there is to it: dominant, voluminous offense (36.7 percent usage rate, fifth league-wide) supplemented by very good, even if sometimes inconsistent, defense.
Pascal Siakam
42 games, 1,582 minutes, 25.0 points, 8.0 rebounds, 6.3 assists, 56.3 percent true shooting
Fresh off his second All-NBA berth last spring, Siakam leveled up again. He's buoying a Raptors squad severely short on ball-handling, playmaking and shooting, while navigating narrow quarters in the paint. His interior passing and processing speed are as sharp as ever. Utilizing perceptive footwork, a slippery, fluid handle and grating shoulder bumps, he comfortably reaches his spots in the paint and around the elbow to create space for himself or others.
Toronto is the 11th-ranked offense largely because of his blend of scoring and facilitating, as he posts career-highs in points per 100 possessions (32.8), usage rate (30.1 percent, 98th percentile among forwards) and assist rate (26.4 percent, 98th percentile). Defenses are constantly devoting waves of bodies his way and he seems to manage all of it without a hiccup.
Bam Adebayo
47 games, 1,649 minutes, 21.4 points, 10 rebounds, 3.1 assists, 1.1 steals, 58.6 percent true shooting
Among the premier contenders for Defensive Player of the Year, Adebayo has been a steadying presence on a Miami team dealing with constant absences and climbing uphill following a 12-15 start. Along the way, Adebayo's only missed four contests and is the bedrock of the NBA's fourth-ranked defense. The 6'9 center usually toggles between dropping and switching — while sprinkling in some hedging and trapping — and excels at both types of ball-screen coverage.
When he drops, he astutely plays 1-on-2s well to disrupt ball-handlers and extinguish passing angles to rollers. When he switches, he overwhelms his assignments, sprawls his limbs out wide and siphons off any passing or driving windows. His change of direction and deceleration are remarkably crisp for someone of his stature.
Offensively, he's pouring in a career-high 21.4 points per game as he further pursues off-the-bounce ventures, persists as a hulking screener and heady dribble handoff partner in an offense rich with off-ball movement. He's a versatile and malleable star for a surging Heat squad.
Eastern Conference Wildcards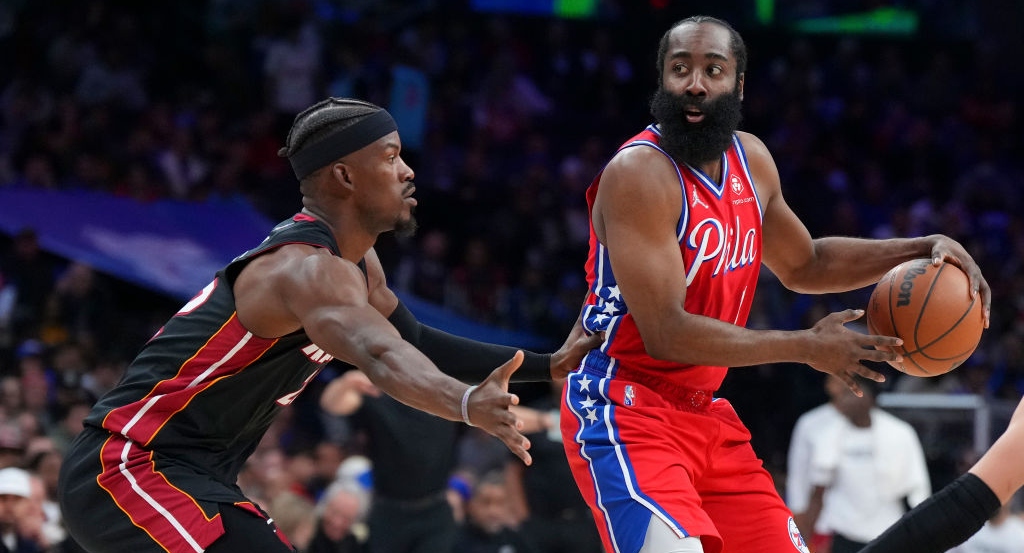 Jimmy Butler
37 games, 1,254 minutes, 22 points, 6.0 rebounds, 4.9 assists, NBA-best 2.1 steals, 62.6 percent true shooting
Adebayo's co-star, Butler has missed some time, but has been sensational during his minutes. His 32.1 points per 100 possessions are the second-most of his career as he's ramped up the aggression to invigorate a sticky Miami offense (25th in offensive rating). Despite the scoring uptick, his plus-4.7 relative true shooting is the second-highest of his career as well. Among a 6'7, 230-pound frame, unflappable cadence and particular ower body flexibility, Butler constantly generates paint pressure and either incites help to prime the Heat's floor-spacers/cutters or convert on his own.
Miami adheres to a no-middle scheme defensively reliant on aggressive nail help. Butler thrives with those duties. He's perhaps the NBA's best nail helper with brazen rotations, swift hands and exquisite timing. His closing speed after he baits offenses to throw passes is akin to an intrepid cornerback. Much like his frontcourt mate, he's tremendously multifaceted and staunchly a star enjoying a prolific year.
James Harden
33 games, 1,212 minutes, 21.3 points, 11 assists, 6.3 rebounds, 1.2 steals, 61.4 percent true shooting
During the initial nine games Harden suited up for before his foot injury, Philadelphia touted the fifth-ranked offense. Since his Dec. 5 return 26 games ago, the Sixers are second in offensive rating. He's piloting an elite offense whenever he's available. His pick-and-roll synergy with Embiid is blossoming. His 38.6 percent clip from deep is the second-best of his career. Defenses still treat his mere presence as a massive pressure point and his pacing, vision and ingenuity allow everyone to capitalize as a result. He's been no worse than the third-most impactful passer this season, trailing only Nikola Jokic and Luka Doncic, if anyone.
Harden's existence and skill-set are major components of Embiid's ethereal scoring season. He helps the big fella sleepwalk into 20-plus shots every game and handle considerable scoring volume with ease. The varying avenues he has to deliver the ball to Embiid is wide-ranging, whether it's prompt pocket passes, delightful behind-the-back dimes, rainbow entry passes or looping feeds over the top of traps. He's tailored himself quite well to be a No. 2 option and is even embracing more spot-up reps beyond the arc. When everyone is healthy, Philadelpia's offense is as good as there is around the Association and its All-Star point guard is arguably the driving force.
Just missed: Jaylen Brown*, Jrue Holiday, DeMar DeRozan, Julius Randle
*Brown would be my pick to fill in for Durant if the superstar wing can't go. His malleable secondary scoring (27 points per game, 58.7 percent true shooting) and explosive, quick-hitting nature are platonic stylistic complements alongside Jayson Tatum offensively. Ultimately, I valued Harden and Garland's playmaking, and Butler's off-ball defense for the final three spots, despite Brown's excellence. And, of course, his seven threes on Wednesday made this cut even less appealing.
Western Conference Backcourt
Shai Gilgeous-Alexander
46 games, 1,639 minutes, 30.9 points, 5.7 assists, 4.8 rebounds, 1.7 steals, 1.1 blocks, 62.5 percent true shooting
Slated to be the third member of the 2018 Draft to make an All-Star cameo, the spindly 6'5 guard is absolutely torching defenses in 2022-23. According to PBPStats, 87.8 percent of Gilgeous-Alexander's field goal attempts are self-created this season (any touch lasting at least two seconds before a shot), which trails only Doncic (90.4 percent) around the league. Gilgeous-Alexander's effective field goal percentage on those shots is 52.4, three points above the NBA average. Simply put, he's shouldering a massive creation burden and prospering on elite efficiency.
Wielding brilliant change of pace, flexibility and ball-handling, he explores as he wishes inside the paint. When he ends his live dribble, that's only the beginning. He'll bust out pivots, body bumps, fakes, and contorts himself however needed to find his preferred shot. His dexterity translates to his passing, where he'll succinctly thread the needle from a live dribble, often through traffic, to set up teammates.
His defensive motor is also revving more than ever this season. Thanks to his 6-foot-11 wingspan, he applies his rangy limbs to provide secondary rim protection, pickpocket or strip ball-handlers and inhabit the passing lanes. The 24-year-old guard is resembling a full-fledged superstar.
Damian Lillard
38 games, 1,365 minutes, 30.4 points, 7.3 assists, 3.9 rebounds, 64 percent true shooting
Riding a torrid 10-game stretch (38.8 points, 73 percent true shooting), Lillard is authoring what might be his best season yet. Featured in a new offense in his first full year under head coach Chauncey Billups, Lillard has assimilated to much more off-ball usage, partially to accommodate Anfernee Simons' rising stardom. The veteran has handled it swimmingly, flying around screens to hoist threes and paving the way for Simons at times.
However, Lillard remains a prolific ball-screen wizard; he ranks in the 94th percentile as a pick-and-roll ball-handler (1.114 points per possession) and 92nd percentile in isolation (1.201 PPP). His burst is entirely back following abdominal surgery last year, which is even more lethal in conjunction with his long-range gumption (37 percent clip, career-high .554 three-point rate). Defenders can't stay in front of him at all and he's converting a career-high 65 percent of his shot at the basket. When he dropped 50 on the Cavaliers' top-three defense last month, he sliced them up, regardless of their pick-and-roll coverage and repeatedly burned past Allen to score inside. At age 32, Lillard looks as effective as ever. This is a heck of a year for him.
Western Conference Frontcourt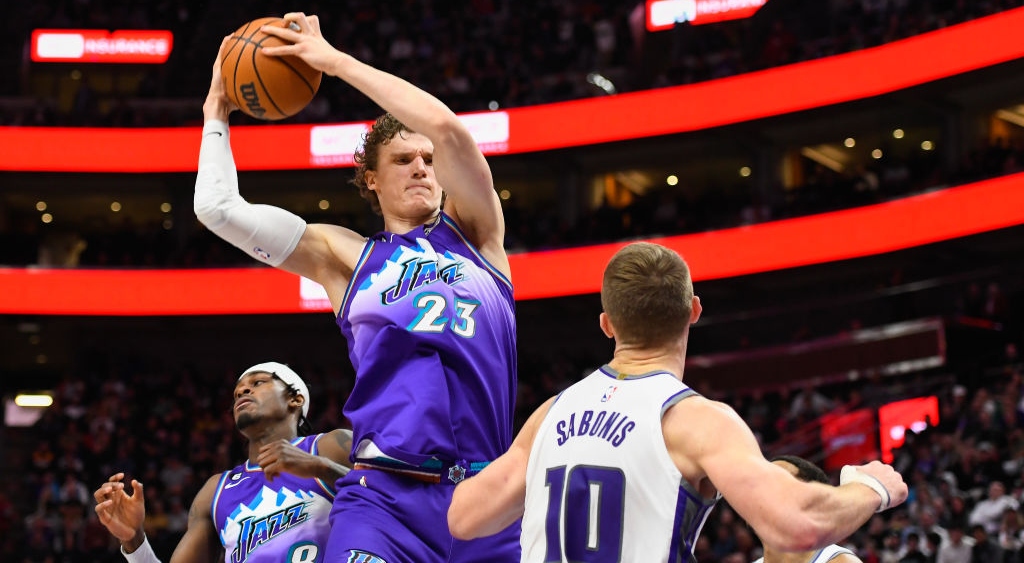 Domantas Sabonis
47 games, 1,622 minutes, 18.5 points, NBA-best 12.4 rebounds, 7.1 assists, 66.9 percent true shooting
Sabonis is the nucleus of the Kings' second-ranked offense. Their profits are contingent on his crushing screens, dribble handoff craft and passing acumen as they surround him with various ball-handlers and keen off-ball release valves. He's been spectacular. Sacramento's offense is 8.9 points better per 100 possessions when he's out there and 12.3 points better overall (defense included).
When the bevy of off-ball actions fail and opponents sell out to deny everyone else, Sabonis is skilled enough to score on his own, too, plowing his way through defenders or relying on deft footwork to scurry around them. That's often the Kings' last resort and speaks to their dynamic attack, all of which revolves around the greatness of their center. He's a no-doubt All-Star.
Lauri Markkanen
47 games, 1,609 minutes, 24.9 points, 8.6 rebounds, 66.6 percent true shooting
Speaking of cogs of elite offenses, welcome to the show, Lauri Markkanen. The former seventh overall pick is amid an exceptional campaign. Led by first-year head coach Will Hardy, the Utah Jazz's offense is intricately designed and Markkanen sits at the heart of it. He's a highly gifted and versatile scorer for Utah's fourth-ranked offense. After years of struggling inside the arc and playing through contact, he's leveraging his marriage of size, movement skills, and ball-handling prowess to rock out at all three levels.
He's shooting 43 percent from deep (93rd percentile among forwards), 48 percent from midrange (89th percentile) and 69 percent at the rim (67th percentile). His .355 free-throw rate is easily a career-best and underscores his newfound willingness to chisel through defenders. Whether it's pindowns, duck-ins or pick-and-rolls, Utah is regularly feeding him the ball on the move and he's displaying his feathery touch across the court. He's proving himself a tremendous play-finisher in a variety of usages on a substantial workload. That's quite the player at 7 feet tall and 25 years old, and he's more than deserving of getting to represent the Jazz at home in Salt Lake.
Paul George
37 games, 1,261 minutes, 23.3 points, 6.1 rebounds, 5.4 assists, 1.5 steals, 59.6 percent true shooting
Quietly plying his trade, George's All-Star season has somewhat understandably been overshadowed by the Los Angeles Clippers' erratic year. But nonetheless, the smooth swingman is once again vying for an appearance at the league's midseason festivities.
He's drilling 38.5 percent of his threes and doing so in dueling manners (38.5 percent on catch-and-shoots, 39 percent on pull-ups). He gracefully wedges himself between ball-handlers and screens to stay attached, a preposterous achievement at 6'8. Those hands of his are still slyly devastating and enable him to subtly pickpocket assignments or strip the ball on drives. He's finishing at the best rate of his career (69 percent around the rim) after serious pitfalls in 2021-22 (59 percent).
Nestled in a Western Conference full of breakout efforts, George is simply doing what he's long done and producing like the star he is.
Western Conference Wildcards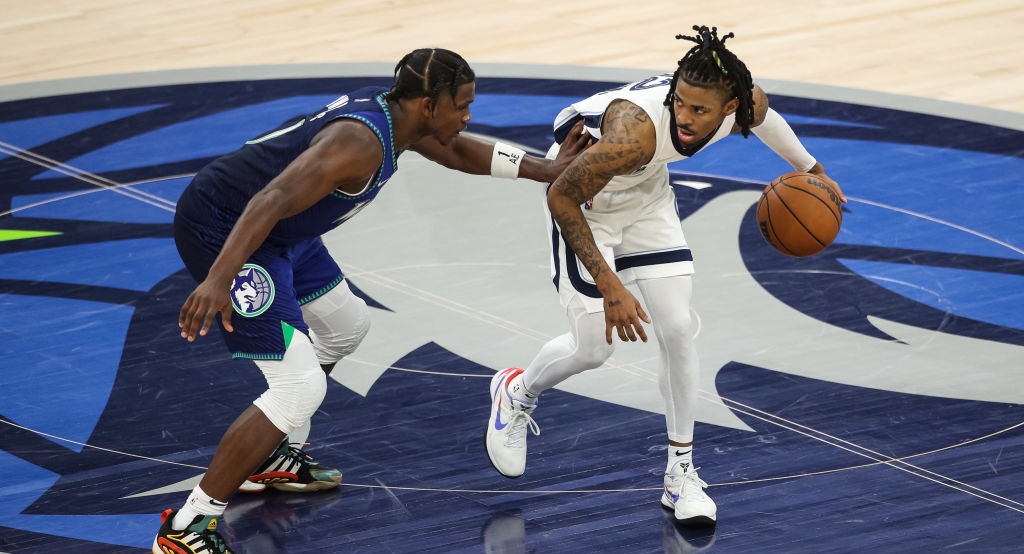 Ja Morant
42 games, 1,361 minutes, 27.3 points, 8.2 assists, 5.7 rebounds, 1.0 steals, 55.6 percent true shooting
The Grizzlies are the NBA's top-ranked defense. Their rotation has often involved an array of defensively oriented players this season. The shooting and floor-spacing of the roster are suboptimal. There's a grind-it-out ethos to this team built upon smothering opponents and surviving offensively.
That broad approach works because of Morant. He's a relentless, acrobatic, winding slasher who pursues the rim trip after trip without any concern of frugality. Desmond Bane's lengthy absence (22 games missed) forced Morant to backpack a monstrous scoring and creation load. His 38 percent usage rate is third in the NBA. A career-high 76 percent of his buckets are unassisted (92nd percentile among point guards).
He ensures the rest of the rotation can be filled with defense-first dudes and has taken a leap on that end himself. He's polished his attentiveness and positioning as a helper. Screens don't entirely neutralize him as commonly. Morant's fourth year has looked a bit different than year three's arrival to stardom, but is similarly exquisite.
Anthony Edwards
53 games, NBA-high 1,937 minutes, 24.9 points, 6.1 rebounds, 4.5 assists, 1.7 steals, 57.5 percent true shooting
In spite of Karl-Anthony Towns missing 32 games and the sizable adjustments required to incorporate Rudy Gobert, the Timberwolves are within a game of the No. 4 seed at 28-26. Edwards is the primary factor. He's yet to miss a game this season. He's taken a leap as a passer and pick-and-roll igniter. Minnesota's spacing is quite cramped, but it doesn't deter him from driving countless times every night. He's become the team's primary ball-handler and is scoring as well as ever (career-high 32.3 points per 100 possessions, career-high minus-0.4 relative true shooting).
When Towns went down, the Timberwolves' season could've easily unraveled. They were 10-11. Consistency escaped them. Edwards didn't let that happen. He's prioritized establishing an offensive rapport with Gobert, and refined his patience and savvy as a creator. This final All-Star spot was a tough choice, but his responsibilities and cumbersome context render him my pick.
Just missed: De'Aaron Fox*, Aaron Gordon
*Selecting only one of Fox or Edwards was not a fun decision. If Williamson is out for the All-Star Game, I'd tab Fox to supplant him, since replacements don't have to adhere to positional quotas. Fox's composure as a creator and crunch-time exploits (119 points on 66 percent true shooting in 92 clutch minutes) have been masterful this season. The way he's harmonized with Sabonis and effortlessly shifts speeds are key to Sacramento's brigade.
I leaned Edwards' direction because I think they've been of similar caliber. But Fox's context is much more amplifying, at least offensively, where each of their All-Star talents are focused, though he also contributes greatly to that context. Again, it was a conflicting dilemma and both are worthy of the honor. Fox has truly been superb, and capped off his All-Star campaign with 31 points and 10 dimes Wednesday.
All stats are accurate before games played on Feb. 1.