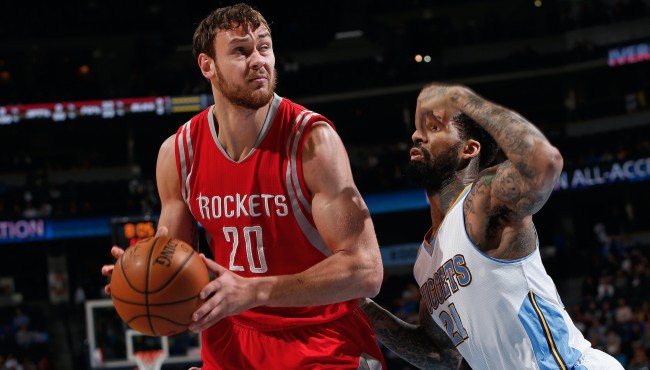 Stan Van Gundy's incredibly impressive overhaul of the Detroit Pistons continues.
According to Yahoo Sports' Adrian Wojnarowski, Detroit has acquired Donatas Motiejunas and Marcus Thornton from the Houston Rockets in exchange for Joel Anthony and a protected first-round pick.
Mere minutes before Yahoo Sports broke the news, ESPN's Marc Stein reported the framework of the agreed-upon swap.
Thornton, 28 years old and a consummate journeyman, could prove more beneficial for his new team than his reputation suggests. The Pistons lack a viable three-point shooting threat, a weakness that's limited the still-devastating effect of Reggie Jackson-Andre Drummond pick-and-rolls. Thornton is hardly a marksman of the highest regard, but has nonetheless proven himself an effective long-range shooter during his well-traveled time in the NBA.
The real prize here, though, is Motiejunas.
The lefty seven-footer is a devastating post player, combining quickness and overall coordination with a bevy of moves and counters that make back-to-basket big men of yore proud. He expanded his game to beyond the arc last season, too, connecting on a career-best 36.8 percent of his three-point tries. Motiejunas is big enough to spell Drummond at center, and skilled enough to play alongside Detroit's franchise player in the same frontcourt.
In a vacuum, this is another great deal for the Pistons. But basketball isn't played on paper, and there's one major mitigating factor that casts doubt on Detroit surrendering a potential lottery selection for Motiejunas: his health.
Back pain has sidelined the 25-year-old for all but 14 games this season, an especially troubling development considering he underwent surgery last April to repair a herniated disc. That type of injury is always problematic for basketball players, but especially those towering seven-footers tasked with banging bodies in the paint on a nightly basis.
Why might the Pistons be optimistic about quelling their new big man's injury woes? As ESPN's Tom Haberstroh notes, Detroit's medical staff is among the best in the league.
If Motiejunas is healthy, he could be the final piece of a talented, versatile, and potentially elite young core that already includes Drummond, Jackson, the just-acquired Tobias Harris, Kentavious Caldwell-Pope, Stanley Johnson, and Marcus Morris. Should his back problems persist, however, Detroit – currently ninth-place in the East, by the way – will lament the specter of surrendering a late lottery pick come June.
But that concern is for a later date. The Pistons are once again better today than yesterday, and the addition of a player like Motiejunas ensures that's a feeling this franchise will possess for a long time going forward.