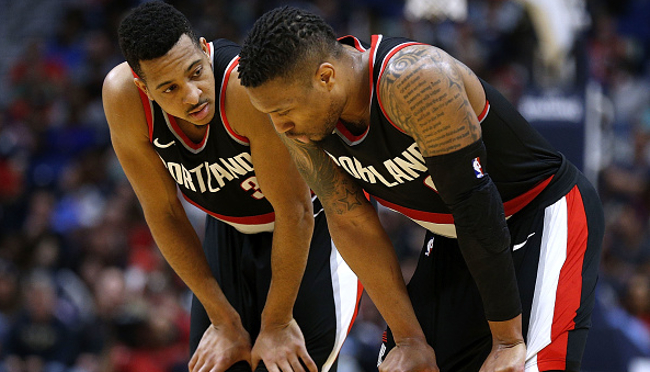 One of the most striking developments of this NBA season was how close the bottom six playoff teams in the Western Conference were to each other. So going into the opening-round series between the No. 3 Blazers and the No. 6 Pelicans, everyone was expecting a close matchup, with the Blazers considered the slight overall favorites.
But that, as they say, is why we play the games. New Orleans dominated Portland pretty much from wire to wire over the course of their four-game sweep, which they completed on Saturday with a 131-123 victory that sent the Blazers reeling into the offseason facing a number of uncertainties regarding their roster, coaching staff, and front office.
The team conducted their exit interviews on Sunday, during which general manager Neil Olshey made the rather curious argument for staying the course, which is a tactic that has invariably led the team to the exact same destination each spring: an early postseason exit.
It bears parsing out Olshey's comments, because they're doing a great deal of work here, rhetorically speaking. First and foremost, he's taking partial credit for what, by all accounts, was a successful regular-season by finishing third in the notoriously tough Western Conference. Second, he's positing the team's playoff meltdown as some sort of anomaly, an out-of-character performance from a team that's ostensibly proven it's much better than their recent play might suggest.
That second part is perhaps the most critical as he's once again making the case that this specific incarnation of the team, with the way the current roster is constructed, is capable of bigger and better things under the right circumstances. That part is crucial given Olshey's various shortcomings during his tenure as general manager, which have included a failure to land big-name free agents, poor draft-day decisions, overloading the salary cap with poison contracts, and underwhelming trade deadline dealings.
Olshey has often tried to inoculate himself against criticism regarding his personnel decisions by hiding behind the persistent notion that Portland is simply not a preferred destination for marquee free agents. Yet Olshey has consistently betrayed a lack of creativity in terms of figuring out ways to acquire and bundle assets into attractive trade packages, choosing instead to load up their cap sheet with big time contracts for role players that have seen marginal success in Portland to avoid seeing them walk.
Olshey's impulse to stay the course also speaks to a general attitude among Blazers fans, who remain content with a certain level of success combined with an aversion to the prospect of a painful rebuilding process that would plunge the team back into lottery limbo for the next few years and quite possibly require parting ways with one or the other of their two main stars, Damian Lillard and C.J. McCollum.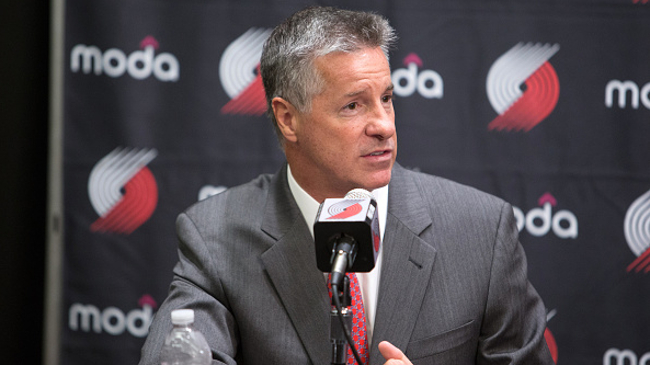 The problem with Olshey's plan is that he's likely vastly underestimating the desire for change, among both the players on his roster, as well as mercurial owner Paul Allen, who not only formed an exploratory committee earlier this season to identify the organization's issues, but also held a meeting with Lillard to discuss the direction of the franchise.
Staying the course simply isn't an option, because that's exactly what got them to this point. It's why they're capped out through 2020. It's why the only chance for growth on the roster is hoping desperately for some massive internal development or blowing things up via trade. This isn't a situation Olshey was dropped into, but one of his own creation, which is why his position might very well be part of the inevitable shakeup.
Head coach Terry Stotts also finds himself in the proverbial hot seat after his performance in the New Orleans series, which was underscored by an unwillingness and/or inability to make adjustments as the Pelicans clamped down on Lillard and McCollum. The Blazers' offense was as stagnant and uninspired as it's ever been under his watch, which in his defense is at least partially a byproduct of the roster he has to work with. But Lillard and McCollum's failures to use their talent to transcend and overcome those challenges should also be enough to raise questions about both their individual and combined ceilings.
Olshey understands too well that he faces a nearly impossible task in trying to offload the contracts of Evan Turner and Meyers Leonard, the latter of whom's value has never been lower, to free up some much-needed cap space. But as opposed to standing pat, literally everyone else on the roster should be on the table this summer in order to at least attempt to raise the ceiling on this group that has proven its limitations over and over.
Maurice Harkless, Al-Farouq Aminu, Pat Connaughton, Shabazz Napier, and Ed Davis have all proven themselves valuable rotation players this season, so the Blazers should strike while the iron's hot and aggressively pursue any potential trade scenarios that might be on the table. The question is whether Olshey, who put them in the cap hell they find themselves in, is the executive they want to try and pilot them through the coming storm.