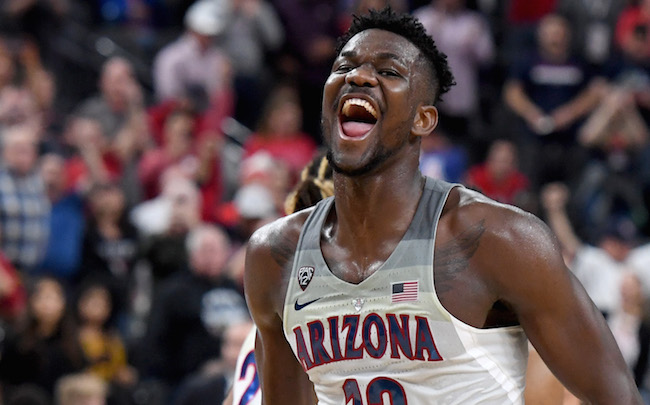 The NBA sneaker world is about to get shaken up in a major way. At least, that's what Puma is hoping as they have signed sneaker and apparel contracts with two of the top prospects in the 2018 NBA Draft.
Marvin Bagley III was the first to reportedly join Team Puma, as the company rejoined the world of basketball shoe making for the first time in nearly two decades, but he's being joined by Deandre Ayton, almost assuredly the No. 1 pick of the Suns, and Zhaire Smith, a projected mid-first round selection.
Ayton and Bagley III were officially announced in an interview with B/R Kicks as both of Puma's new top stars explained why they signed with Puma, as the first NBA draft picks to join the brand since 1998 when Vince Carter inked a deal with Puma.

Both players pointed to the opportunity to start something new and different, with an eye towards being a foundational piece of the Puma brand rather than joining one of the established sneaker brands that have loads of NBA clients that make it difficult to break through into the signature shoe market.
Marvin Bagley III: I chose Puma because I wanted to be different. I saw an opportunity where I could come in and build from the jump and work to get to a certain level. I saw myself doing that. They have some real nice stuff.

Deandre Ayton: Puma was the best deal. To me, anybody can make your shoe. Anybody can make the best shoe for you and put the right fit in the shoe. We were dealing with Nike people, Under Armour and all the other shoe companies for a pretty long time. We ain't really got bad blood with any of them, but it's not bad to start something new. We just thought Puma was the right fit.
There is big money being thrown around as well. Bagley's deal was reported as being the biggest rookie shoe deal since Kevin Durant, and Ayton also noted that securing the bag was a major factor in his decision making, so he's likely getting a similar type deal.
Ayton: Nike is Nike. Adidas is Adidas. I've played in their circuits and stuff like that, but now it's a business. You don't want just product. You're not a kid anymore. You're really trying to get bank. That's about it.
Landing Ayton and Bagley is a pretty huge coup for Puma and a great way to relaunch their basketball line, but they're also taking a gamble on inking big men to shoe deals, which historically hasn't always worked as well on the market. Most signature lines have been built around guards and wings, with most sneakers being sold on the promise of making you faster or capable of jumping higher. There have been some that have had success — Kevin Garnett, Tim Duncan, Dwight Howard, and, most notably, Shaquille O'Neal — but their runs of successful shoes have been much shorter than those of wings and guards.
Puma hopes to change all of that by hitching their wagon to two potential superstar bigs as they enter the league, hoping to change the shoe game and compete with the established sneaker giants in the basketball arena.