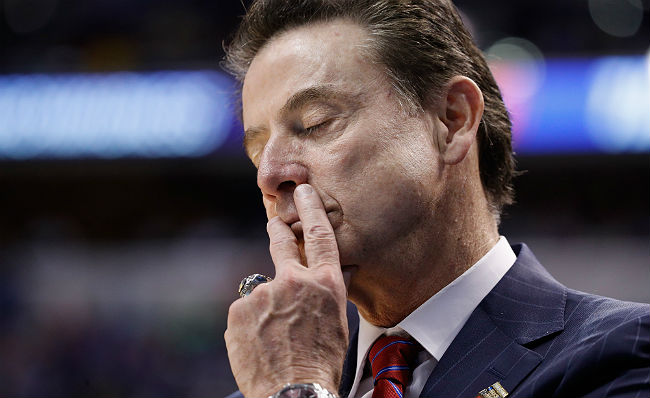 A growing scandal in the college basketball world might just take down one of the game's biggest coaches. The University of Louisville is expected to announce amidst a variety of reports that Rick Pitino is out as head coach in an abrupt move signaling the severity of the NCAA and legal violations the men's basketball team may have committed at the school.
Staff from Oklahoma State, Auburn, Arizona, and USC have already been arrested in the federal probe, which alleges collusion to pay the families of athletes to recruit them to certain schools. The United States Attorney's Office announced on Tuesday that 10 people face federal fraud and corruption charges, and even the shoe company adidas appears to be in on the scandal.
Federal officials hinted that this was just the start of the investigation, and unnamed schools in the information made public on Tuesday were easily fingered in the media as the University of South Carolina and the University of Louisville. Clearly something was up with the Cardinals, because word spread early Wednesday that the University would fire its coach since 2001.
https://twitter.com/GaryParrishCBS/status/913068235112763392
Firing a college basketball coach is never a cut and dry issue, it seems, and there could be a bit of a waiting game here. But it almost certainly seems like some big changes are happening for the Cardinals.
It seems like everyone at Louisville knows the score here right away.

Athletic Director Tom Jurich was also on the chopping block as a result. Reports said he was fired Wednesday morning.
Jurich was reportedly fired when he refused to fire his coach.
A Louisville spokesperson denied those reports, but it seems the AD's departure, whether in some kind of resignation or otherwise, will be inevitable.
There's no telling how big this investigation gets, but it's clear that it will last much longer than the 15 seconds of attention major scandals seem to get these days.