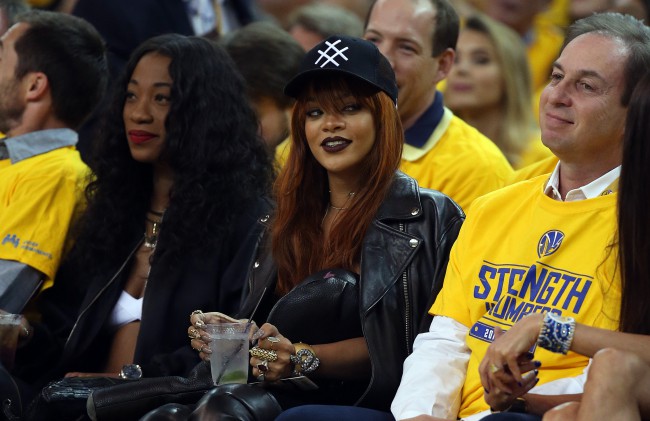 Pop superstar Rihanna was vocally supportive of LeBron James during Game 1 of the NBA Finals. So much so, Golden State Warriors owner Joe Lacob moved away from his seat next to hers.
Lacob explained his actions following the Warriors' 108-100 overtime victory over the Cavs by saying that he put himself next to the pop singer as a nice gesture.
"I took my two kids, who get to go to a lot of games and I booted them down to the end of the court, and moved her next to me. I said 'hey, sit next to the owner,' it's a nice thing to do."
But when Rihanna loudly rooted for James the whole time, he had to make a switch.
"She was rooting for LeBron the whole game, so finally I was getting irritated and I said, 'You know, I am the owner of the Warriors.' She didn't care, she just kept going. So finally, I just said, 'that's it,' and I moved a couple of seats down."
Lacob also made it clear that he wasn't the one who bought her the tickets, which I'm not even sure why this is a thing. Can't she buy her own tickets?
Game 3 tips off Tuesday night at 9 p.m. EST in Cleveland. We'll see if Rihanna is in attendance to support her pal. We're guessing Cavs owner Dan Gilbert probably wouldn't move away if she was cheering on LeBron.
[Source: CBS San Francisco]